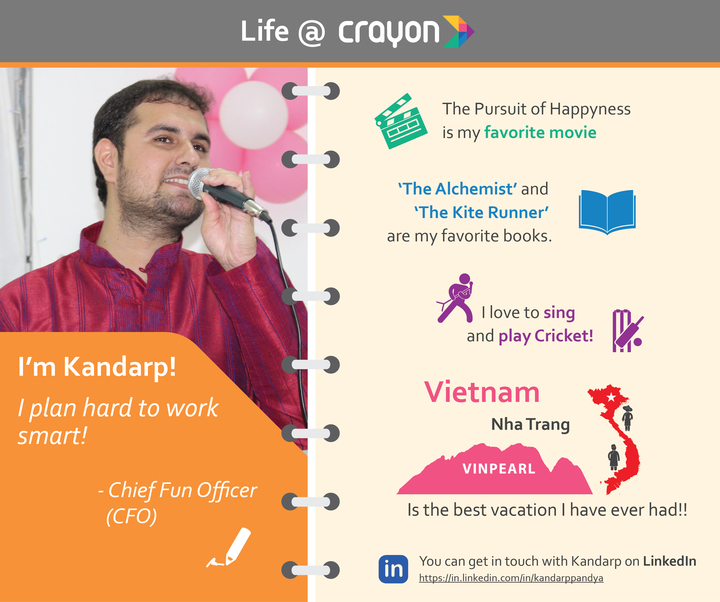 How long have you been at Crayon?
3 Years and 6 Months
What do you do at Crayon?
Project Lead (Delivery) and Business Analyst
What's your average day like?
I arrive at work with a plan of what I need to do for the day. This plan involves spending 50% of my time in meetings or calls where I gather information or seek agreement on the content and project artifacts that I've worked on.  The rest of the time, I spend on actual analysis, crunching data and traceability matrices, reviewing and writing documents, or figuring out the optimum way to define a specific need, requirement or process.
What's your favorite Crayon memory?
That's a tough one! There have been many wonderful moments at Crayon, and it will be really difficult to pick just one.
What's your favorite thing about working at Crayon? What keeps you coming to work every day?
The freedom to choose your work. It urges me to choose what I can do best or what I think I can do best.  There is freedom to choose my work station, I can sit together with my team and get things done. There is also the flexibility to work at your convenience at Crayon. This ensures that work gets done on time.
So because people aren't constantly monitoring you or your work, there is a sense of  responsibility that is inculcated. Though we do have founders and directors, even they aren't our managers in the literal sense. It makes us feel respected. And it's a basic human quality that our need to be respected is far greater than the need to be guided.
What do you contribute to Crayon (apart from your functional knowledge!)
Chief Fun Officer! I help reduce the overall stress quotient and add that dash of extra fun and excitement to the office!
If you were a Crayon colour what colour would you be? And why?
Blue, it is the color of sky and sea. Associated with depth and stability.  Symbolizes trust, loyalty, wisdom, confidence, intelligence, faith and  truth.
If we had to choose a mascot for Crayon – who would it be and why? (can be a person living or dead who inspires you, a fictional superhero, anyone)
Dexter. Crayon is like Dexter's Laboratory. Only we know what we do in our laboratory! Dexter's intelligence makes him the genius of the family. He is one of the world's greatest inventors, having created countless weird and amazing machines and experiments. Like all of us, Dexter is sometimes overconfident and overexcited, and can get carried away… But the fact remains that he is an undeniable "genius."
Working at Crayon allows me to …………….. (something outside of work)
Meet and interact with people with diverse backgrounds and explore vivid cultures through them.