Crayon Data's co-founder and COO Aarti Ramakrishnan was presented with the IFTA 2021 Award for Woman Leader in Fintech. The award was given by India FinTech Forum (IFTA). 
The India FinTech Forum is a non-profit initiative that offers a platform for fintech companies to collaborate and voice their opinions on the relevant policy issues. Every year IFTA celebrates and recognizes the best innovations from fintech companies across the world. It is the most prestigious fintech awards in India.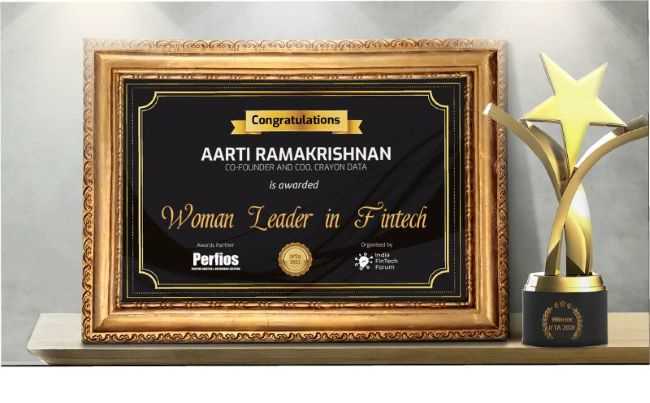 On Nov 25th, 2021, at the 6th India Fintech Awards, Aarti Ramakrishnan was recognized as the Woman Leader in Fintech for her outstanding contributions to the fintech space.  
"Deep gratitude to India FinTech Forum for this recognition. And thrilled to be part of such an inspiring cohort of women in fintech. We have (now and in the past) some incredible women at Crayon leading teams and functions, and on the Board who inspire me every day and hope to grow this tribe even more, as we grow", said Aarti, on being honoured by IFTA. Earlier in 2021, she was also presented with the Woman Entrepreneur Award by Rotary Club of Madras East.
As part of the founding team at Crayon Data – one of Asia's leading AI and big data company, Aarti has been a key part of Crayon's growth since its inception in 2012. She enjoys bridging the gap between traditional business and new-age technology for her clients, while also making sure that Crayon is an eclectic and diverse workplace. 
This award reiterated that it is a great time to be in the fintech space. And how! In Q3 2021 alone, Indian fintech drew in USD 1.93 Bn in investments – that's the highest in APAC. Crayon's part in this booming economy can only mean one thing – that we are moving onward and upward.