When Avinash Singh, a 24-year-old debutant with no domestic cricket experience, came up in the player auctions of the Indian Premier League (IPL) 2023 at a base price of Rs 20 lakh, it was a slight surprise. And when he was bought by the Royal Challengers Bangalore (RCB) team for Rs 60 lakh, several eyebrows were raised. But this was no random call. There was a method to this perceived madness, which can be explained in two words: Hinterland Scouting.  
Since 2020, RCB's head of scouting, Malolan Rangarajan, has been using this AI-based method to acquire quality talent. Technicians would visit remote areas, set up the system in cricket academies, and call for trials. The AI technology would create a dashboard for the recruiting team based on these recordings. For Avinash, it showed that he could clock 140+ kmph with ease. This made him an asset to the team. While he's yet to make his IPL debut, we'll look out with interest when his name does appear in the playing squad.   
This is just one example of how AI is making its presence felt in sports. Even the most traditional folks of sportspersons have not been able to resist the charm of AI and Big Data's all-pervading intelligence. So, how do we define the extent of its impact? Is it casual flirting? Or is it a deep, I'm-all-in kind of romance? 
This is a prime example of what Neil Postman, an American author and academic, referred to as 'technopoly', the ultimate surrender to technology. Why can't a game be just a game? A few hours of not knowing what's going to happen next, instead of a pool of predictions.  
But predictions don't always get things right.  
A 2018 article predicted that the global market for sports tech – tech built to better game play – would reach $10.3 Bn by 2024. This number was crossed three years ahead of the timeline. In 2021, the sports tech industry was valued at $17.9 Bn. And is expected to reach $40 Bn by 2026. Talk about incredible growth!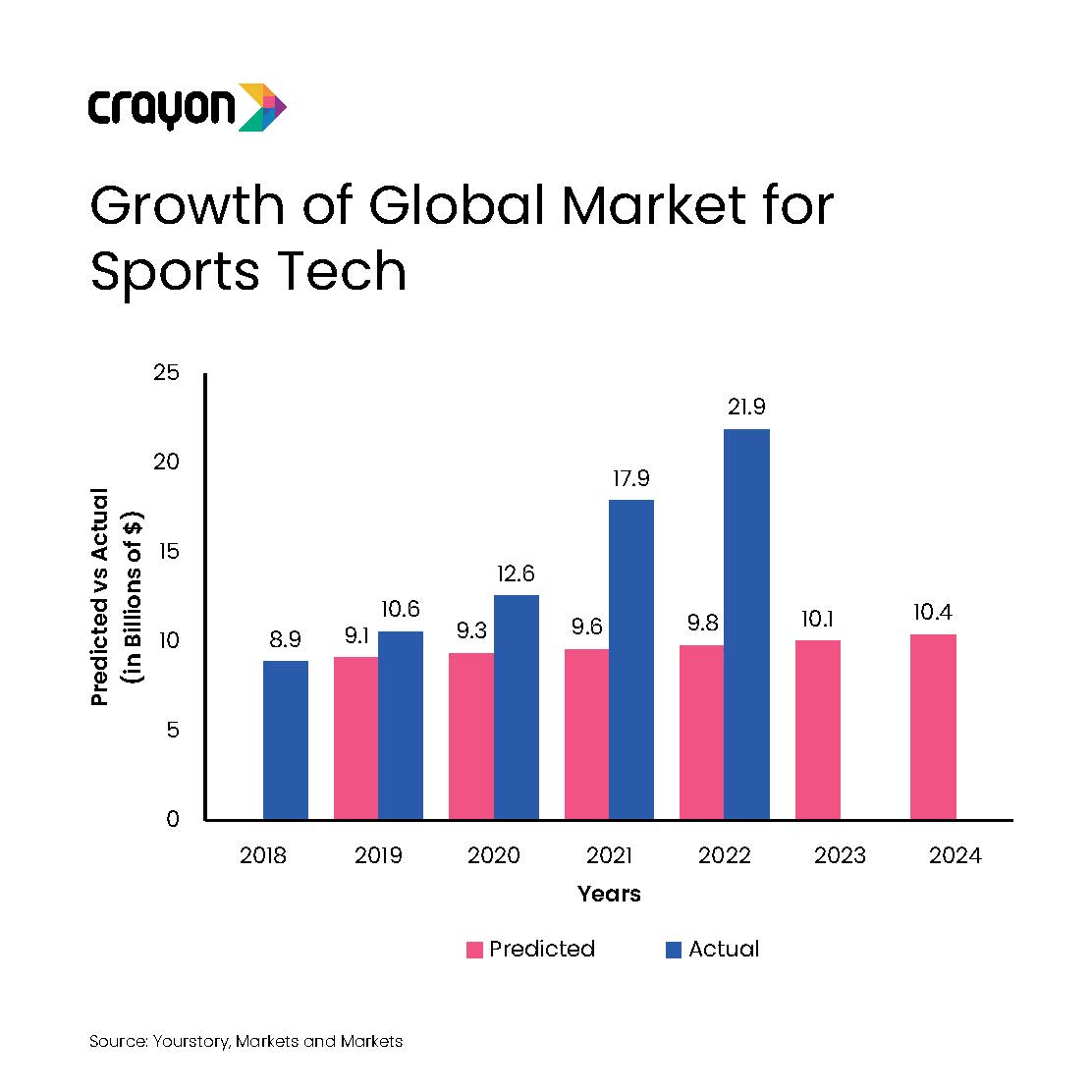 But boy, can AI do more than just that. Here's how it's making its pitch on the pitch. 
For the players 
There are innumerable memes about footballers and how they react when they fall (or are touched lightly by an opponent) on the field. Who can forget the top-notch ones that were based on Neymar Jr's dramatic diving at the 2018 Football World Cup?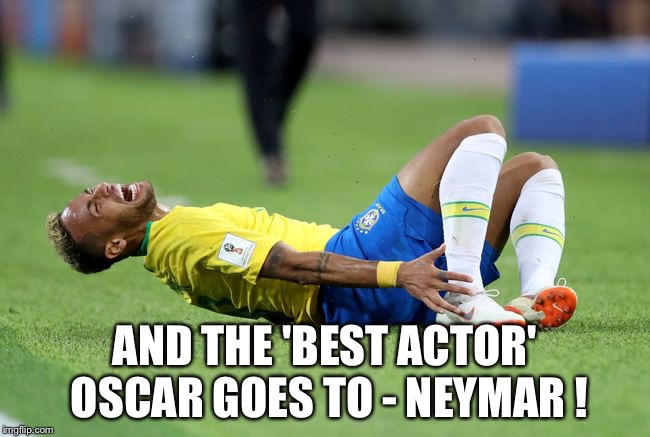 But serious sports injuries are no laughing matter. Injury prediction and prevention technologies analyze individual profiles and retrospective data. This gives insights on which players are more likely to experience injuries.  
Svexa, a human performance intelligence company focusing on physiology, precision health and data science, works on such tech. The company helped German football club Werder Bremen with injury prediction. After an analysis of two seasons and 22 players, they were able to predict 75% of the injuries correctly, with <5% false positives.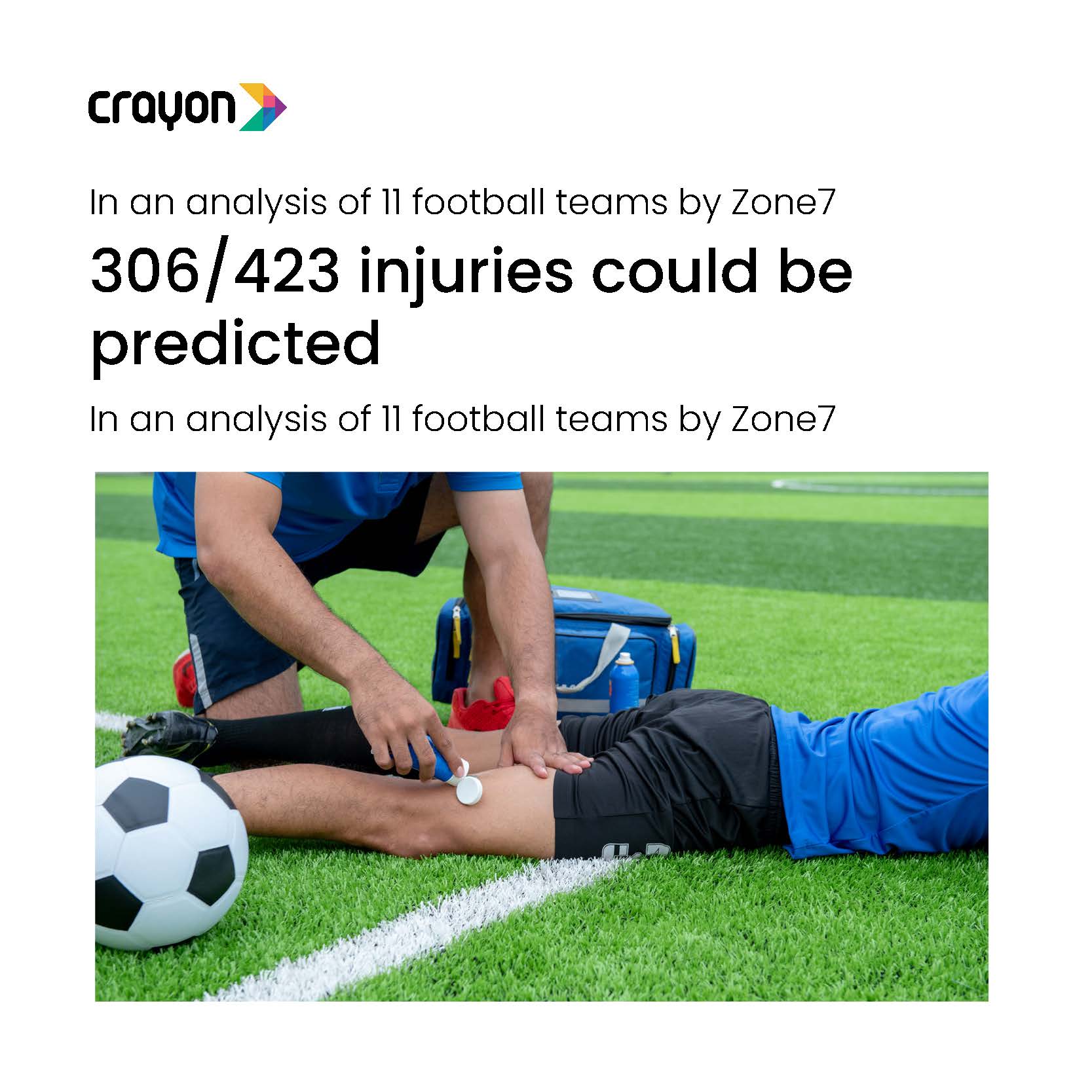 But the applications of AI and big data don't stop at physical health. Did you know that 35% of elite athletes suffer from mental health issues such as eating disorder, burnout, depression, or anxiety. This is not to be ignored.  
A couple of years ago, there was talk of using both drones and AI to identify when players were in need of such support. Dr. Ayman Salem CEO of Ikioo, an AI company focusing on healthcare, spoke about the potential of such tech on a Qatar-based sports podcast. The drones would consider parameters such as changes in facial expressions, skin color, etc., in both pre- and post-game sessions. Based on this, players could get the help they need. While we're yet to see it in action, this example shows us the possibilities of using cross-functional AI.  
Apart from AI for specific purposes, players are also turning to insights from data analysts. In an episode of the Slaves to the Algo podcast, management consultant and former COO of the IPL, Sundar Raman spoke about this "symbiotic relationship". In conversation with host Suresh Shankar (founder and CEO of Crayon Data), he said, "Data is a way to help players understand their game better and that enriches the game overall." 
For the game 
Very often, even movies based on real-life characters end up showcasing a star player or coach as the reason for their team's success. Think of The Blind Side, Remember the Titans, or even Jerry Maguire!   
But in reality, if someone repeats this sentiment to a sportsperson, better grab a bucket of popcorn to watch their response! A 'big' buy may benefit the team or management's morale. But team bonding and dynamics have proved to be a better factor, time and again.  
The Kolkata Knight Riders (KKR) team is one of the most selective in the history of IPL. Out of 25 permitted players, they picked only 21 for the 2019 and 2022 seasons. Earlier, in 2018, they went for just 19 players, leaving one overseas slot unutilized. The result? From being branded the worst team in the first three editions of the IPL, KKR reached the play-offs six times and won the title twice in the next eight years!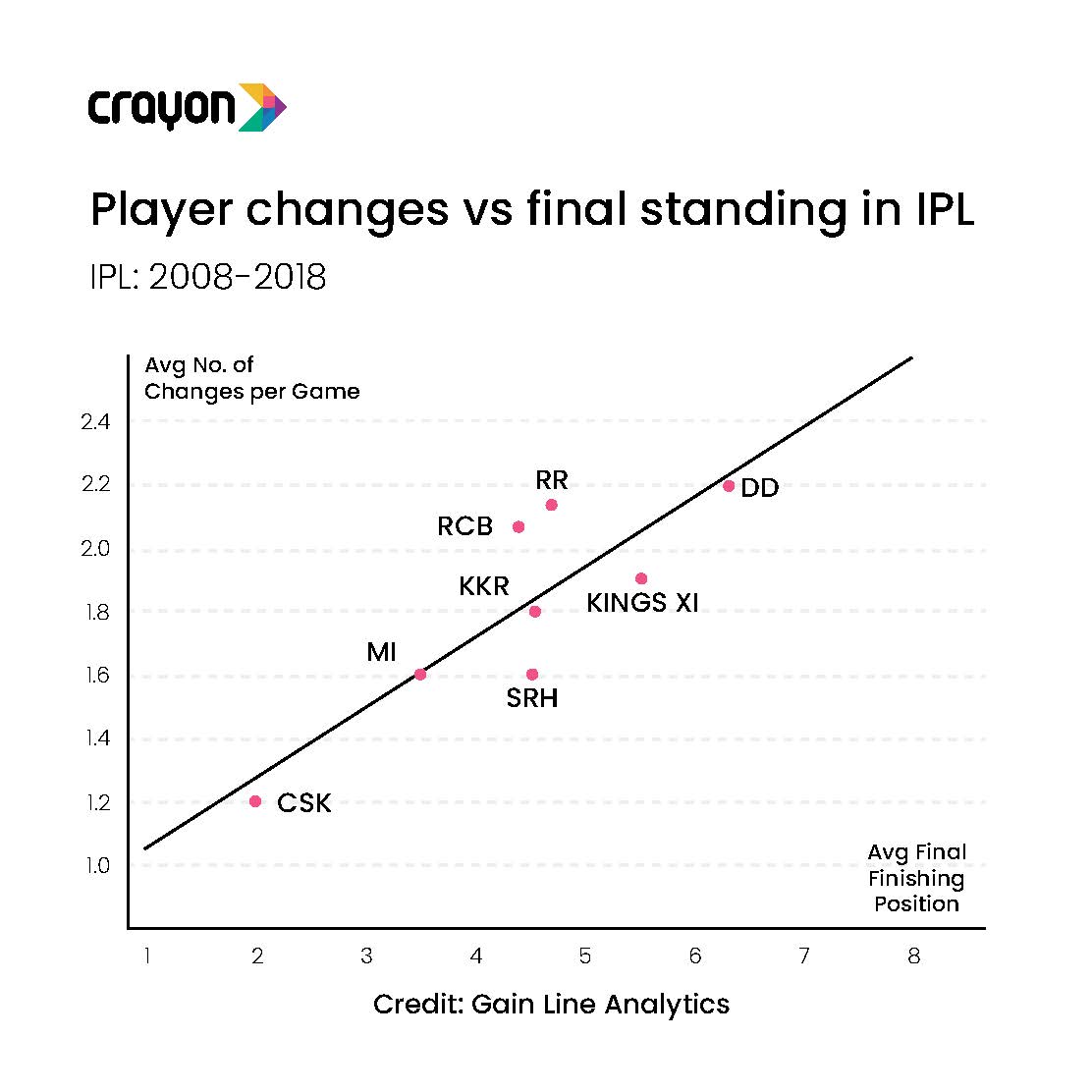 The data also shows that teams that make lesser changes over time tend to be more successful. Chennai Super Kings (CSK), a four-time title winner, makes an average of 1.28 changes of players per game. Whereas, Delhi Capitals, one of the teams in the bottom half of the table, has a rate of 2.22 changes per game. Now, it's for the teams to decide what to do with this insight!  
For the fans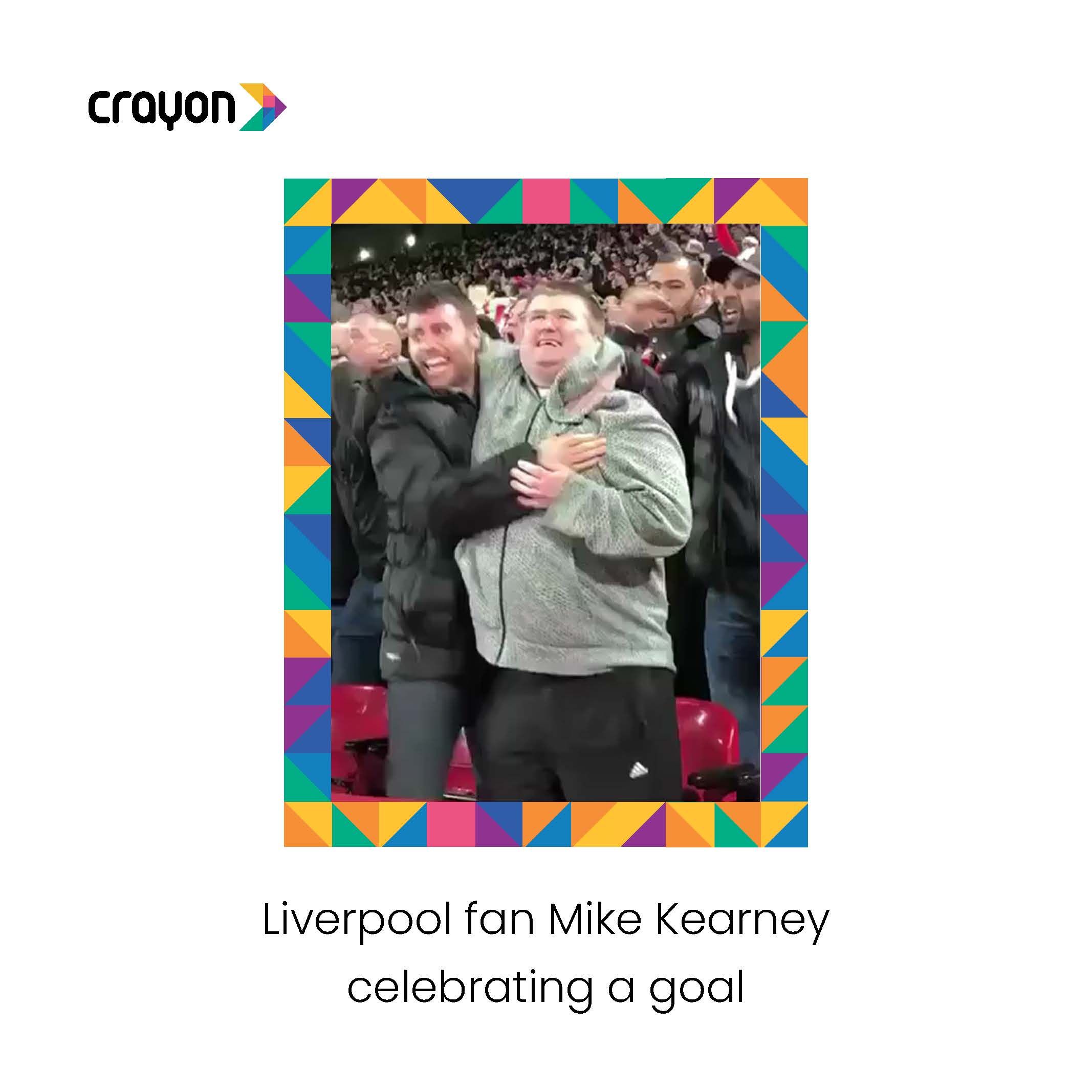 There's something unusual about this screengrab from a video that went viral in Dec 2018. The Liverpool fan on the right, Mike Kearney, is blind. So how exactly was he enjoying the moment? A cousin of his kept narrating the game's progress to him. But this clearly isn't possible for all fans.  
Out of 5.1 million visually impaired people in the U.K., 43% identify as football fans. Field of Vision, an Ireland-based haptic technology company, is trying to bridge the gap between these enthusiasts and the game. They have developed a hand-held touch-based device that communicates what's happening on the field in real time. This is done using distinct haptic notifications for passes, touches, goals, and more. Talk about a level playing field! 
Sometimes, even language is a barrier for fans to enjoy sports. With English speakers making up only 20% of the world's population, the mainstream commentary does not cater to the other 80%. Veritone, an artificial intelligence tech company based in California, in partnership with Stats Perform, a sports data and analytics company in Illinois, USA, provides play-by-play commentary in different languages and voices. With 300 stock voices in over 150 languages, this capability can be integrated by broadcasters to reach global audiences in their native language.  
This is just a drop in the ocean of how AI is used in the world of sports. As with any technology, it comes with its fair share of challenges. From implicit biases to privacy issues, there are issues to solve.  
Yet, the insights, inclusivity, and accessibility that AI brings to sport are hard to ignore. In the years to come, this technology is all set to add different dimensions not just to the game. It'll take the players, teams, and fans along for the ride.