Singapore based creators of the next generation of Choice Engines, poised to shape the future of travel
Singapore/Chennai – 4 May, 2016 – Crayon Data, one of Asia's fastest growing big data companies has been selected to be part of Amadeus' Asia Pacific travel technology startup community, Amadeus Next. The community was created to mentor, nurture and partner with startups, and to evolve new and original ideas in travel, and support go–to–market efforts.
Crayon, with its growing presence in various geographies, will benefit from Amadeus' global reach allowing Crayon Data to expand its services to a global audience.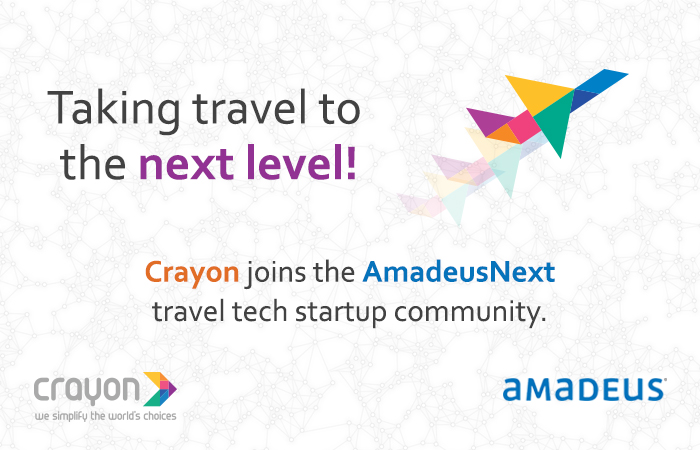 The travel industry is changing rapidly, enormously and fundamentally. Digital channels are the primary source of inspiration and planning, and remain a critical part of the entire journey. Personalisation now means profit. For 80% of hoteliers, increasing repeat business is the most important aspect of their future success. Statistics show that this is driven by delivering exceptional personal experiences rather than through loyalty programs.
With Crayon's maya.ai, hotels and OTAs now have an opportunity to build trail–blazing, mobile first, curated travel experiences that can deliver personalised itineraries, from choice–to–commerce. Maya personalises engagement right through a customer's 'decision making journey'. Crayon's unique proposition has resulted in multiple clients across international markets, in the past year alone.
Speaking on Crayon's innovations, Bart Bellers, Senior Advisor, Corporate Strategy at, Amadeus Asia Pacific, said, "What we like about Crayon Data is that they're solving personalisation at the other end of the spectrum. Instead of trying to map a traveller's personality, Crayon Data brings meaningful insights to travellers about the atmosphere of hotels and restaurants by building taste graphs of each and every property. Amadeus Next is very excited to have them on board and we look forward to supporting their growth with Amadeus' technology,expertise and customer reach."
Crayon, a portfolio company of Jungle Ventures, has been accredited as one of the most successful and innovative big data start–ups in 2014 and 2015, by global platforms such as TiEcon, CEBIT, IBM Watson, Intech50 and OrangeFab.
Speaking on the partnership with Amadeus Next, Srikant Sastri, co-­‐founder of Crayon Data, said, "Crayon Data is thrilled to be part of Amadeus Next. We look forward to working with Amadeus and benefiting from its vast knowledge base, eco–system and reach within the travel and hospitality industry, to develop cutting edge solutions and take them to market. This will change the future landscape of travel."
Srikant Sastri and Suresh Shankar founded Crayon in 2012.
Other travel technology startups on board Amadeus Next include Booking Boss, Klook, Orahi, Triposo, TopDocs, TripVerse, TakeMe Tour, Seatfrog,ConfirmTkt,TraveLibro, Tripoto StayAngel, dozo!, TripHobo and PredictHQ.
About Amadeus :
Amadeus is a leading provider of advanced technology solutions for the global travel industry. Customer groups include travel providers (e.g. airlines, hotels, rail and ferry operators, etc.), travel sellers (travel agencies and websites), and travel buyers (corporations and travel management companies).
The Amadeus group employs around 13,000 people worldwide, across central sites in Madrid (corporate headquarters), Nice (development) and Erding (operations), as well as 71 local Amadeus Commercial Organizations globally.
The group operates a transaction-­‐based business model.Amadeus is listed on the Spanish Stock Exchange under the symbol "AMS.MC" and is a component of the IBEX 35 index.
To find out more about Amadeus please visit www.amadeus.com, or www.next.amadeus.com for more on Amadeus Next
About Crayon Data :
Based in Singapore, Crayon Data is a big data start-­‐up, with an ambitious vision to 'simplify the world's choices'. Crayon's flagship product maya.ai is a personalization engine that facilitates choice delivery for the banking, hotel and digital media verticals. maya.ai is built on Crayon Data's proprietary platform, SimplerChoicesTM, which empowers enterprises with the ability to deliver ultra-­‐personalized choices to their consumers. It does this by creating a consumer taste fabric, using over 14 recommender systems and proprietary cognitive thinking algorithms to work on vast internal and external data sets. Crayon has won several awards: The TiE Silicon Valley's "2014 Global Hot Technology Start-­‐up Watch List"; was a finalist in IBM's Watson Mobile Developer Challenge in 2014, at CeBIT CODEn in 2014 and at OrangeFab in 2015.
For more visit crayondata.ai, follow us on Twitter @crayonbigdata, facebook.com/crayon–data and LinkedIn.com/company/crayon-­data.