Date:22-Nov-2022
Source: Tech In Asia
In a recent interview with Collin Furtado from Tech In Asia, Suresh Shankar, Founder & CEO of Crayon Data walks us through the firm's sustained approach for profitability and success.
"We entrepreneurs say this to each other, that overnight successes take 10 years. It's really been that story for us," Suresh Shankar, founder and CEO of data analytics firm Crayon Data, tells Tech in Asia. The Singapore-based startup, which was launched a decade ago, turned profitable in 2021. It posted a net income of US$ 1.8million during the year from a loss of nearly the same amount in 2020.
The company expects to be profitable this year too. Shankar attributes the results to the firm building a model over the last five years that "wins in the real world." Instead of chasing vanity metrics like valuations, the company believes in a model of sustainability, profitability, and capital efficiency, he explains.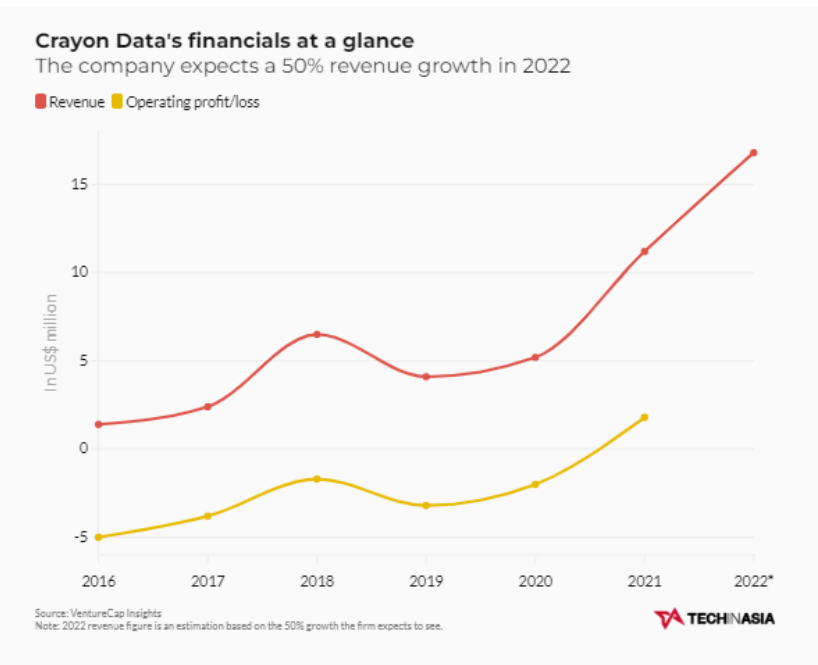 This philosophy reflects in the SaaS startup's financials for the last six years. Data from VentureCap Insights shows its operating loss has gradually reduced as its revenue increased. Cravon Data now expects to see its revenue grow by 50% by the end of this year. This would bring its revenue to about US$16.8 million in 2022 from US$11.2 million a year earlier.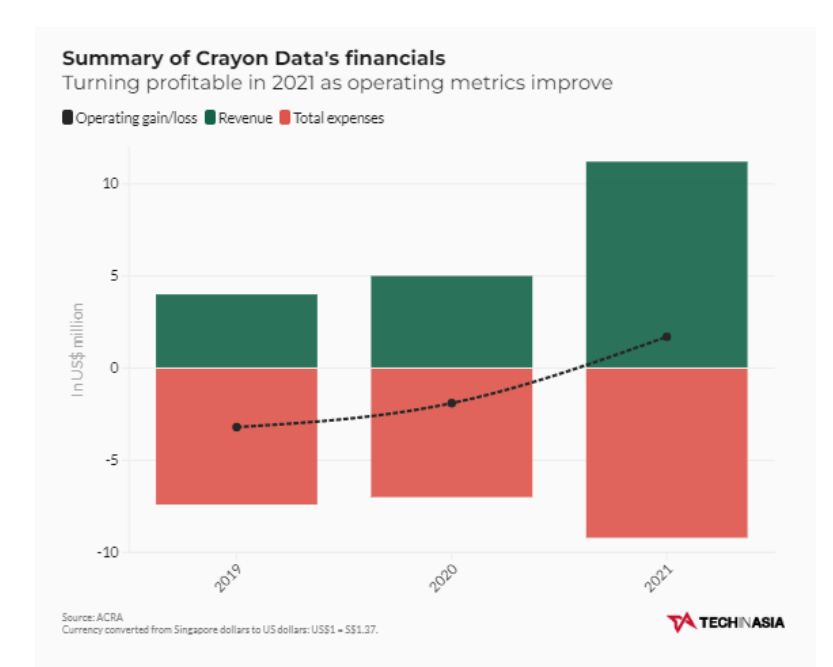 The company's data analytics platform, maya.ai, uses machine learning and artificial intelligence to give financial institutions and fintech firms detailed audience insights through analysis of their customer data. The platform helps them offer personalized solutions to their customers. Shankar compares this approach to what Spotify does – the audio streaming giant has 200 million songs, an equal number of users, and about 4o quadrillion choices, but everyone's playlist is still unique.
The company's earnings turning black was due to a large revenue growth in 2021 – it more than doubled during the year. In comparison, the firm's revenue rose by just over 20% year on year in 2020. 
 
Crayon Data is now looking to raise US$40 million to US$50 million in a new round of funding by early to mid next year. The funding will go into its expansion plans in the US and European markets in 2023 even as it expects its revenue from India and Southeast Asia to significantly grow in the near future. 
 
The company currently operates in the Middle East, India, and Southeast Asia, with offices in Dubai, Chennai, and Singapore. It has raised a total of US$23 million to date from investors such as Seeds Capital and Jungle Ventures, as well as Tata Group chairman emeritus Ratan Tata and Infosys co-founder Kris Gopalakrishnan.  
Revenue analysis 
It's not only in 2021 that the company saw a jump in revenue – over the past five years, its revenue grew by 7x. 
Crayon Data has only one major source of revenue: the service fees it charges its B2B clients. The company says that 90% of this is recurring revenue that mostly comes from subscriptions of its maya.ai platform. The rest comes from integration and deployment services for its platform to its clients.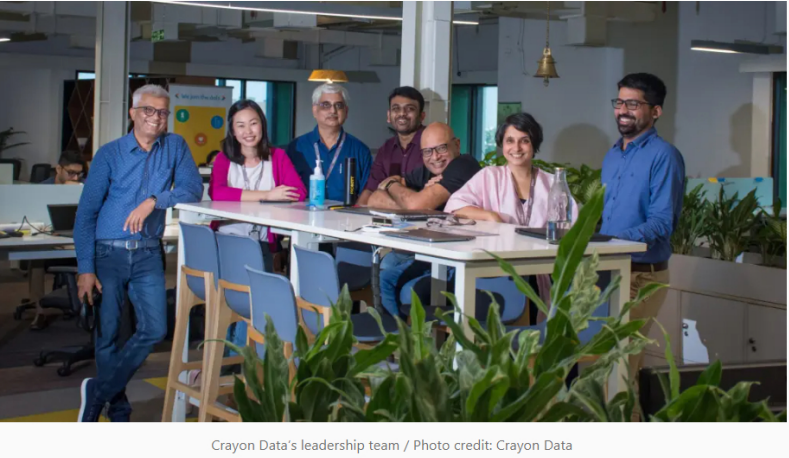 This has helped drive up the startup's net revenue retention (INRR) – a Saas metric that measures the recurring revenue from existing customers over a period. It is currently 139%, up from 126% in 2021. This figure is used by Saas players to find out how sustainable revenue growth is for their business. 
Crayon Data's current NRR score puts it close to the level of some listed SaaS players such as PagerDuty, Elastic, Twilio, and Snowflake. 
 
Crayon Data currently has about 11 to 12 clients, including large banks and financial institutions in India and the United Arab Emirates. The company, however, couldn't disclose the names of the clients. Going ahead, it expects to grow its number of clients to 15. 
 
Currently, 60% of the firm's revenue comes from its Middle East operations, while 20% each is from India and Southeast Asia. Moving forward, the company expects the India and Southeast Asia businesses to grow significantly due to the easing travel restrictions, with each market soon contributing a third of its revenue. 
 
Crayon Data's philosophy of sustainability and profitability also runs down to it calculating average revenue per employee. It says that the figure has nearly doubled to US$67,900 in 2021 from US$35,000 a year earlier, and it expects this to rise to US$94,600 in 2022. The firm currently has about 175 employees.  
Expense Analysis
A lower growth in expenses also contributed to Crayon Data's profitability in 2021. The SaaS startup saw its total expenses rise by just over 30%
Breakdown of Crayon Data's Expenses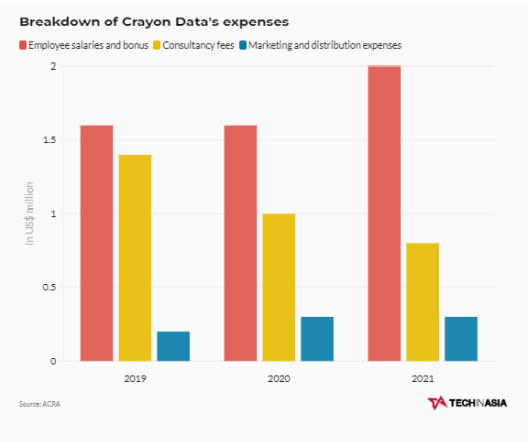 The reason for this is the decline in consultancy fee costs that the company pays to market development specialists, sales experts, and subject market consultants for entering new verticals or exploring any innovative work. It is the firm's second largest expense. The company says this is a prudent approach for it to test out the markets or verticals before making full-time investments. 
 
However, the firm's consultancy fee costs could rise in 2023 as it looks to expand in the US and Europe. 
 
Its largest expense, employee salaries and bonuses, also grew marginally by about 19%. Employee costs account for over 50% of the firm's expenses.  Marketing costs stayed the same as a year earlier.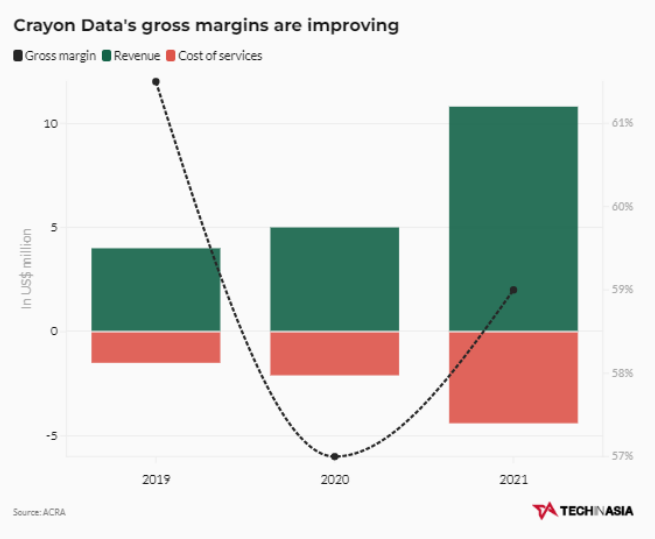 Employee expenses will grow in 2022 as it looks to hire 25 to 30 people by the end of the year to take the staff count to 200. In 2023, Shankar says the firm will hire about 50% more employees if its revenue growth is at 100%. Should this push through, this would be about 100 more employees, which would increase the company's expenses significantly. 
 
Crayon Data's gross margins have also improved in 2021 with a growth of 2%. This comes from a 4.5% decline a year earlier. 
 
The company also has a high lifetime value (LTV) to customer acquisition cost (CAC) ratio of 9.5. This metric tells if the LTV of a customer is higher or lower than the marketing or sales cost to acquire the customer. A LTV: CAC ratio above 5 means that a company can invest more in sales and marketing. 
Bank balance gets a boost 
The data analytics startup saw its cash and bank balance rise by over 3x in 2021 to US$3.6 million. This is largely due to the profits the company made during the year, as for the first time in three years, it received a cash flow from operations of US$1.9 million. Two years prior to this, its cash flow was in the red.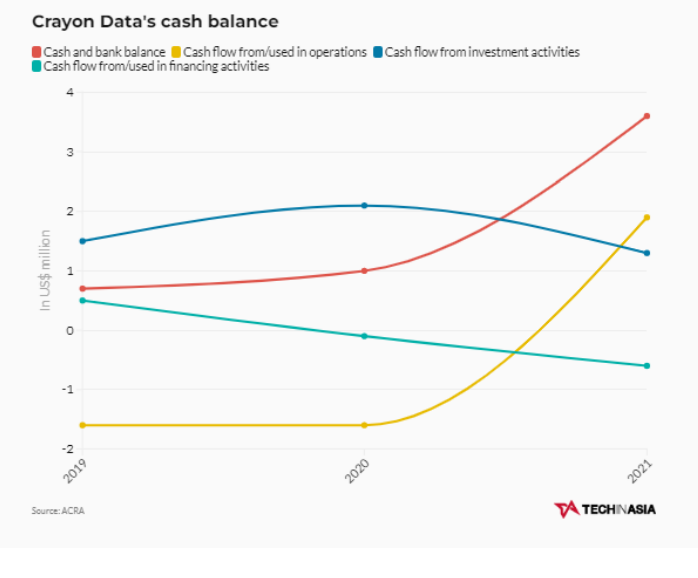 As the SaaS firm is profitable and expects to be so this year, it doesn't have to worry about its runway, considering its burn rate is the same as in 2021. 
 
The company's cash flow from investment activities declined by nearly 70% in 2021. However, the cash flow used in financing activities grew by over 5.5x as the firm made several repayments on borrowings, advances, and liabilities. 
Crayon Data is now looking to its next level of growth, which is to reach US$50 million in revenue and to have about 50 enterprise clients, says Shankar. 
 
"The number of users onboard the platform determines my own growth. It determines the value I can create for my clients, the amount of data I process, the amount of value I drive," says Shankar. "Our next phase of growth is to get to 250 million customers (from currently 10 million customers). We'll hopefully be there in two to three years time." 
 
Currency converted from Singapore dollars to US dollars: USS1 = S$1.37
For more news on what we do at Crayon Data, click here