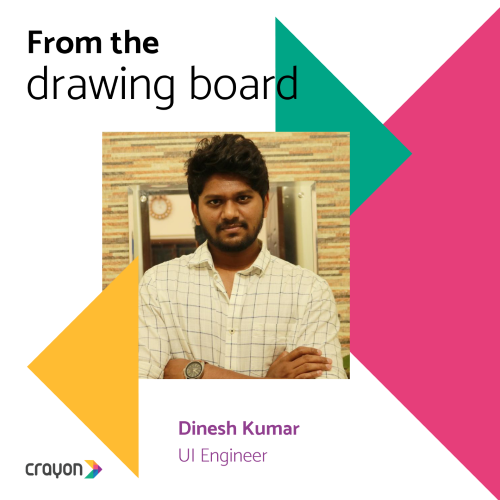 I believe that if you want to emulate the people around you, you shouldn't emulate their liberties. Emulate the behavior that earned them those liberties. That's why 'Responsibility with Freedom' is my favorite Crayon Data value.  
Perfection through peer review
It's something that I'm able to practice every day. My work revolves around coding and discussions with my team. Based on the priority of the release, I start working on the tasks assigned to me. I make sure to get clarity on the task before I begin each ticket. This is followed by peer review approvals. Depending on their feedback, I enhance the committed code.  
One of the best career lessons I've learned in my six months at Crayon is to aim for perfection based on peer feedback. I've also been able to articulate my opinions with clarity. It also helps that my team is adaptable, compassionate and inventive! 
Constant learning is key
To succeed in the role of a UI engineer, I would recommend constant learning. Pursue HTML, CSS and Bootstrap. Understand the basics of one Javascript library or framework. You can start by building small parts of a user interface applying JS concepts.
Are you outside the Crayon Box and ready to jump right in? We're looking for innovative, quirky and result-driven folk to join the Talented Tangram fam! Join the box today.