Although content has been an important and growing part of any marketing strategy for years, it is often overlooked, especially when it comes to sales.
Sales and marketing alignment is key for a company's growth, yet it remains to be one of the most common challenges. In the search for alignment between these two departments, content can play a key role in creating an effective sales and marketing machine.
Still wondering what this has to do with your sales team? How can content be an important component of your sales team? Plus, it seems as though content marketing does well on its own, why does sales need to be involved?
Creating the right content
Uninformed buyers no longer exist. People want to do their research before they make a purchase, and that has led to a longer buyer's journey than ever before.
If you're practicing inbound marketing, you already know that you need to use content to help move leads through this journey. Though the mistake most people tend to make is associating content with marketing alone, and not with sales. As they should be.
The Inbound Marketing Methodology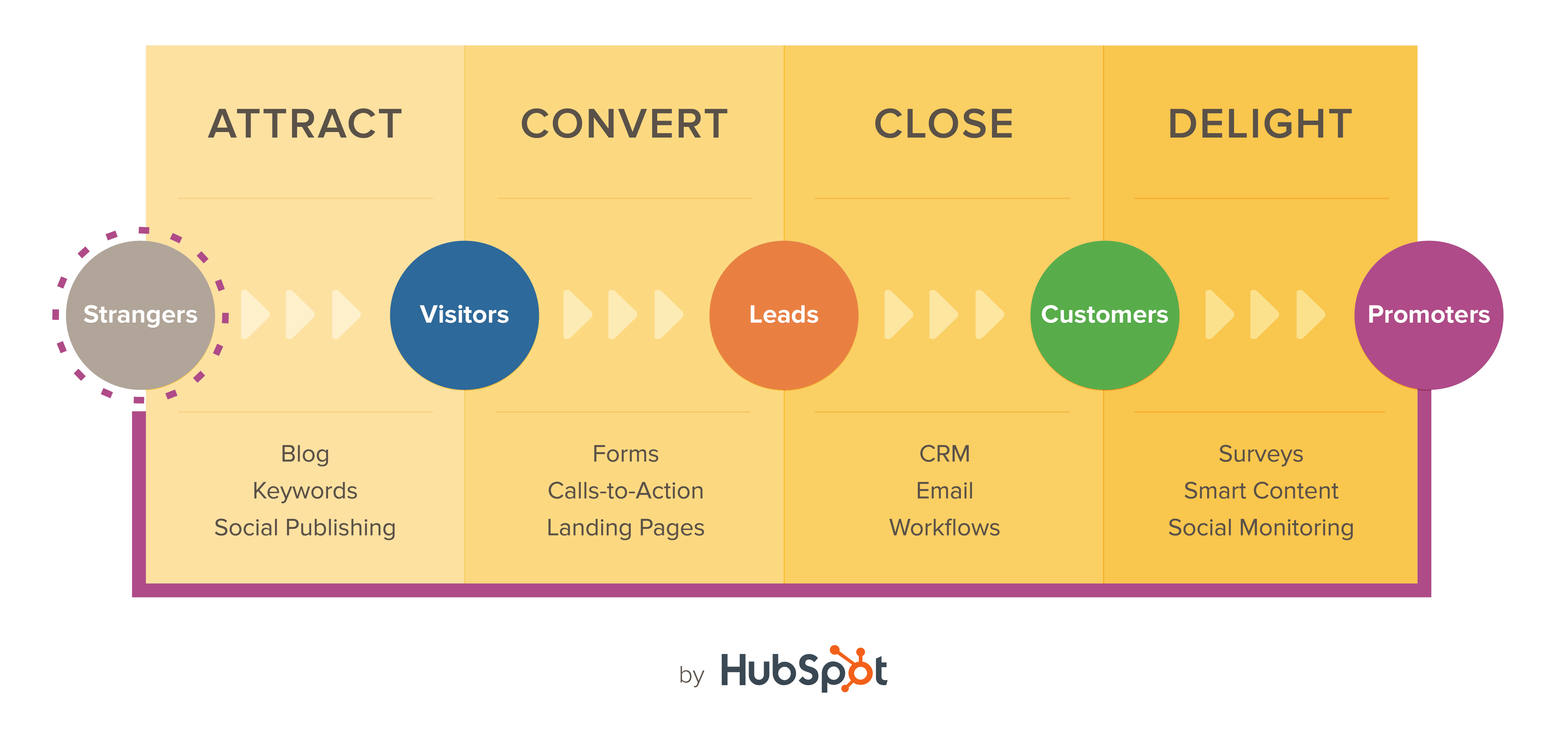 The creation of content is just as much a part of the sales process as it is that of marketing. Content is about more than just increasing organic traffic and generating leads; it's about starting the sales process in the mind of your buyer persona, before they even talk to a representative.
The content your marketing team creates, has the power to enable sales if it:
Answers common questions during the sales process
Helps prospects understand your product, how it works, and how to get the most out of it
Tells the story of your brand and differentiates your business, from the others in your industry
Addresses the biggest concerns that prospects have
Content marketing should help solve the problems of your prospects. So together with sales, you need to figure out the challenges faced by your prospects and target markets.
For example, ask sales about the type of objections they're facing, and brainstorm on how your content could help address those objections. From there, you can use blogs, reports and other types of content to address those issues. When prospects find your content useful, you're more likely to attract and convert them to clients of your business.
Allowing your prospects to do their own research with this kind of content saves time.
Once your sales rep gets a prospect on the phone, they don't need to spend as much time educating them on your product or service. They can focus instead, on answering technical or high-end questions.
But creating content that achieves this is not marketing's job alone.
Your sales reps are the ones in the trenches. They're the ones talking to leads and know what their concerns and thoughts are, first-hand.
Sales can play a significant role beyond the content-creation step. Don't hesitate to get sales input on your drafts for instance, they can help improve your content. And once your content is released, sales can tell you how it resonated with prospects—giving you anecdotal insights on how you can add improvements in the future.
Hence, to create content that primes leads for closing, sales needs to share what they have learned with marketing. When sales makes it clear why a prospect signed on (or why they didn't), marketing can strategize and create the right content to fill the gaps.
One last thing
Buyers today can get all the information they need about a given product or service on the vendor's website. This means sales teams need to offer value to prospects beyond merely explaining features. People in sales were once primarily product experts, they now need to become experts on their prospects' industries and businesses as well, to stay relevant.
But how do you advertise your business savvy side? One of the best ways to portray yourself as an expert and express your unique view point is through blogs.
Writing blogs is also a great way to establish a brand. Through their blogs, sales people can reveal insights to customers, spark debates, develop relationships with peers and other bloggers, and help customers find them.
Blogging shows how knowledgeable you are — not only about your customers' products and industry, but also about your customers' needs and wants and what's happening in their industry. Sharing this knowledge attracts the right people. They follow you and get to know your reputation.
Are you convinced that content marketing can fuel your sales process? If not, then here are some interesting facts:
80% of business decision makers prefer to get information in a series of articles versus an advertisement.[Source: Exact Target]
61% of consumers say they feel better about a company that delivers custom content and are also more likely to buy from that company. [Source:

The Content Council

]
Blogs have been rated as the 5th most trusted source for accurate online information
B2B marketers that use blogs receive 67% more leads than those that do not