7 AM
My morning alarm buzzed at 7 AM. But I remember setting my alarm for the usual 7.30. My smart phone then notified me of a minor accident on the route to my office, leading to traffic congestion Smart traffic cameras installed on the road had sensed it. This information was shared with my mobile, which prompted the alarm to go off early, so I could start earlier for office. Well, how cool was that?
I headed to the kitchen for my morning coffee. Surprise! The coffee machine had just finished making a nice cup of coffee for me. The coffee machine was in the loop and it knew I would get up early. It's not just my coffee machine – almost all my home appliances are connected and they talk to each other. It's a completely "connected home".
After breakfast, I left for office at 10 AM.
10 AM
On the way, my car flashed an alert saying that the engine needed some major repair, within a week. That had me worried about expensive repair bills. My bank's mobile app flashed with quotes from two service centres for the engine repair, along with the appointment times. As I was worried about the payment, the bank also provided me two options: I could pay the bill by reducing my entertainment expenses this month, or I could cut short my travel plan with friends by two days. I decided to reduce my entertainment expenses. I then booked an appointment with one of the service centres and instantly, the screen updated my entertainment goal for the month. Once the job is done, my bank will transfer the amount to the selected service centre automatically. Yes, everything was done on my way to office through my mobile app.
I managed to reach office on time, at 11 AM.
1 PM
My mobile flashed another notification, that I had to take my client out for lunch but I hadn't made any bookings yet. Oops! Never mind. The next notification suggested a list of restaurants around my neighbourhood that serve my favourite cuisine. I immediately booked a table.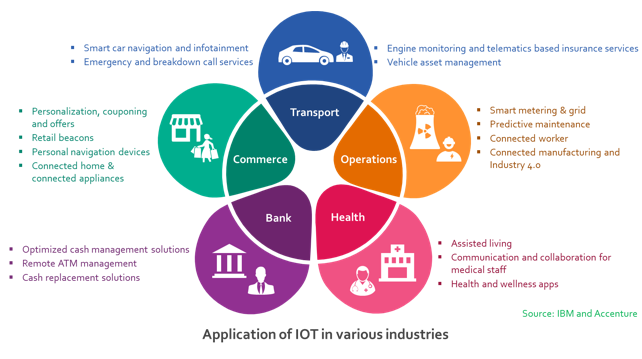 6 PM
Before I was ready to drive home, I received an alert from my various home appliances. I was informed that I loaded the dishwasher in the morning but forgot to switch it on. No problem. I switch it on by pressing a button on my mobile and the dishes will be ready when I get home. My smart refrigerator sensed that I was running low on groceries like eggs, milk etc. and it also suggested a recipe based on the available groceries. I can buy these groceries on my way back home and avoid a second trip!
8 PM
I reached home around 8 and started to cook dinner. Once I was done with diner, my wearable device notified me that I haven't been getting enough exercise lately. It suggested I schedule an appointment with my physical trainer to restructure my daily routine. From monitoring activity during workouts to sleeping patterns to hearing aids, these wearable devices track and analyse huge volumes of data.
The above scenarios look dreamy, right? But the IOT era is coming soon and it has a huge potential to change people's lives. It completely changes the way we live, work, play, through sharing of data insights via the Internet. The IOT-related technology and services revenue is forecast to grow from US$4.8 trillion in 2012 to $8.9 trillion by 2020 according to an Accenture report. The IOT boom is coming and to capitalise on these opportunities, today's industries need to invest in the development of ecosystems and capabilities that will drive it.