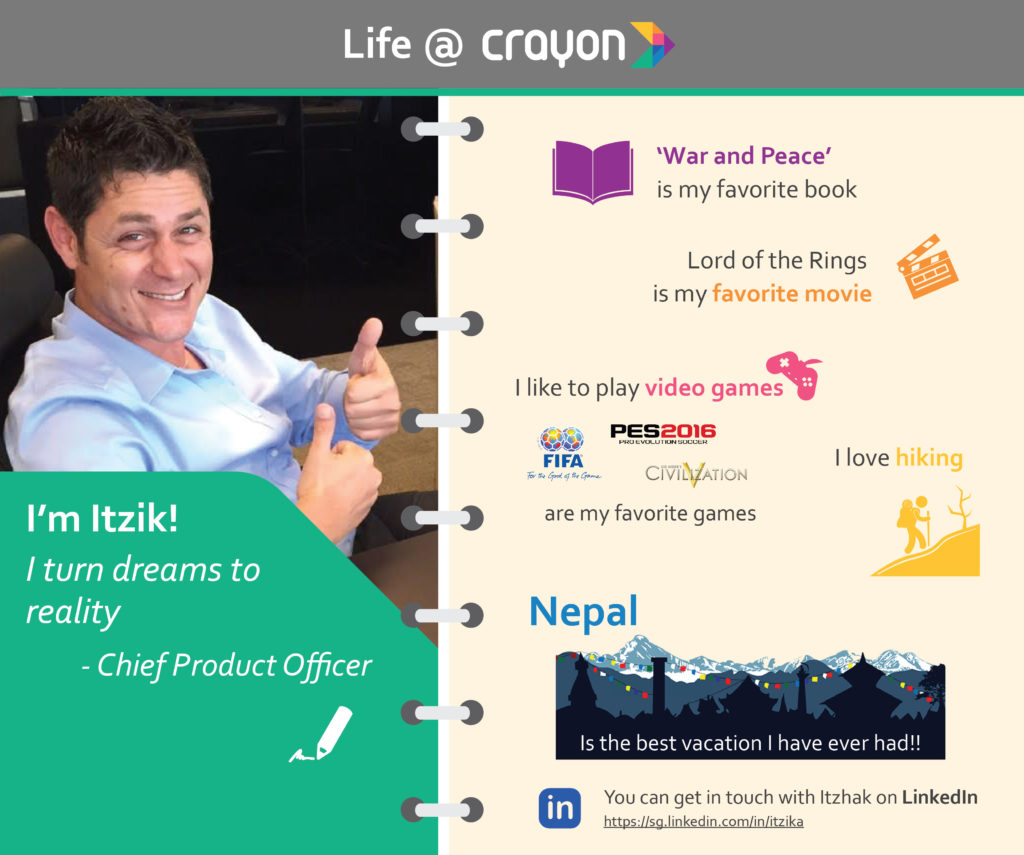 How long have you been at Crayon?
Since July 27th, 2015.
475 days have passed like it was a single moment.
What do you do at Crayon?
I lead the product management, engineering and customer deployments teams. AKA Product.
What's your average day like?
No one day is similar to another.
Some days it is all about strategy, product, funding, finance, engineering, people, customers, solutions… and others all the above combined. I try to provide clarity and clear the path for those more talented than me, to shine.
What's your favorite Crayon memory?
I have three.
– My first meeting with Suresh.
Telling me about Maya wearing his black Harry Potter glasses. Only to find out that I pitch it back to him and use the F word just as much!
– Maya 2.0 Launch countdown
I loved the fact that people actually wrote this countdown; it made me feel the moment was really anticipated.
– Being Dr. No – The Crayothon.
Though the setup could have been better, the energy of everyone coming together and creating something, showcasing it and working together in difficult times was for me an indication of the true spirit of the Crayon's we have around us.
What's your favorite thing about working at Crayon?/ What keeps you coming to work every day?
Taming Maya.
She must be the most amazing product on this blue planet.
She is a tough one to crack.
What do you contribute to Crayon (apart from your functional knowledge!)
I help others get better (I hope!).
If you were a Crayon colour what colour would you be? And why?



If we had to choose a mascot for Crayon – who would it be and why? (can be a person living or dead who inspires you, a fictional superhero, anyone)
Hannibal of Carthage.
According to him, there is no such thing as 'impossible'.
Working at Crayon allows me to …………….. (something outside of work)

You must be kidding me.
There is no room for anything else.