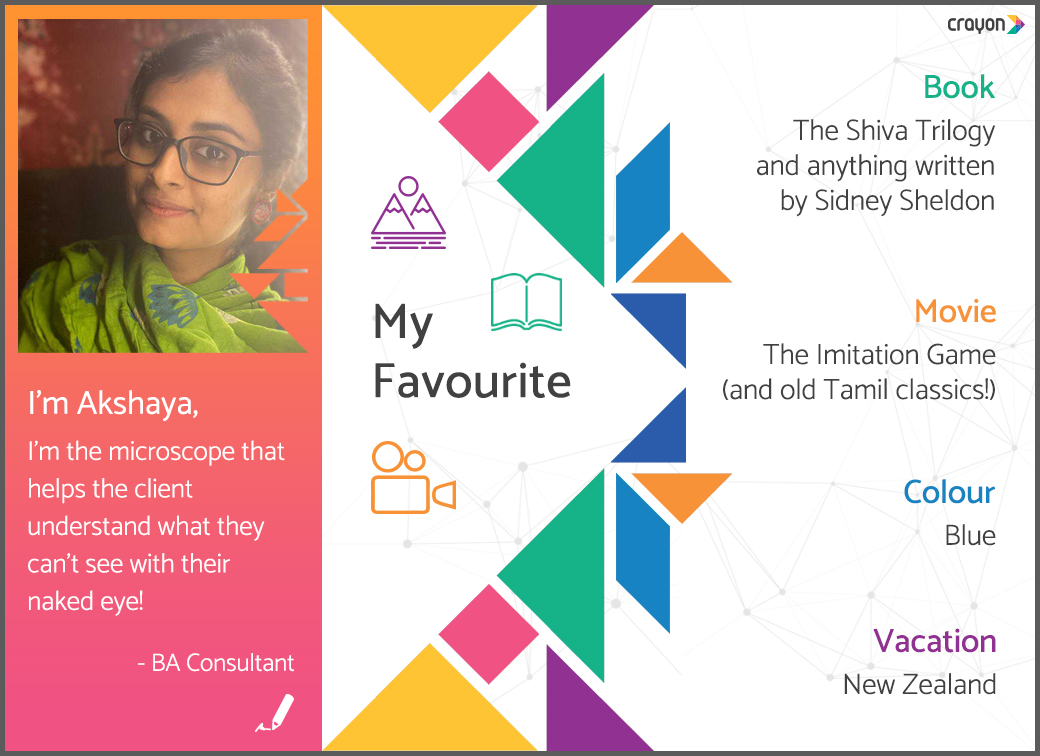 1)  How long have you been at Crayon?
I'm 16 months old at Crayon.
2) What do you do at Crayon?
I'm a business analyst with the Customer Success Team.
3) What's your average day like?
My average day is filled with cross team meetings, client meetings, raising tickets and code!
4) What's your favourite Crayon memory?
The very first office party I attended at the Crayon office, with great music, dance and loads of fun!
5) What's your favourite part about working at Crayon? What keeps you coming to work every day?
The people at Crayon.
6) What do you contribute to Crayon? (Apart from your functional knowledge!)
I contribute to the fun and quirky conversations at our lunch sessions, entertain people with good music and give tough competition in our badminton matches.
7) What is something you love to do, outside of work? (Eg.: Shopping, playing games, etc)
I love to travel, go to movies, try new restaurants and swim.
8) If we had to choose a mascot for Crayon, who would it be and why? (can be a person living or dead who inspires you, a fictional superhero, anyone)
Jack Ma. I think we need to absorb and channel his passion and his fire to grow big and strong.