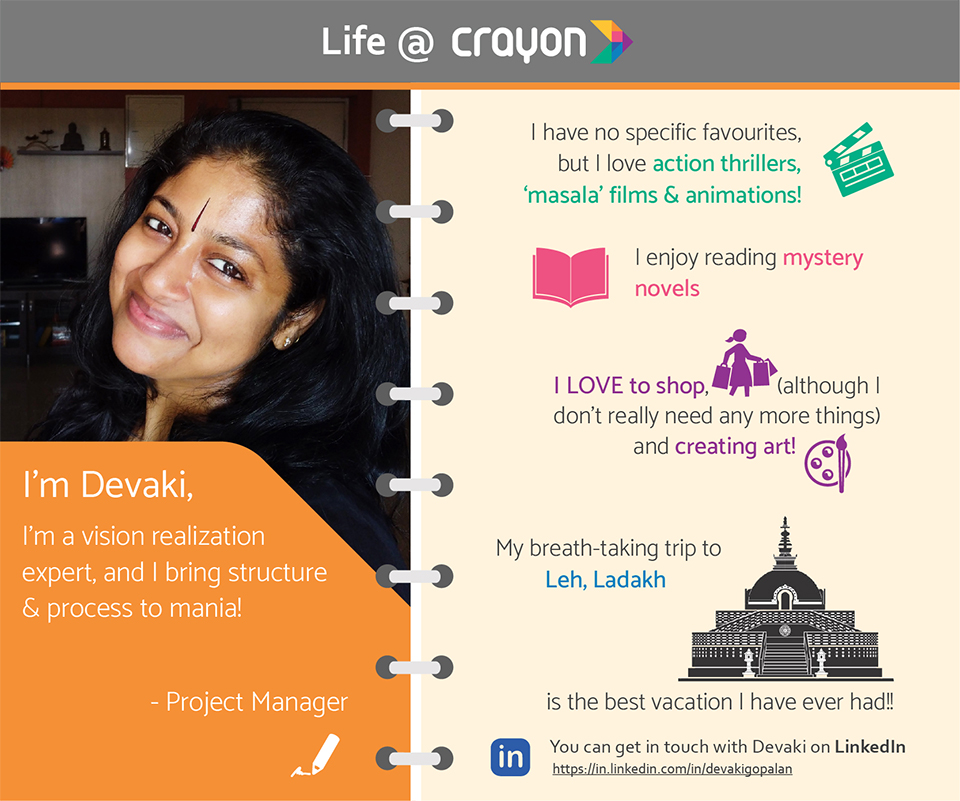 1.  How long have you been at Crayon?
It's been just over a year…
2. What do you do at Crayon?
I'm part of the Project Management Office.
3. What's your average day like?
My average day always begins with a wonderful cup of masala chai and ends with a wonderful evening with my husband, Bharath! ?
What comes in between is a whole series of things that can only be explained best with miscellaneous words and phrases – newspaper, my maid Kavitha, call to mom, mad Chennai traffic on the drive to work, Jitu's positivity-filled morning greetings, stand-ups, meetings, teammates, planning, standardization, work tasks, tracking, friends, parents and finally, home sweet home!
4. What's your favourite Crayon memory?
There are too many, it wouldn't be fair to just name one! The one thing I can say though is that every fond memory I have of Crayon almost always involves the many new friends I've made in Crayon.
5. What's your favourite part about working at Crayon? What keeps you coming to work every day?
The people I've met and friends I've made of course! Also, knowing that my work adds value to Crayon and how we function as an organization is a great motivator.
6. What do you contribute to Crayon? (Apart from your functional knowledge!)
A little bit of structure to the madness! ? I also feel, I contribute to making better and more productive Crayons!
7. If you were a Crayon colour, what colour would you be? And why?
Orange! I like to believe that I bring in a little bit of sunshine every day!! ? ?
8. If we had to choose a mascot for Crayon, who would it be and why? (can be a person living or dead who inspires you, a fictional superhero, anyone)
I'd say the Powerpuff girls. Because I've met a lot of kick-ass women at Crayon!
9. Working at Crayon allows me to also pursue…
… my passion for creating art and craft work.