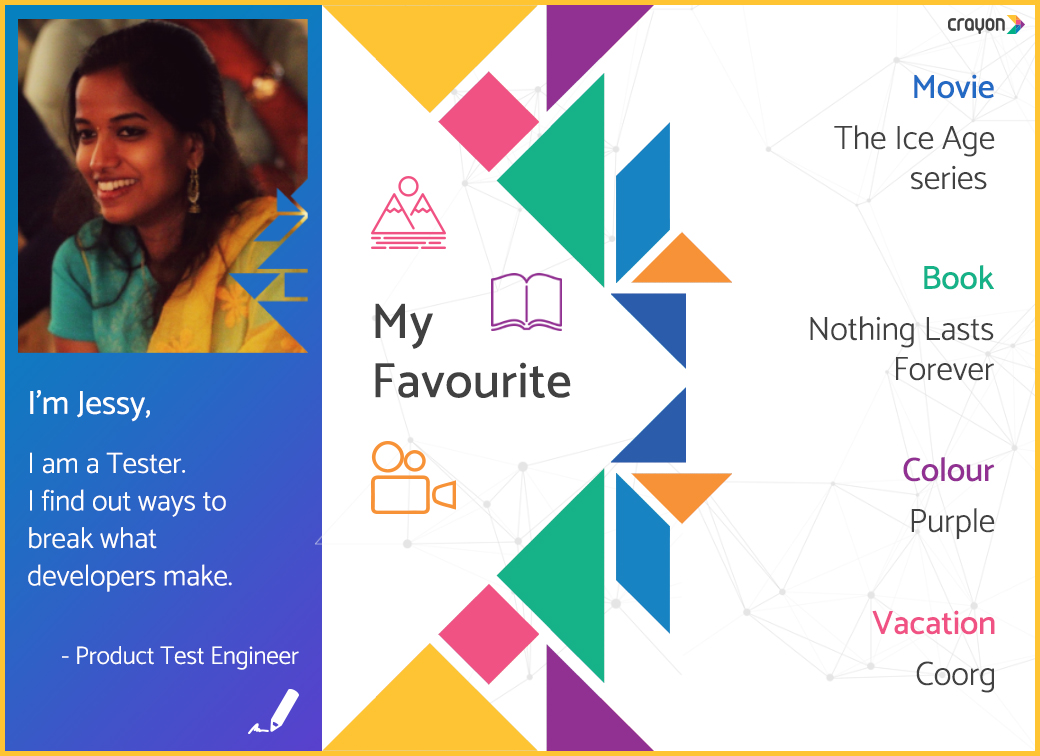 1) How long have you been at Crayon?
It's been more than 3 years now.
2) What do you do at Crayon?
It's my job to ensure the best quality of any deliverable goes out the exit door of Crayon's dev factory.
3) What's your average day like?
My average day is usually filled up with testing, bugging developers about bugs, and discussions with different teams to understand their requirements and implementations to get the test plan prepared.
4) What's your favourite Crayon memory?
There are way too many favourite memories to choose from. But the badminton tournament conducted last year is one of my best memories at Crayon.
5) What's your favourite part about working at Crayon? What keeps you coming to work every day?
The approachable people and the employee-friendly environment. ?
6) What do you contribute to Crayon? (Apart from your functional knowledge!)
I bring in lots of entertainment and fun during our Crayon celebrations! I was also in the sports committee.
7) What is something you love to do, outside of work? (Eg.: Shopping, playing Games, etc):
I love to dance! I'm currently learning how to groove to Bollywood. (It's a crazy dance form!)
8) If we had to choose a mascot for Crayon, who would it be and why? (can be a person living or dead who inspires you, a fictional superhero, anyone)
Peter Dinklage. His life proves that any of the hardships you face in life should never stop you from achieving the success you deserve.