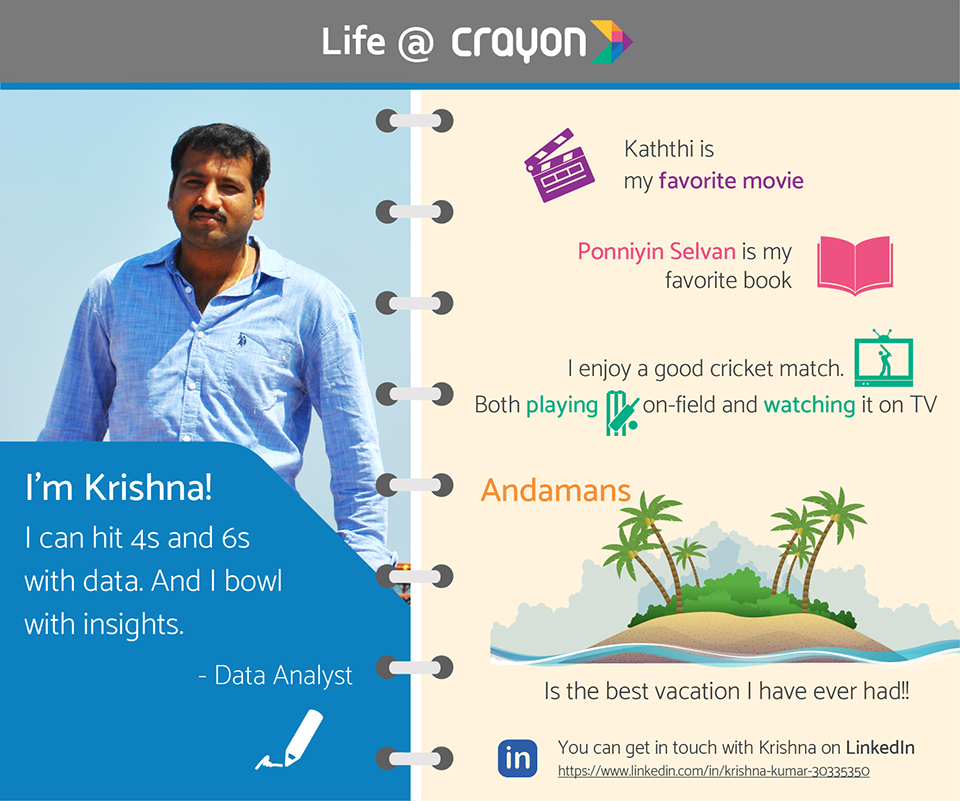 1. How long have you been at Crayon?
It's been around 5 years. Joined here on June 12th, 2013.

2.What do you do at Crayon?
I don't know exactly. If anyone has any clue, please do let me know. For now, I am working for the product team, and playing with the data.

3.What's your average day like?
The day mostly goes like this – analyzing, coding, Slacking, chatting and working with Crayons. Then lunch with friends, playing carrom and last but not the least, all those meetings!

4.What's your favourite Crayon memory?
To be honest, I have a lot of memories here and it's very difficult to choose one. Working at Crayon is a memory in itself.

5.What's your favourite thing about working at Crayon? / What keeps you coming to work every day?
All my fellow Crayons. And the quirky Crayon culture.

6.What do you contribute to Crayon (apart from your functional knowledge!)
I talk to everyone at Crayon about anything under the sun. But I am not sure if that contributes anything to Crayon.

7.If you were a Crayon colour what colour would you be? And why?
Crayon is made of multiple colours. And I don't want to be a single colour. I want to be colourful, like Crayon.

8.If we had to choose a mascot for Crayon – who would it be and why? (can be a person living or dead who inspires you, a fictional superhero, anyone)
Ms J. Jayalalitha. You have leadership, execution, knowledge, and vision, all rolled into a single person.  Do you need any more reasons to get inspiration from her?

9.Working at Crayon allows ………. (something outside of work)
…me to create new bonds with new people.