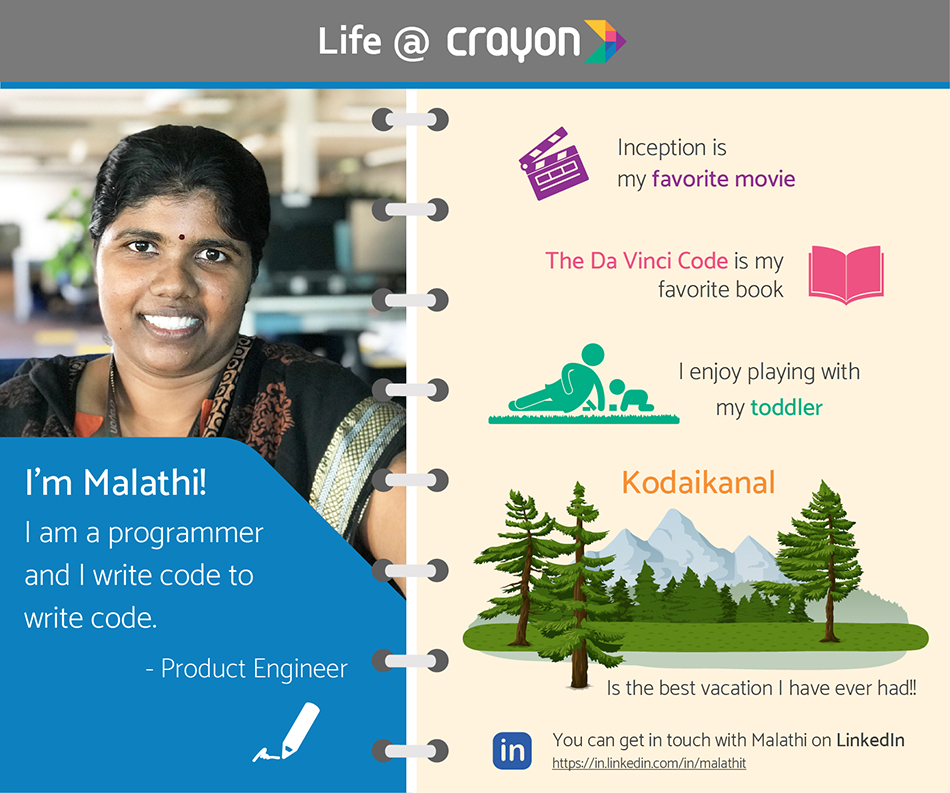 1) How long have you been at Crayon?
For 3 years and 10 months.
2) What do you do at Crayon?
I am a software developer. I sit in front of black & grey screens and I type commands that add flavours to Crayon's products.
3) What's your average day like?
My average day usually has several sync ups. As well as the routine stand-up at the end of the day. In between all of this, I work on my stories and help others when needed. And take breaks too!
4) What's your favourite Crayon memory?
There are many good memories associated with Crayon. It's difficult to pick one.
5) What's your favourite part about working at Crayon? What keeps you coming to work every day?
The fact that I keep getting challenged and motivated to work each day.
6) What do you contribute to Crayon? (Apart from your functional knowledge!)
I listen to people at Crayon. Be it random discussions, arguments, complaints or gossip.
7) If you were a Crayon colour, what colour would you be? And why?
Blue. Like the ocean.
8) If we had to choose a mascot for Crayon, who would it be and why? (can be a person living or dead who inspires you, a fictional superhero, anyone)
Batman!
9) Working at Crayon allows me to… (Tell us what you do outside of work)
…learn new things and improve myself!