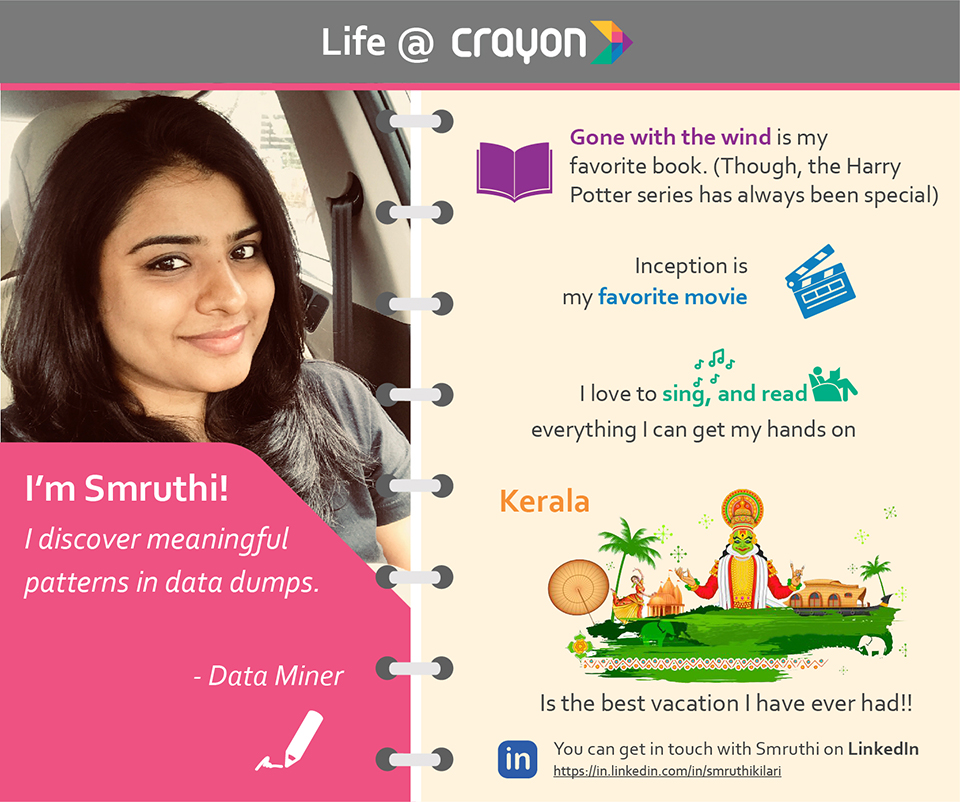 1) How long have you been at Crayon?
It's been about 1 year and 3 months.
2) What do you do at Crayon?
Data mining and client delivery. But basically, everything data.
3) What's your average day like?
Every day is a new challenge.
It's full of regular campaigns, adhoc analysis, data modelling and client management.
4) What's your favorite Crayon memory?
There are numerous memories I can think of. But if I had to pick one, then the first outing with the team during C17 launch has to be my favourite.
5) What's your favourite thing about working at Crayon?/ What keeps you coming to work every day?
Responsibilities outside the job description gives me a sense of ownership.
I also have the freedom to work and learn what I want to. And of course, Crayon's culture and its crazy bunch!
6) What do you contribute to Crayon (apart from your functional knowledge!)
I am a social butterfly! I interact with everyone! I also organize events when I have the time.
7) If you were a Crayon colour what colour would you be? And why?
Blue!! It may seem common but it's very vital.
8) If we had to choose a mascot for Crayon – who would it be and why? (can be a person living or dead who inspires you, a fictional superhero, anyone)
Ant Man… while Crayon can seem very tiny in terms of size, it's definitely a superhero in terms of what it can do!
9) Working at Crayon allows me to ……………. (something outside of work)
Meet new people! I do love making new friends.