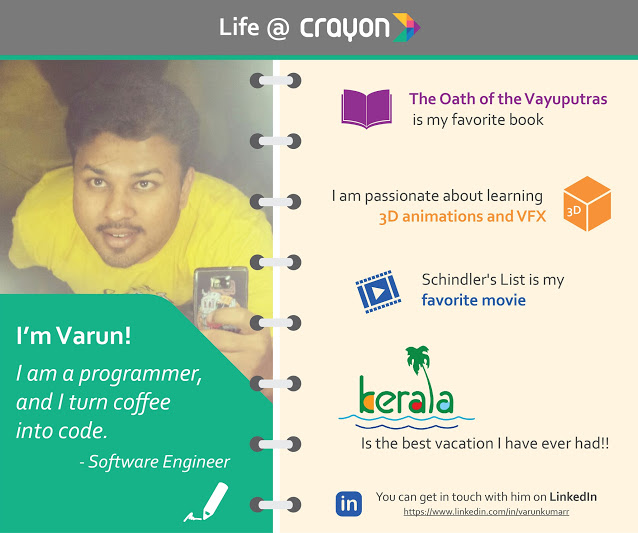 1. How long have you been at Crayon?
3 years
2. What do you do at Crayon?
I build big data applications using Java and Python.
3. What's your average day like? 
The day mostly involves email, coding, chatting and working with incredibly smart co-workers, lunch with coworkers, playing Carrom and meetings.
4. What's your favourite Crayon memory?
When we demoed the first version of Maya(Crayon's product).
The day before the demo, we burned the midnight oil and worked hard to complete the project. As soon as the demo was over, I felt a huge relief. The same evening we all went to Pondicherry.
5. What keeps you coming to work everyday?
As a software developer at Crayon, I find my job incredibly gratifying. I get to create stuff out of thin air. Stuff that has the potential to have a real impact on the world.
There is also the freedom to explore and experiment new things at Crayon.
6. What do you contribute to Crayon( apart from your functional knowledge!) 
People at Crayon consider me as a good Carrom player. I also coach new Carrom players at Crayon.
7. If you were a Crayon colour what colour would you be? And why?
Green. It  is the color of prosperity, abundance, and peacefulness.
8.  If we had to choose a mascot for Crayon – who would it be and why?
Tony Stark, the technology genius. Usually, superheroes are behind their masks, but he is not. He is also not to afraid to show the world who he is.
9. Working at Crayon allows me to ……………..
Currently, I am working on some open source programming projects. The skills that I gained at Crayon has helped me a lot with my projects.