I took an Uber taxi ride last week to Indiranagar (Bangalore). My car was at the garage for repairs and I had a digital wallet balance to consume. The cab was a brand new Maruti Swift Dzire, and I was concerned that the man behind the wheel was just as new to driving!
So I started to ask him about his driving record, and it led to this unforgettable conversation.
"I used to run a full-fledged travel agency ten years ago, and life was good. I had more than ten vehicles of my own. I had tied up with many other cab owners and drivers to run a full-fledged agency. I booked air tickets, bus tickets, sightseeing trips, hotel rooms and local trips and was leading a normal middle class life. My troubles started when MakeMyTrip started online bookings. I shut down my air tickets business. Then Redbus started bus bookings. I shut down my bus booking business. StayZilla came in, and I shut down my hotel rooms business. Uber and Ola came in, and I shut down my cab business and started running auto rickshaws. Ola introduced autos, and I had to shut down my auto business too.
In the middle, I tried my hand at various other businesses like furniture and food delivery. I had to shut down both, thanks to online portals like Urban ladder, Pepper Fry, Delhivery, and Swiggy. I now run a scaled down version of my travel agency and deal with mobile accessories! I drive my car for Uber, Ola and Taxi For Sure and carry 3 to 4 phones for these services on call! I want to kill those *** who sit outside India and fund these companies; they've practically ruined our lives here!" (His language, I assure you, was far more colorful, but I have censored it for this post).
After this catharsis, I asked him for some real numbers of his current situation.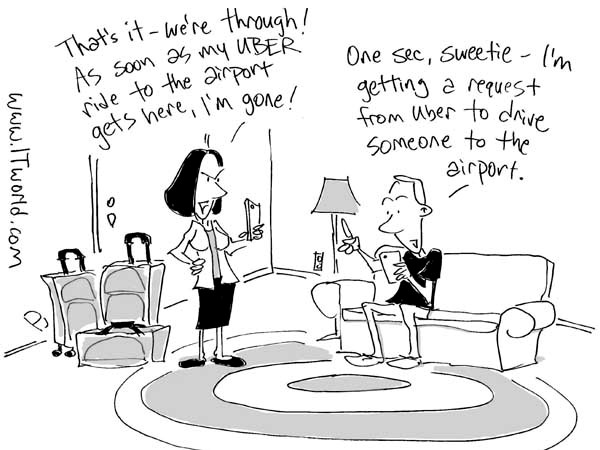 He shared these data points with me.
1. A driver can make 15 trips in a day in city (combination of Ola, Uber and TFS). This is close to 350kms a day. It isn't possible to do this on a continuous basis, as it is very tiring.
2. The cut taken by Uber and Ola ranges from 10% to 20% and there is a bonus of INR 100 to 200 for 'peak hour driving'.
3. There are incentives of up to INR 500, if one drives more than 4 hours on one cab operator. They may even pay INR 1000 if the driver stays with one operator for 8 hours, at a stretch.
4. Most operators stipulate a minimum number of trips, like 12 in a day, for incentives.
5. A typical Uber or Ola driver makes about INR 1,00,000 a month on a fully occupied day model. He has to pay about 20k for EMI on the car and another 10k for maintenance. He will have about INR 60,000 to 70,000 per month surplus in this model.
Since this pay scale is similar to that of a call center, I asked him what the problem was. This is what he told me:
6. There are 2,00,000 cabs like this in Bangalore now. Ola and Uber add about 200 to 400 cars per day in this aggregation! It is so popular that many farmers in Mysore and Mandya give up everything and buy cars to come to Bangalore to become drivers! (For the record, farmer suicides in these regions is not due to crop debt alone but consumer assets debt!)
7. At a 15 trips per car, this amounts to 30,00,000 trips a day if all cars are used! And they add a 1,00,000 extra per year to this. To add fuel to fire, they have added about 30k autos now!
8. The average of 12 to 14 trips a day earlier is now down to 4 to 6 trips a day, it will go down even further.
9. As one can compute now, it seems that someone forgot the basics of supply and demand analytics, before funding them. He went on to say that if all these numbers are right, nobody will need a home anymore! So why are investors funding housing.com?
10. I paid INR 179 for an 8 Km ride in peak hour and INR 129 in the non-peak hour slot. A cab ride, in full fare will cost me upwards of INR 400. This meant that someone funded INR 220 for me. Even an auto would cost more than this! And now, they are going to fund autos as well!
The conversation with the driver made me ponder over our own business models in the B2B segment. Are they really that different from what is happening in the B2C segment now? Are the deals sent by credit card departments in banks any different from the cab aggregator deals? Are 'cash backs' in credit cards not the same as discounts in the taxi ride segment? What about the deals for frequent guests in hotel segment? During my telecom days, I came across many vendor financing deals, which put many large corporations out of business later.
Are the venture financing models of the present era any different from the vendor financing deals of yesteryears? That is the topic for another day and another blog post!
Image source: http://www.itworld.com/