As co-founder of a startup with global ambitions, I've travelled 170+ days in the last year – pretty much making me a nomad of sorts. And as a self –confessed foodie, the quest for memorable food experiences on my travels has certainly been interesting.
First, the airline food ( is that worth talking about?)
Most low-cost airlines in US serve only peanuts, pretzels or cookies (choose any one!). But no one does it with as much panache as Southwest Airlines. They actually make you feel good while serving nothing more than peanuts & coffee. Most full-fare airlines serve the same peanuts, but toss it towards you like a hoopla thrower.
I am fascinated how domestic airlines in India( e.g. Jet Airways) do such a great job of serving a hot meal, on a short 90-min flight. My best food memories on international flights have been when I used my upgrade vouchers or miles to travel business. Jet Airways usually serves a decent meal, and Emirates has this cool lounge bar on the Dubai-US sectors. And on that one memorable occasion, when my travel agent got me a first-class upgrade on Etihad, they had a chef-on-call!
How do different cities stack up?
Berlin, where a bunch of us went for the ITB trade show in March 2015, was outstanding for its diversity of high-quality food options. We went to some great Lebanese, Vietnamese & Italian restaurants over 3 days.
I continue to believe it is hard to find great Indian restaurants outside of India. Two recent exceptions have been MTR in Singapore, and a small place on Lexington Ave in New York. The biggest disappointment has been the over-rated Junoon in New York; I went there a second time just to convince myself that I wasn't wrong in my view.
I am a great one for snacking. My all-time favorites are masala peanuts that bars in India serve. That and Nachos with freshly-made guacamole( the best I've had so far is in Boston!)
My 'bread test' for restaurants
Growing up as a student at the Indian Institute of Technology, Kanpur on a shoe-string budget, our occasional celebrations were carefully planned. The menu price of 'Naan'( Indian bread) was a benchmark of how inexpensive the restaurant was likely to be. Yogi, our most frequented place, passed this test. As a food nomad, I still use the 'bread test', albeit slightly differently.
If it's a continental breakfast, does the croissant or Danish pastry melt in your mouth? Is the 'tandoori roti' in a North Indian restaurant equally crisp and fragile? In a South Indian restaurant, does the 'medu vada' melt in your mouth? I must add that only the Brits give you the perfect toast for breakfast.
Food in this digital age
Technology is now helping nomads like me, and tech start-ups centered around food are a life-saver.
When I first started spending time in New York, online ordering via Seamless, and youtube guides for making Biryani or Sambhar were priceless. Then I graduated to on-line ordering of Indian groceries from fretch.com.
OpenTable has been great for restaurant reservations, although restaurants don't seem to like them for the amount of fee they take away( two recent examples: I can never book a table at Rubirosa, the super pizza place in NY, via Open Table. On another occasion, when I booked a table via Open Table at a restaurant for lunch, they reported me as a 'no show' so that they wouldn't have to pay a commission to Open Table).
In June, when I was in Gurgaon for two weeks, I over-dosed on the likes of BiteClub and Eatonomist. In particular, BiteClub was great as an aggregator of home chefs, with a range of cuisines and meals on offer.
And, you must give Good Service a shot. They are like the TaskRabbit of India, but very versatile, and very, very good. At home in New Delhi, we've used them to order Chana-Bhatura and Ghevar from Old Delhi. My son got them to book a hard-to-get restaurant in Berlin. Super!
I've rarely used Zomato, the hot unicorn from India. Would like to, though.
Last week in London, I was invited home for dinner by my colleague Vijay Anand & his wife, Mithra. They've subscribed to this cool subscription service, HelloFresh , which sends them 3 illustrated recipes AND the ingredients every Tuesday. Very cool.
And then there is Maya
Maya is Crayon's closely-kept secret that's only been available to those of us inside Crayon. Or now gradually to banks, hotels, etc who are deploying this technology. Maya knows that my five favorite restaurants in New York are Rubirosa, Vezzo, Saravana Bhavan, Vatan and Taboon.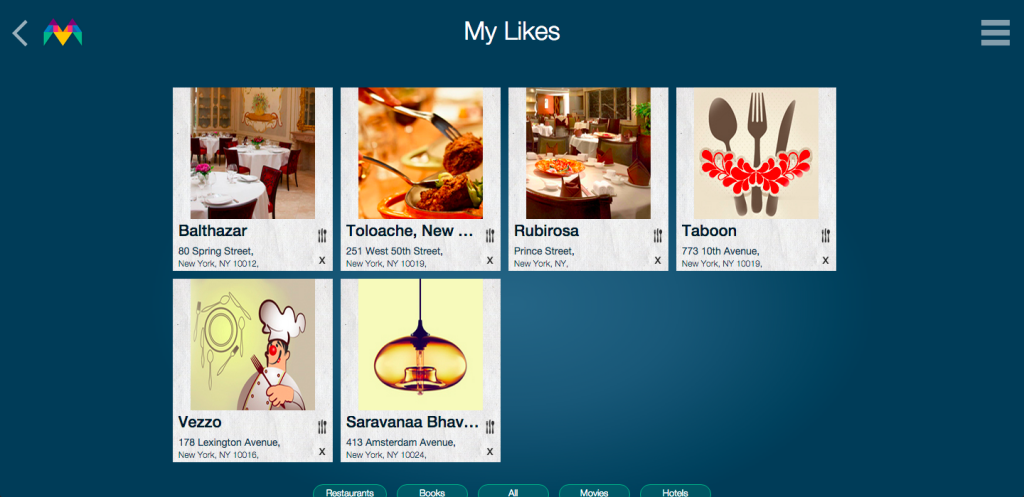 Anywhere in the world I travel now, Maya finds eating places that have a high affinity with these five. Last week in Dallas, Maya suggested Sonny Bryan's, iZap, Ojeda's, Trinity Plaza & Asador. This week in London, I got Square Tavern, Tikino, Masala Hut, Café Nora & Fora from Maya.
Recently, I got a sneak preview of Maya's next(public) version, where I'll soon be able to get three kinds of 'collections'( Popular, Lifestyle & Context-Intelligent).
(by the way, Maya can also find my kind of entertainment, shopping, holidays, etc. for me)
I've been fortunate to be surrounded by friends and colleagues who like good food. That makes this exploration fun.
Only Suresh Shankar (my co-founder at Crayon and friend for over 32 years) wonders what this big deal about food is! Opposites really do come together.
(This is an extract from Srikant Sastri's personal blog that he published last week)