When I speak to my parents, they tell me a number of stories about how a non- digital world used to be. Some of their favorite examples:
To know how their loved ones were doing, they sent handwritten letters. These would take more than a week to get delivered. The response would take another week to reach them.
To speak with his sister who lived in a different part of India, my father had to call an operator from a public phone booth. They would then call another operator in my aunt's city and schedule a time. Both parties had to reach the phone booths at the same time to talk to each other.
Television sets were expensive! Only 1-2 households in the entire neighborhood had them. All the children and grownups used to visit that house. On the program were black and white movies and cricket matches.
How times have changed in just the past 30 years! The Digital 2022 Global Overview, published by We Are Social (in partnership with Hootsuite) gives an extremely comprehensive view of how far we've come.
Some key takeaways of the study for me:
1. Social media platforms continue to grow exponentially.
YouTube, TikTok and Instagram being the top performers. In total, the latest numbers suggest that the world should spend more than 12½ trillion hours online in 2022 alone. That also includes a lot of ads. But a troubling find is that only 1 in 6 working-age internet users say they feel represented in the ads that they see. Regular social listening can provide some of the most powerful insights into what people actually care about.
Meanwhile, word-of-mouth recommendations also rank highly for brand discovery. So marketers may want to make it easy for audiences to share their brand. It's imperative to do so via messenger apps like WhatsApp and Telegram.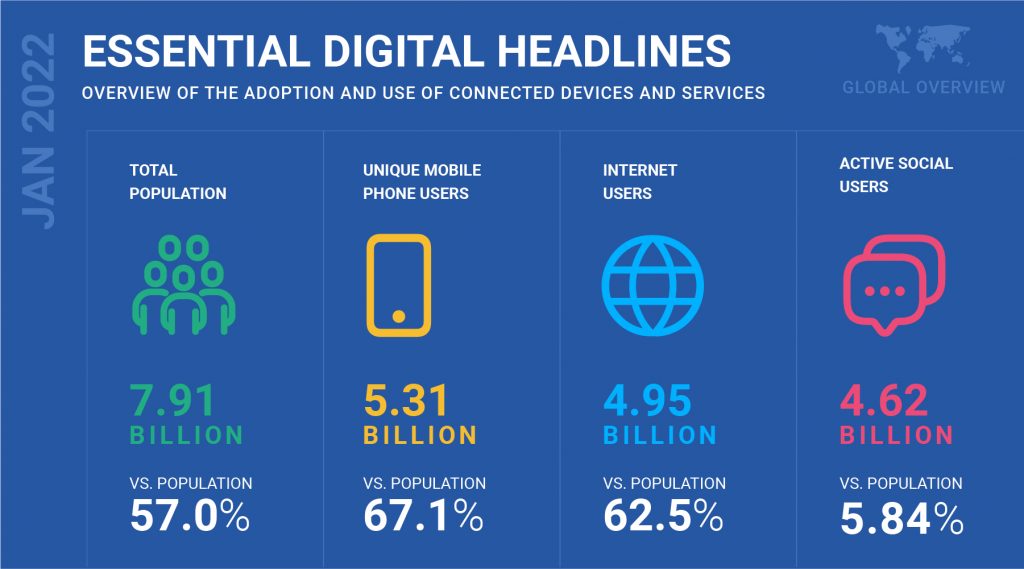 2. 7/10 people are on the internet are paying to get access to digital content.
This goes against all stereotypes. The research shows that users spent almost $300 Bn online. Advertisers too spent 14% more on social media ads in Q4 2021 than they did in Q4 2020. Despite those rising ad costs, marketers please note that new research confirms the effectiveness of social media advertising.
GWI's latest data reveals that 27.6% of internet users aged 16 to 64 discover new brands, products, and services via social media ads. This is only slightly less than the figure for TV ads (31.1%).
3. The typical e-commerce user now spends an average of $1000 per year.
Electronics are the highest contributor to revenue. But grocery shopping is the fastest growing category with almost 30% of internet users buying grocery online every week.
Overall, global revenues associated with online purchases of "consumer goods" – groceries, fashion, electronics, and other household items – increased by more than half a trillion US dollars during 2021 (+18%), reaching a total of USD $3.85 Tn for the year.
Data from GWI shows that 6 in 10 working-age internet users now buy something online every week. This figure continued to rise throughout 2021.
More than 4 in 10 working-age internet users say that they visit social networks specifically to research brands/products they're thinking of buying. This number rises to half of all internet users aged 16 to 24.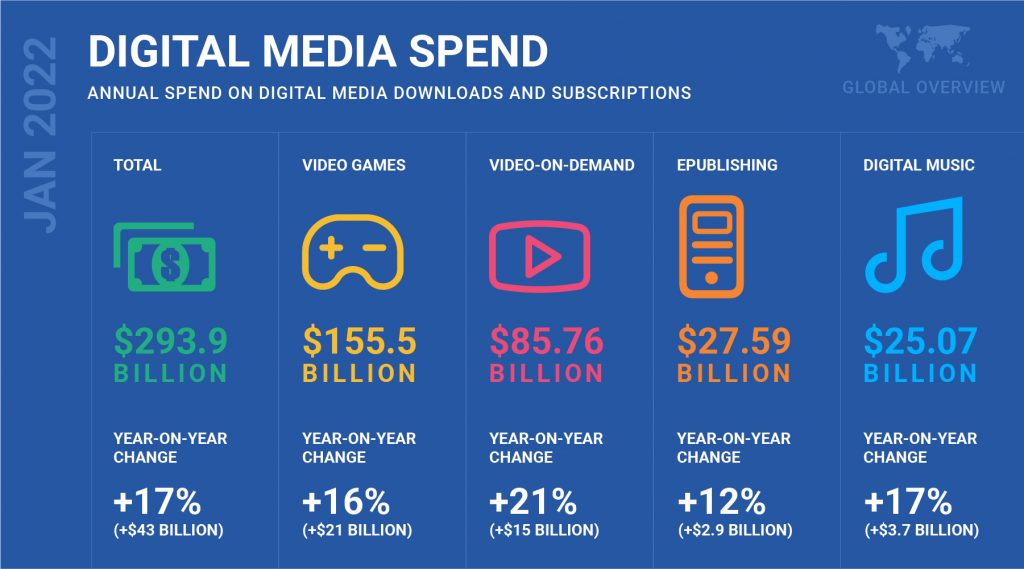 4. Users downloaded 230 billion apps in 2021, with a whopping $170 Bn spent on downloads.
This number only accounts for direct spending on the app store and doesn't include ad revenue or e-commerce spending.
App Annie's new State of Mobile 2022 report reveals that the typical mobile user now spends an average of 4 hours and 48 minutes per user, per day using their phone. That means that the world's 5.3 billion mobile users will spend more than 1 billion years of combined human time using mobile phones in 2022. 
5. Cryptocurrency adoption grew by 38% with 1 in 10 people now holding crypto assets.
Adoption has been much higher in countries which are seeing increased volatility in their FIAT currencies such as Turkey. As a planet, we are moving closer towards universal accessibility to the internet. The global internet penetration now stands at 62.5% with 4.9 billion people on the world wide web.
The Internet, which according to me, is the second most significant invention after the wheel for humanity, has now connected 4.9 billion of us. The power of the platform is immense, and the possibilities are endless. Bonus content from the report. Skip to page 62 to know how much time humanity has "Netflixed and Chilled" in 2021. I am not proud to say that I might be contributing to 50% of those numbers.
Source: Digital 2022 Global Overview Report
This study includes research conducted by GWI, Statista, App Annie, Semrush, Similarweb, Locowise, Skai, GSMA Intelligence and others.