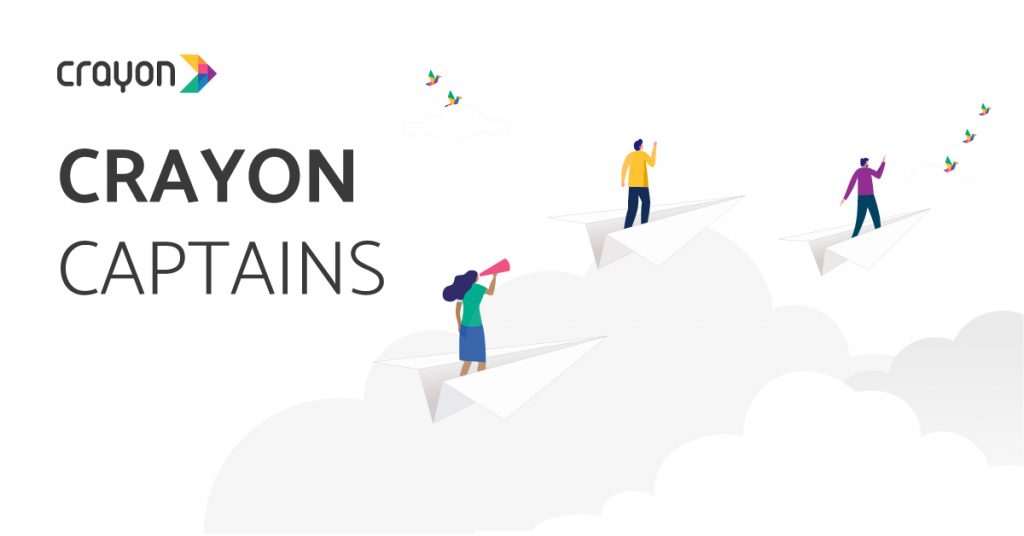 It took me a while to get my first job. The industry was still reeling after the 2008 financial crash. I found a role in strategy consulting, and in 18 months, I worked on about 14 different projects. These were spread across education, health care, veterinary services, aviation, skills and training. This helped me in two ways:
I saw how data was becoming critical to all organizations. Businesses were starting to take a data-led approach to their operations.
Being able to identify value. Because when you're working for an aviation company vs a veterinary service, value has vastly different definitions. It became an inherent skill.
I then moved to IBM. For me, it was important to have a good balance between the left and the right side of the brain: being analytical, but also having something creative to put my mind to. In IBM, what you're supposed to do is well established, so it was very analytical. But when I joined Crayon in 2014, it was a blank slate. And it needed a lot of creativity in the early days.
As a product manager, I'm essentially at the center of many different intersecting points:  
What our client wants
What we as a business need to do, and
How are we going to sell whatever we develop
Being a data focused company, for us, it all starts with data and intelligence. So, anything that we do build out, there are various layers to the product. We ask how good, how rich the data is. How strong are the algorithms? And of course, how are we packaging these algorithms into something that delivers value for our business, our clients or for our end users? The aim is to create an interface that allows someone who doesn't know how to work with raw data to leverage the insights we're generating.
Plus, in an organization like Crayon, where there's a core platform, we're also interested in expanding it. We want to make it more intelligent, and applicable across industries, users, and customers. There is no such thing as a typical day. One must be agile because you're working with a lot of variables.
The most interesting thing for me has been the interpretation of my work.  
Whatever we're developing must be shared both internally and externally. And so, the ability to translate the same message across different audiences becomes a key aspect. I might spend the entire day just talking about a single feature that we're building. But I will be talking to different people in a language that they understand. The sales team will respond to a certain set of messages. Client success teams will want key deliverables that they can promise within timelines. Engineers will want to understand what that means in terms of layers we need to build up…
What I also have a lot of fun with is making myself redundant. Or I'll end up becoming a bottleneck. Empowering people to be able to take decisions for themselves is not easy. So, I spend a lot of time making sure that everybody within my team, and the teams that I work with are self-sufficient. If I'm occupied, they have the key framework or variables by which they can decide a direction for themselves.
One of the major milestones for me at Crayon was when I was charged with building up the Product Management team. 
At one point, we realized that we wanted to aggressively expand the platform, across verticals, use cases, add bigger pieces of the proposition like Bazaar into it. And I was allowed to put together my own team of product managers. This was the first time I was in charge of anybody's day-to-day!  
So, I'm learning along with them. How can I make them do a better job? What do they need from me? Is it just guidance or support or is it structuring their work or priorities? How do I motivate them while making sure they are having fun? The last thing I want is my own team to be bored with the kind of work that they're doing!
What makes a great product manager?   
From my perspective, two things:
An obsession with your user. If you build a product, and nobody uses it, was there a product to begin with?
Balance this obsession with vision. You are a custodian of the vision and need to balance it with what the user wants.
A product manager can write a good requirements document and come up with nice designs. But at every single point, what has helped me is putting myself in the shoes of the user. Having come from a slightly different background in data science analytics, I focused on the output. In the early years, I didn't talk or think too much about usability. Or how the user is going to consume, interpret, and push forward the output. 
The second thing is listening. A lot of times, product managers tend to impose their own ideas, just because they want to build something that's fun and cool, as per their definition. But if your user is very clearly telling you that something simplistic will be useful for them, you need to be able to take that into account. You also need to make sure everyone involved in this also understands each other.
That's where our culture and values come into play. We use #TheMissionIsTheBoss to anchor our decision-making process. If we're not able to unlock a certain situation, we reflect on the mission. And I think people are smart enough to kind of pick up on that. They see that at all points it is not my opinion, it's not my bias. But what's the best thing for achieving the mission?
For me, the goal is to deconstruct the human decision-making process.  
To completely map the brain as to how it decides what to do. How do you recognize the triggers beforehand and model the diverse ways in which we make decisions? And then be able to predict accurately, while being sensitive to privacy?
At Crayon, we have always been very mindful of privacy because we knew it would reach a fever pitch, and people would say enough is enough. We saw GDPR coming a long time ago. And now we're seeing a whole shift and change in the way cookies work. Even Tim Berners Lee is saying, "I want to create an Internet 3.0, because this is a flawed Internet. It's not what I want." So, it's an exciting space to be in. And I think it'll be very relevant over the next 5 to 10 years at least.
For product managers, Crayon is a fun place to be. For one, you get to work with a wide variety of end users. It becomes a remarkably interesting problem of finding an intersection between all these users. Because you want to create a platform that they can all collaborate on.  
Second would be just the variety of parts of the stack that you can choose to specialize in. If you get your kicks from data science, you can focus more on that and analytics. Others prefer to manage requirements, plan sprints. Some product managers work on the UX interfaces because they love design. We also have product managers who are interested in exploring things. They work on different projects each quarter, then choose where they want to specialize.  
Even if you feel like you've reached a certain level of maturity within the sphere that you were operating in at Crayon, there's always something new brewing. And I don't think we will ever stop.
Meet more Crayon Captains here! Ready to jump in and add your unique color to the Crayon Box? Check out open roles here.