Date: 7 Sep 2022
Source: Khaleej Times
Headline
"Metaverse, Big Data to shape future of businesses in UAE"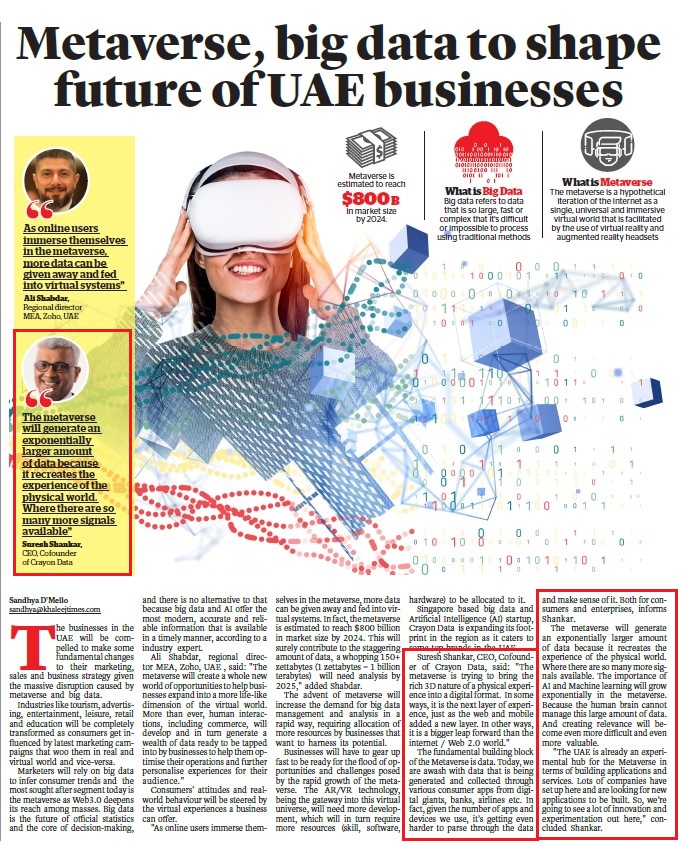 Singapore based big data and Artificial Intelligence (AI) startup, Crayon Data is expanding its footprint in the region as it caters to some top brands in the UAE.
Suresh Shankar, founder and CEO of Crayon Data, said: "The metaverse is trying to bring the rich 3D nature of a physical experience into a digital format. In some ways, it is the next layer of experience, just as the web and mobile added a new layer. In other ways, it is a bigger leap forward than the internet / Web 2.0 world."
The fundamental building block of the Metaverse is data. Today, we are awash with data that is being generated and collected through various consumer apps from digital giants, banks, airlines etc. In fact, given the number of apps and devices we use, it's getting even harder to parse through the data and make sense of it. Both for consumers and enterprises, informs Shankar.
The metaverse will generate an exponentially larger amount of data because it recreates the experience of the physical world. Where there are so many more signals available. The importance of AI and Machine learning will grow exponentially in the metaverse. Because the human brain cannot manage this large amount of data. And creating relevance will become even more difficult and even more valuable.
"The UAE is already an experimental hub for the Metaverse in terms of building applications and services. Lots of companies have set up here and are looking for new applications to be built. So, we're going to see a lot of innovation and experimentation out here," concluded Shankar.
More on metaverse from Suresh Shankar: Al-Bayan