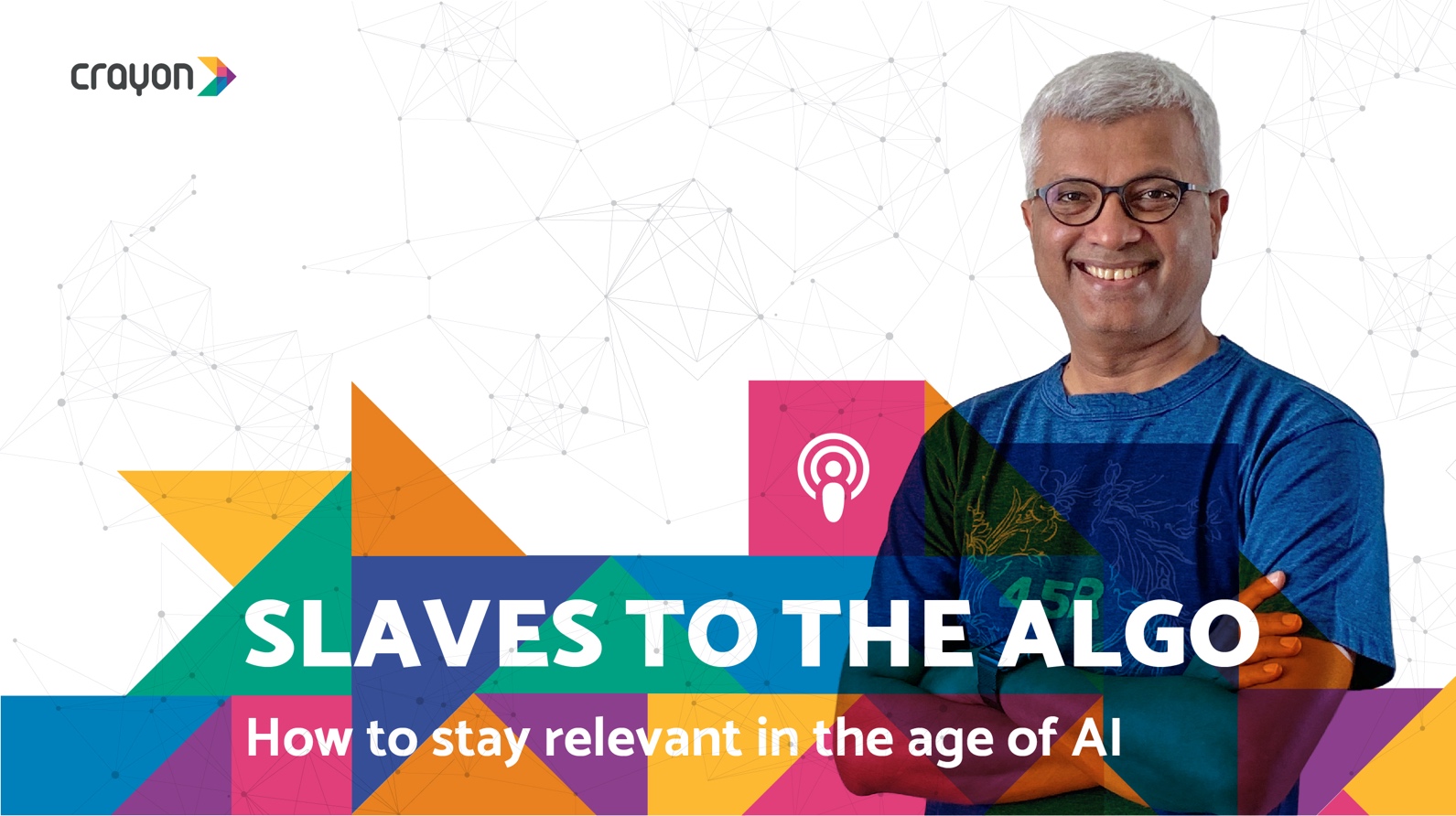 Whether we know it or not, like it or not, our lives have been taken over by algorithms. Slaves to the Algo is a new podcast by Suresh Shankar, the founder and CEO of Crayon Data. In this podcast, Suresh attempts to demystify the age of the algorithm. Join him as he talks to leading professionals in their fields to understand how they are using or being used, by algorithms in their personal and professional lives. Each episode talks about how businesses can leverage the power of data in their strategy, to stay relevant in this new age of AI. 
Stay tuned to this page for the latest updates and episodes on the podcast!  
Episodes and trailers out now:
Teaser 1:  Slaves to the Algo Podcast – Teaser 1  
Teaser 2: Slaves to the Algo Podcast – Teaser 2
Episode 1: The secret behind unique customer experiences in the age of relevance
Harvard Business Review calls the 20s the start of the "age of relevance" driven by a new 5Ps. Advances in analytics, big data and AI make it possible for digital disrupters to deliver relevance. Suresh uses his decades long experience to explain three key ways that digital disruptors like Spotify use data to create unique customer experiences for every single one of their customers. And why traditional enterprises like banks fail to do the same.
Episode 2: Good algorithms should augment, not control, lives – John Kim, Expedia (Part 1)
John Kim is the President of Platform & Marketplaces at Expedia Group. How do you create great AI that can make use of data that hasn't been created? How will you prepare for a world where 90% of the data you will have in 2022 doesn't exist today ? John discusses these matters and why tech giants with the ability to fully personalize end-to-end experiences don't do it.
Episode 3: Good algorithms should augment, not control, lives – John Kim, Expedia (Part 2)
As more marketers advocate how to write copy for a search engine, John offers a refreshing perspective. Brands will become even more important in the world of algorithms. Differentiation now comes from the right-brained side of marketing. He also deep dives into how organizations are hiring more from entrepreneurship schools, than data and computer science.
Episodes 4 and 5: How humans shape algorithms with our cognitive biases – Ian Myles, area 51 (Part 1 and 2)
Ian Myles of area 51 talks about human cognitive biases, how they affect the way we program algorithms and their unintended consequences. He uses his experience in industrial design, technology, fintech and education to discuss the future of explainable AI (ex-AI) – where mandates are being put in place to ensure that companies are accountable for their use of AI. Ian and Suresh discuss about new AI use cases of in education, healthcare and medicine and hiring practices (human resources).
Episode 6: What CMOs must learn from the youngest data geek in the room – Ravi Santhanam, HDFC Bank 
Recognized in the Forbes list of 'The World's Most Influential CMOs', Ravi Santhanam joins us in this episode to talk about the evolution of AI in the banking sector. Ravi uses his 20+ years of experience to explain how marketing can become more data driven. The brand message is now decentralized – consumers have enormous power to influence the brand. Just two decades ago, marketers used to control the entire brand message and experience. Today, they are custodians of the brand experience. Ravi suggests how modern marketers can leverage AI to make the customer experience richer without sacrificing the human touch.
Listen and subscribe on