At some point in every school's art class, students are asked to draw a basket of fruit. I was in the seventh grade when my teacher assigned this to us. What started out as a mindless task became an exercise in observing detail. I think I did a pretty good job for a beginner!  
Of course, life happens. In college, I didn't go beyond engineering graphics drawing. And an eggshell painting activity that I joined just to bunk some classes! I was not very consistent with my practice. But during the Covid lockdown of 2020, as everyone was trying new things, I decided to pursue my old passion.  
I took the opportunity to improve on the quality of my early works. I dabbled in digital mediums. And began exploring more techniques, including photorealistic portraits and sceneries. One of the coolest skills I've acquired since then is an eye for detail. I look for them in everything, be it art or real life. Even from a person's body language. You can get big answers from the smallest details.
Another important life lesson I've learnt is patience. The first and most important stage in my work is outlining. I used to rush through this is many pieces. I later realized that it is what gives definition and precision to portraits. I was spending a lot of time reworking. Now, I take it slow, with much better results.  
The later stages have taught me to work until I am satisfied. Because you're the best critic of your work. While getting into the details, I ask myself, "Are you good with this?" I know what I'm capable of and if I have achieved it or not. I work on the detailing till I'm happy with the outcome.  
While many artists prefer their later works, my favorite is this color pencil drawing of lotus leaves and flowers in a pond. It was my first time working with this medium. This special piece deserves a special place, so I gifted it to my most favorite person.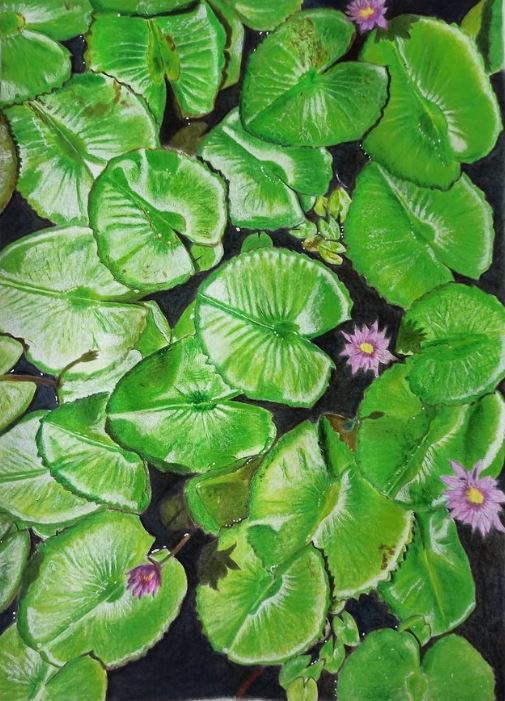 As my skills improved, I wanted to give freelancing a shot. I signed up on fiverr.com, and within six months, I began getting enquiries for commissioned pieces. Most people would get discouraged on hearing my prices. Despite showcasing my work on the platform, many did not understand the amount of work that goes into it.  
I reluctantly lowered my prices in the hope of getting orders. That's when I got a commission to do a father-daughter portrait. They were so satisfied with the outcome that they left me a five-star review! I was thrilled with the recognition and appreciation of my art.  
Art gives me an amazing feeling of joy and contentment, especially when I complete each piece. It's also very encouraging when people I know ask me, "What are you working on now?" Usually, that's the first question when we meet! It's great to know that there are people who want to see my work. That inspires me to keep going.  
I hope to one day come out with my magnum opus: my version of the Sistine Chapel ceiling, my Mona Lisa, my Water Lilies, my Nighthawks. And I hope to exhibit it at a much larger level and earn the admiration of many.  
I've already bought the canvas. Now, all that is left is to create.  
Follow Merlin's work on Instagram @pragmatic_arts.