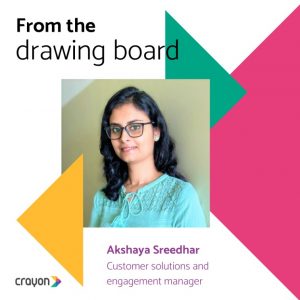 In my role as a customer solutions and engagement manager, I enjoy spending time on both ends of a colorful spectrum. From product, logic and client business to sales, people and driving value. The grey area is so broad that you can venture on either side and have fun learning and exploring. I also love the fact that I can interact with internal and external stakeholders and keep learning as we speak.
Future ready
With growing digital and social media, privacy is a factor that is lacking around the world. I believe AI firms that work without gathering PII (Personally Identifiable Information) will be the need of companies in the next 5 years. Since Crayon Data deals with financial organizations predominantly, working without PII is an organizational responsibility.
The extra mile
One of the coolest things we're working on is cracking down on some very specific pain points of a major client. We're going beyond just delivering the product and are involved in adoption and value delivery. The focus is on driving customer elation, rather than just customer satisfaction.
About the Box
Crayon is a mix of bright and inquisitive minds that are constantly working to grow both personally and professionally. Being in this environment challenges and excites me. The fact that we can chose to solve every problem for ourselves, as well as for the clients excites me and holds me right here.
Responsibility with Freedom
This value is very close to my heart (and brain!) since it allows me to think beyond the boundaries of client and Crayon requirements. It helps me take ownership for more things that I can initiate and get done. When you are allowed the luxury to think, process and achieve, you reflect both responsibility and freedom!
Are you outside the Crayon Box and ready to jump right in? We're looking for innovative, quirky and result-driven folk to join the Talented Tangram fam! Join the box today.