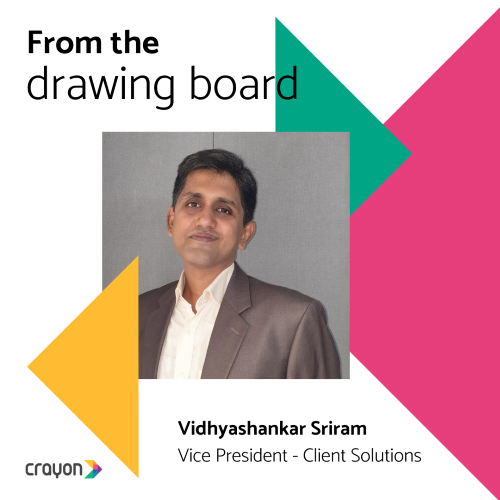 I come from a liberal literary background. My father was the President of Alliance Française of Madras for several years, a double Chevalier who translated books from French to Tamil. That's where I got my love for the written word.
I have kept my career in finance and technology independent of my passion for writing. Now, I understand that merging these two aspects of my life is essential. Especially since I'm associated with Crayon Data and a product like maya.ai.
Keep it simple
I believe there is a vacuum between
1. The complexity of the financial services world, and
2. The complexity of data ecosystems.
Having had a fair level of exposure to both these sides, I think I would want to simplify the interactions between both and make them work for each other. It helps that some of my biggest strengths are understanding and navigating financial services. I like to visualize how data moves across and can be leveraged to fitment for clients. And make the firm smarter as well.
Transforming with purpose
Over my 15-year career, I have worked in finance, banking, marketing and analytics. To leverage analytics with AI and Big Data is an exciting step I am taking at Crayon! I like to take up large transformational initiatives, break it down into manageable components and deliver value.
I feel that 70% of transformation initiatives fail. Most of it can be attributed to how we start and set things up. This is not just about the business nor is it about tech, but the intersection which is muddled and confusing for many.
A whole new world
I've realized that what I had taken for granted in my earlier role doesn't hold true for many peers, especially in emerging markets. But that's also an opportunity. Having seen an end-state, what it provides, as well as its flaws, it's easier for me to envisage what real success for these financial institutions will look like. Another exciting aspect is that some of these institutions can leapfrog straight into an AI-driven world without necessarily spending time on the intermediate steps.
The future of banking
Banking will not be a sterile process that talks and deals only with money. Consumer Banking especially will be more of a lifestyle-integrated tool that helps handle an individual's goals and needs. There will be more room for fintech firms to collaborate, rather than disrupt, classical banking.
Banks will start to look for smarter ways to operate not just in revenue growth, but on how they can leverage fintech to manage credit risk, money laundering issues, increased central bank scrutiny etc. This will lead to loss of jobs at one end of the spectrum, but create a massive requirement of people with a distinct set of skill sets at the other end.
Institutional banking will also want to participate in top-line growth of their clients. They want to break free from strict CFO conversations and show value to the CEOs beyond capital market deals. Everyone is thirsty for first-party data on their clients, and banks are well placed to play the role of being a payment backbone as well as a marketplace for deeper collaborations.
Life at Crayon
Moving from a legacy institution like Citibank to Crayon has been interesting, to say the least. I'm feeling older among a bunch of youngsters who have an infectious enthusiasm and incredible energy to get things done. It's a good thing that I derive energy from conversations – I love to socialize and engage with people! I also see a very tightly-knit unit, where the passing of batons across teams is smoother.
As for the Crayon Values, 'Practice constructive candor' is straight out of my heart. I have always felt the urge to be sharp in feedback/opinion, without adding a zillion disclaimers before and after I deliver my thoughts. I find it laborious to go through those rituals and soft land a 2-sentence view.
It is the same on what I receive as well. An ideal world is where we all talk in simpler language and straight to the point. But to make it happen in an organization, there needs to be an incredible amount of trust that what we say is for the issue at hand and not about the person in question.
In our 'From the Drawing Board' series, Crayons talk about their roles, company culture and favorite values. Are you outside the Crayon Box and ready to jump right in? We're looking for innovative, quirky and result-driven folk to join the Talented Tangram fam! Join the box today.