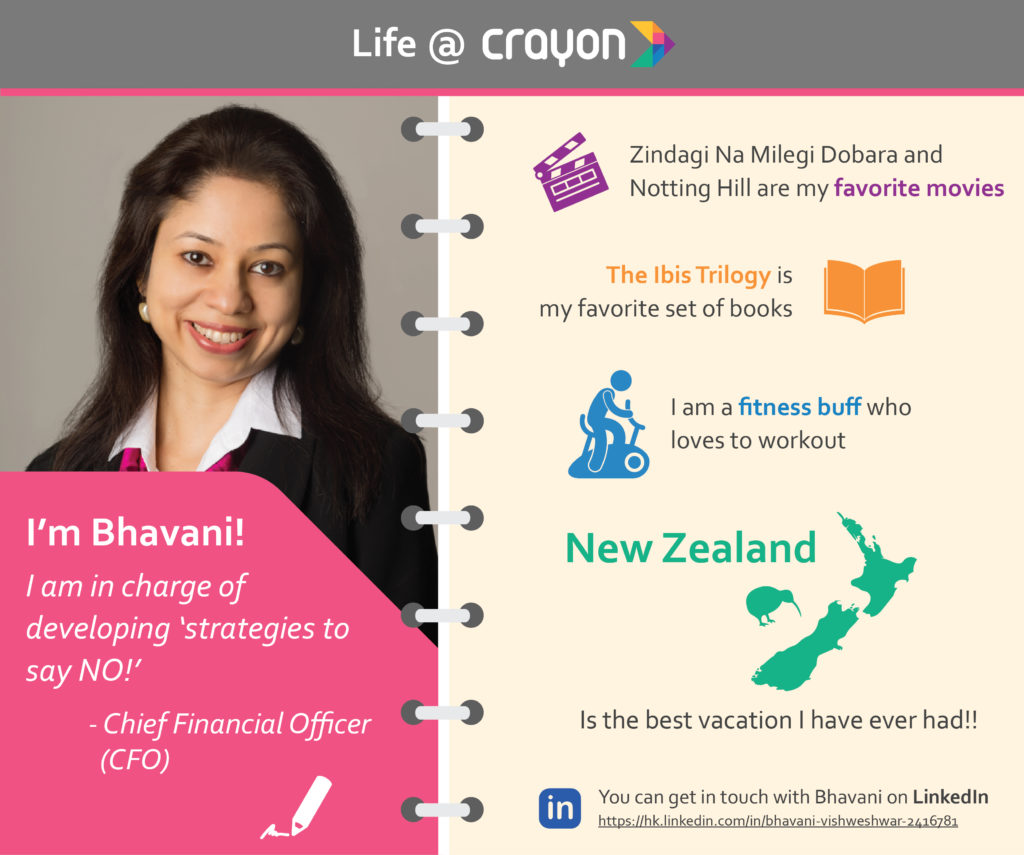 How long have you been at Crayon?
Eight months.
2. What do you do at Crayon?
I am the CFO (Chief Financial Officer) of Crayon.
3. What's your average day like?
I mostly push people to do their work. I think I should rename my job description to Chief Pushing Officer.
4. What's your favorite Crayon memory?
I loved the ladies lunch we had last time in Chennai.
5. What keeps you coming to work every day?
1) The people at Crayon. They are intelligent, warm, a bit annoying and have a bad sense of humor ( I love it though).
2) The challenge to sustain, grow and build Crayon.
These are the two things that drive me to come to work every day.
6. What do you contribute to Crayon (apart from your functional knowledge!)
I bring a sense of objectivity. I listen well to other Crayons, and also get them a box of goodies whenever I travel to other offices.
7. If you were a Crayon colour what colour would you be? And why?
Yellow. The colour is associated with intellect, joy, happiness, freshness and positivity.
8. If we had to choose a mascot for Crayon – who would it be and why?
Bagheera, the leopard from Jungle Book. He is loyal, fair, strong and fights for righteousness.
9. Working at Crayon allows me to ……………..
To be frank, I am a tech dummy. Crayon introduced me to a lot of new concepts in the tech world.