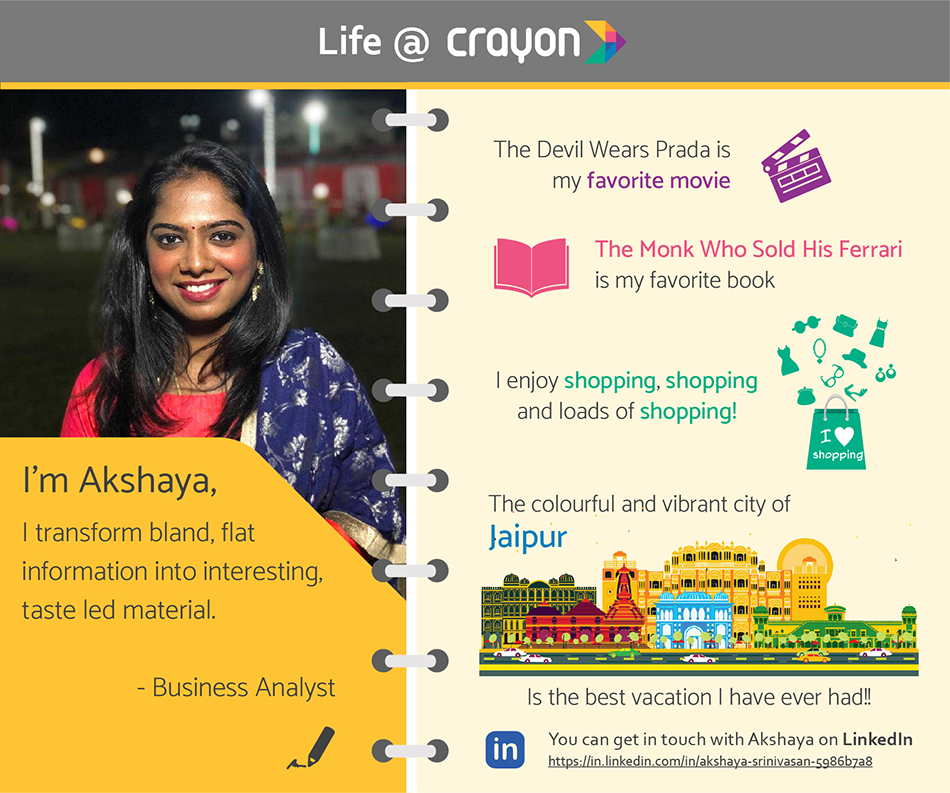 1) How long have you been at Crayon?
There's just a couple months left, before I earn my '2-year Whiz' badge.
2) What do you do at Crayon?
I manage the data curation team.
3) What's your average day like?
With the help of my little army of interns I execute client data delivery requests. And support the product team in building operational applications and evaluate partner data.
4) What's your favourite Crayon memory?
Of course, it has to be the bucket-loads of thumping Ya Moideen biryani.
5) What's your favourite part about working at Crayon? What keeps you coming to work every day?
The responsibilities that are entrusted on me motivates me to keep moving forward at Crayon.
6) What do you contribute to Crayon? (Apart from your functional knowledge!)
A teeny tiny amount of style quotient!
7) If you were a Crayon colour, what colour would you be? And why?
The radiant yellow!
8) If we had to choose a mascot for Crayon, who would it be and why? (can be a person living or dead who inspires you, a fictional superhero, anyone)
I'd say Iron man. Because he's constantly building new creations to overcome any weakness.
9) Working at Crayon allows me to… (Tell us what you do outside of work)
… strike a work-life balance!