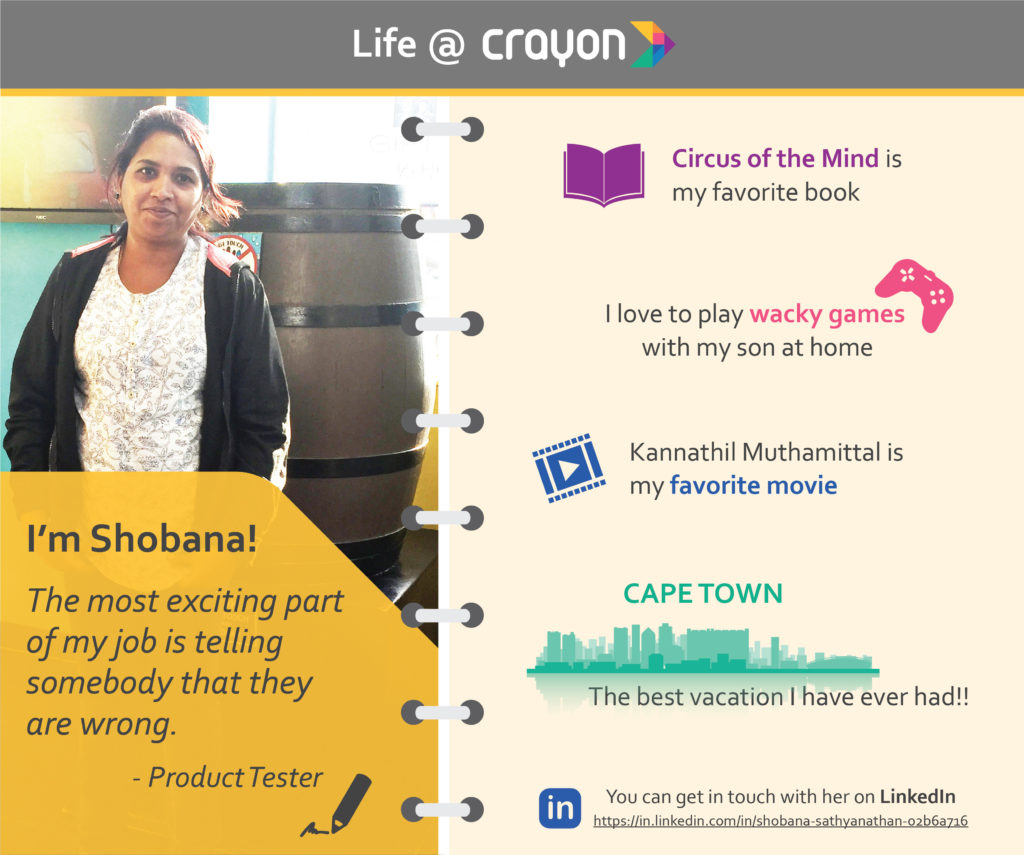 1) How long have you been at Crayon?
Ten months.
2) What do you do at Crayon?
Manage product testing.
3) What's your average day like?
First, I look at my team's deliverables. Then these are discussed with the team to ensure that we are on the same page. The rest of the day is spent on executing the plan, with a few breaks and chats in between!
4) What's your favorite Crayon memory?
I was very excited and thrilled when Maya Lifestyle app (Alpha version) was launched on 23rd Dec 2015.  Also, the birth of Maya through all odds and struggles.
5) What keeps you coming to work every day?
I just have a handful of leave left over ;).
Jokes apart, here are the things that motivate me to come to work every day:
Opportunity to explore and learn new technologies
Every day is exciting and filled with new challenges
Freedom to use and implement my knowledge with no restrictions

6) If there was one thing you could change about Crayon, it would be ………….
I will shift our office to a bigger space. So that we have large pantry, splashes of color, countless relaxation areas, and of course, the all important work spaces.
7) If you were a Crayon colour what colour would you be? And why?

Purple. No specific reason, just that it is my favorite colour.
8) If we had to choose a mascot for Crayon – who would it be and why? (can be a person living or dead who inspires you, a fictional superhero, anyone)
Scooby Doo. I chose this as our products have dog's names, and this character is a good human companion.
9) Working at Crayon allows me to ……………..

To feel that I'm being heard.