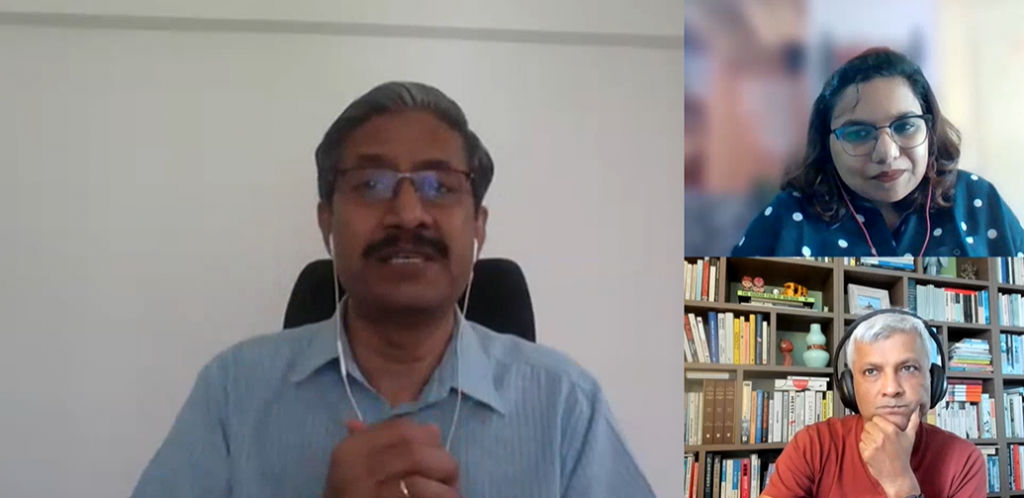 On 20th May 2021, Manoj Chandran, CEO and founder of White Swan Foundation, joined Crayon's internal Lighthouse Fireside Chat to talk about the importance of mental health for us as individuals, an organization and a community.
White Swan Foundation is a Bengaluru-based not-for-profit organization that offers knowledge-led solutions in the area of mental health. Their mission is to provide persons with mental illness, caregivers and communities with well-researched information that helps them make informed decisions on how to deal with mental health issues.
As for Manoj, before entering the social entrepreneurship field, he worked in journalism, marketing, communications, strategy and leadership. He has also served as a leadership group member of Ashoka Innovators for the Public.
In 2013, a keynote address from Subroto Bagchi, Chairman of Mindtree (and his mentor) got him thinking about mental health issues seriously. After several months of research, he learnt that for all the psychosocial problems that exist in mental healthcare, the underlying issue is the lack of access to the right information. With White Swan, launched in 2014, the idea was to create a social model that will encourage several social entrepreneurs in the field of mental health awareness.
Here are some of the key takeaways from the eye-opening (and hard-hitting) session.
Acceptance and empathy are key allies to mental health wellness
The interactive session with Manoj started with a question on the key stakeholders of mental health awareness (MHA) in society. He had an interesting take: there are several stakeholders in the campaign for MHA, including those with mental health issues, their caregivers, mental health professionals and even the government. But the most powerful stakeholder is the community, the "by-standers".
It's important for members of the community to become allies. To do that, they
Need to accept that mental health is as much a part of someone's well-being as physical heath.
Educate themselves on mental health issues and how they can help.
Finally, they need to exercise empathy.
He went on to say that if there is one thing that we need to solve in the current mental health system, it's denial. If you ignore a physical sickness, it balloons up and become worse. It's the same with mental illness. So, the small decisions we make, like acceptance, are fundamentally important to our mental health. The same holds true in the next level: acceptance among family and friends around you.
Acceptance, knowledge and empathy are important allies to better mental health.
Organizations need to create psychological safe spaces for employees
Closed environments like organizations and companies are a great place to trigger a shift in mindsets on how people view mental health, said Manoj. As close-knit communities of people who function together, there already exists camaraderie and empathy within teams. There also exists similarity yet diversity in profiles.
An organization's sole mission regarding their employees' mental health is making sure that they are resilient. Mental well-being is not only about absence of an illness, but also how resilient a person is in an adverse situation. So, organizations need to create a workforce that is ready to confront a crisis. This applies to both physical spaces, as well as emotionally.
Manoj went on to describe the need for psychological safety and how organizations and individuals can create safe spaces. It is pivotal to foster an environment where every single employee can speak freely and express themselves and their vulnerabilities without fear of stigma and reprimand. He also mentioned that the role of creating such an environment doesn't solely fall on the shoulders of the organization. Each individual on every level is responsible as well, for themselves and their teams.
Don't be afraid to seek help and love yourself!
In the latter half of the session, Manoj answered some specific questions on how to cope with isolation, anxiety and toxic environments.
He points out that the first step to dealing with emotional distress is identifying symptoms. Don't jump to conclusions like "I'm depressed" or "I have anxiety". The logical next step after identifying that something is wrong is to ask the following questions:
Is there something I can do to help myself?
Am I talking about it with my family?
Do I need professional help?
If the answer to the last question is yes, do not hesitate to seek help.
According to a survey conducted by the National Institute of Mental Health and Neurosciences (NIMHANS) in 2016, 85% of people with mental health issues in India will never turn to professional help. 15% of those who do, only seek professional help after a prolonged delay. The only way to change this is encourage those people to reach out.
We ended our discussion with Manoj on an often talked-about but nonetheless very important topic: self-love.
He stressed that self-compassion should be a number one priority for everyone. See yourself as part of the world and criticize without judgement, so that you can learn from it. Most importantly, be kind to yourself.