From digital wallets to contactless payments, the banking sector is constantly transforming. And the focus has been on creating customer experiences that make a difference to the bank's bottom line. The most effective way to do this: a marketplace.  
Many banks already have a marketplace offering. Building such a platform from scratch is definitely an option. But in the interest of time and ease of deployment, a plug-and-play option is preferable for banks.  
This is where Marketplace-as-a-Service (MaaS) enters the chat.
As consumer expectations evolve towards seamless digital experiences and a broader range of financial services, traditional banks can struggle to keep pace. A rudimentary marketplace does not fulfill all the requirements that customers have.  
MaaS allows banks to overcome these challenges by offering diverse, digitally driven services through a single, customer-centric platform. According to Gartner, organizations operating an enterprise marketplace for more than a year will typically see at least a 10% increase in net digital revenue as a result.  
A truly excellent MaaS will enable banks to provide a curated marketplace of lifestyle and financial products and services. It's like a hyper-personalized Amazon, built into a banking platform. Because who knows where customers spend their money better than their bank? 
Here's why a MaaS offering will push the revenue needle further than any plain vanilla marketplace ever will.  
The underlying technology and infrastructure that hosts the marketplace, providing scalability and reliability. This is the part that would take the most time, resources, and money to develop and maintain.  
With MaaS, banks get out of the box capabilities that can scale as the marketplace grows. White label options ensure that the bank's branding is incorporated to give a cohesive look and feel to the rest of their digital platforms. Personalization algorithms, APIs for third-party integration like payment gateways and wallets come built in. As does security and compliance with data privacy regulations.  
Product/Service Listings:

 

 
Tools for sellers to list their products or services, including descriptions, pricing, and media. Onboarding existing merchants could not get easier.  
These merchants will then have access to relevant customers, leading to greater share of wallet. Search algorithms and filters help users find relevant products or services. 
Data analytics and reporting features to provide insights to both merchants and the banks. Knowing what a customer prefers historically, inferring what else they might be interested in, and presenting them with these products is a sure-shot recipe for marketplace success.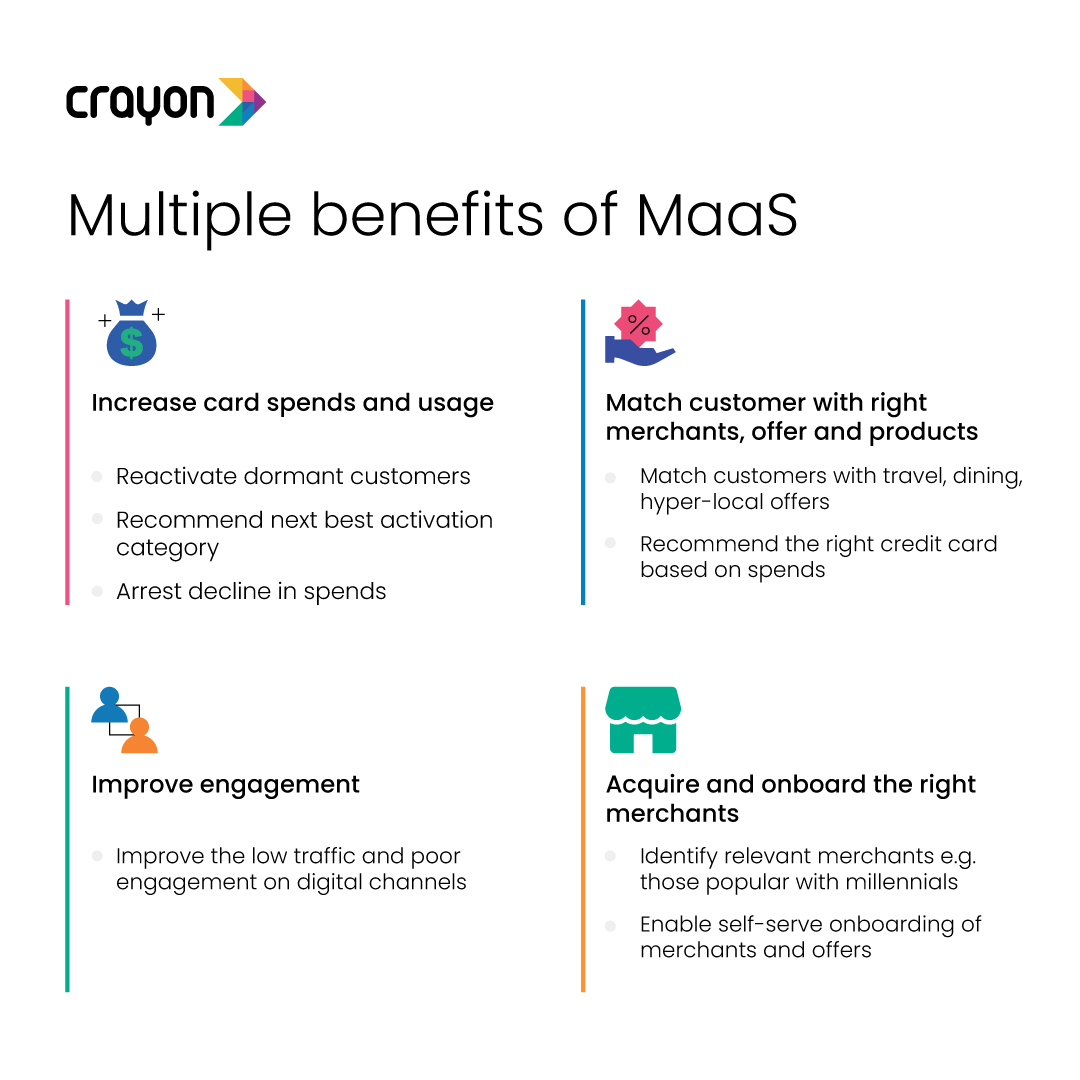 How will MaaS help the banking sector?
With MaaS, banks can expand their product and service portfolio without building everything from scratch. They can collaborate with third-party providers to offer insurance, investment products, and personal finance management tools. Or push their own products to the most relevant customers based on their life stage and spending habits. In addition, they can present lifestyle offerings around travel, hospitality, shopping, and more. Bonus points to the MaaS platform if it includes a selection of merchants and offers across these categories! 
By giving an enhanced experience across channels, there are more opportunities to convince a customer who's just browsing to "add to cart" and buy more than they might have earlier. Easier cross-border transactions and partnerships can help banks reach more global customers.  
MaaS also takes advantage of the sheer amount of customer data that banks are privy to. Valuable insights into customer preferences and behavior can help banks identify effective marketing strategies. 
This of course brings up the issue of compliance and security. A platform like Crayon Data's maya.ai – which offers a MaaS proposition – is ISO 27001 certified and doesn't use personally identifiable information (PII) while parsing customer data.  
On the backend, MaaS offers speed and agility. Traditional product development cycles in banking can be slow. MaaS accelerates innovation by facilitating partnerships with fintech service providers, ensuring that they can stay ahead of the curve. It's also a cost-effective solution, reducing development and operational expenses. With the constant evolution of the industry, having a scalable, future-proof solution is in the bank's best interest. 
The maya.ai MaaS platform offers all these enhancements and more. It helps drive revenue via superior customer engagement and gives customers a marketplace experience to discover and redeem merchant offers. Its plug-and-play nature ensures that a marketplace can be up and running in as little as six weeks. We've already seen success with leading banks in India, the Middle East and Southeast Asia.  
The rise of MaaS in the banking sector is not just a trend; it's a transformation. Its ability to reshape the banking sector by providing a range of products and services and being user-friendly is a game-changer.  
Want to know more about maya.ai's Marketplace-as-a-Service? Sign up for a free demo today!