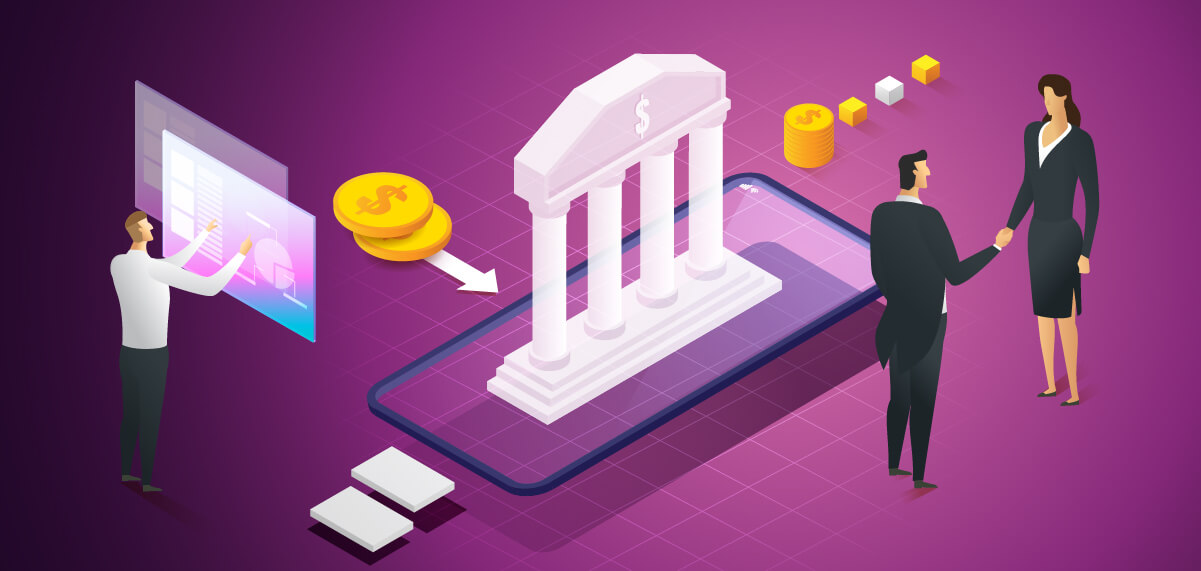 Two full years after the pandemic began, the way that banks function has vastly changed. As customers' wants and needs have shifted, banks too have had to rethink their approach. Digital transformation is no longer a nice-to-have. It is essential to their existence. And so, executives are questioning long-held assumptions. Their progress is now measured in how prepared they are for the future, as opposed to how far they've come. In short, banks are now being more proactive in their approach. Here are five ways in which innovation and adaptive processes are taking over from legacy thinking.
1. Super-apps that go beyond banking
Today's customers want one-stop solutions for everything in their lives. Including their financial service provider. Mobile banking apps already offer a wide range of services. But customers hardly go beyond paying bills or checking their balance and digital passbooks. This is due to a
combination of factors
, like:
A user interface that's difficult to navigate
Lack of services like fraud reporting and blocking cards
Intrusive chatbots that crash incessantly
So, what do customers really want?
A
super-app
that "offers a full ecosystem of services shaped around users' everyday lifestyle needs, using one integrated interface or platform". It also involves a marketplace with third-party offers and applies data and analytics to engage with users. FinTech players that are doing it right include Alipay (China), Paytm (India), Grab (SEA), and Kakao (South Korea). Tata Neu, set to launch in April, is also working on a
last-minute UPI addition
to their super-app.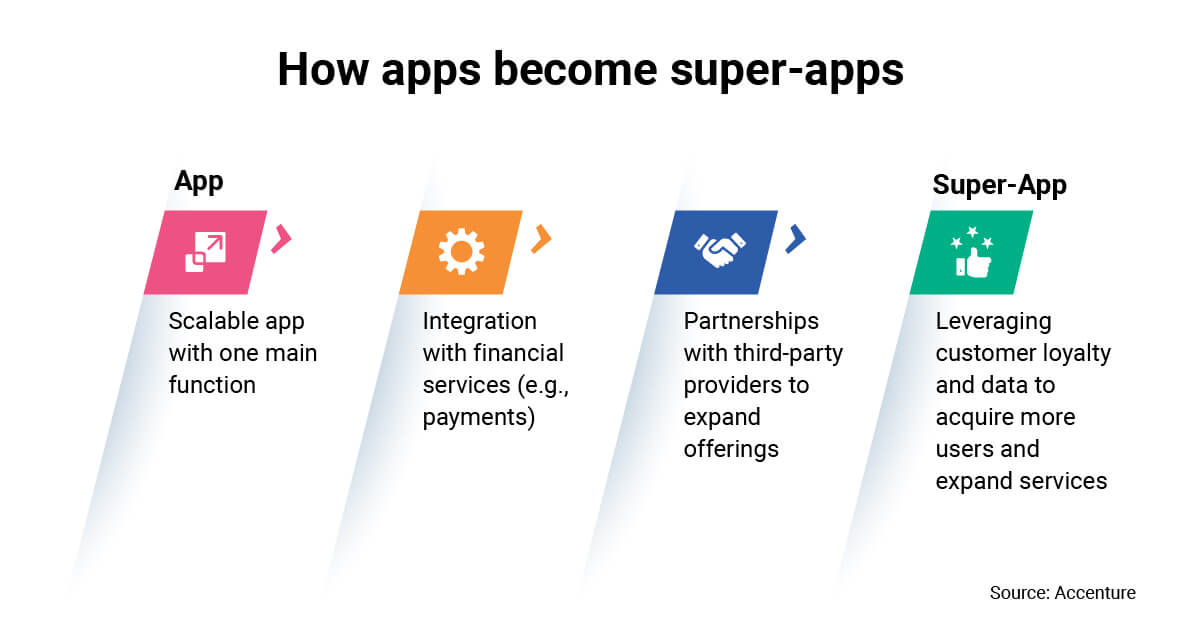 Banks have already taken notice of these successes and are working to one-up their competitors. In fact,
There are 30+ platform businesses globally that can be described as super-apps or aim to become one
Banks' mention of super-apps in their annual reports and other public communications has increased more than six-fold between 2019 and 2021.
In 2022, banks must make vital decisions. They need to have a strategy for success in the age of the super-app. Will they create their own offering? Or will they tie up with B2B platforms and services? This will help them deliver hyper-personalized offers, and subsequently, get a share-of-wallet. The other choice: stay out of the super-app race. And slowly lose relevance and customers.
2. Getting creative with CX and more
Simply having a digital presence is no longer a selling point for banks. They need to stand out in a sea of traditional players, neobanks, and other fintech platforms. Here's why. In a
2021 survey,
65% of consumers said they currently use a traditional bank as their primary provider. Only 66% of these customers are satisfied.
Among customers who use digital-only banks (21%) and stand-alone digital accounts (7%) as their primary provider, 79% and 81% are satisfied.
77% of Millennials and 72% of Gen Z consumers said they were likely to switch to digital banks.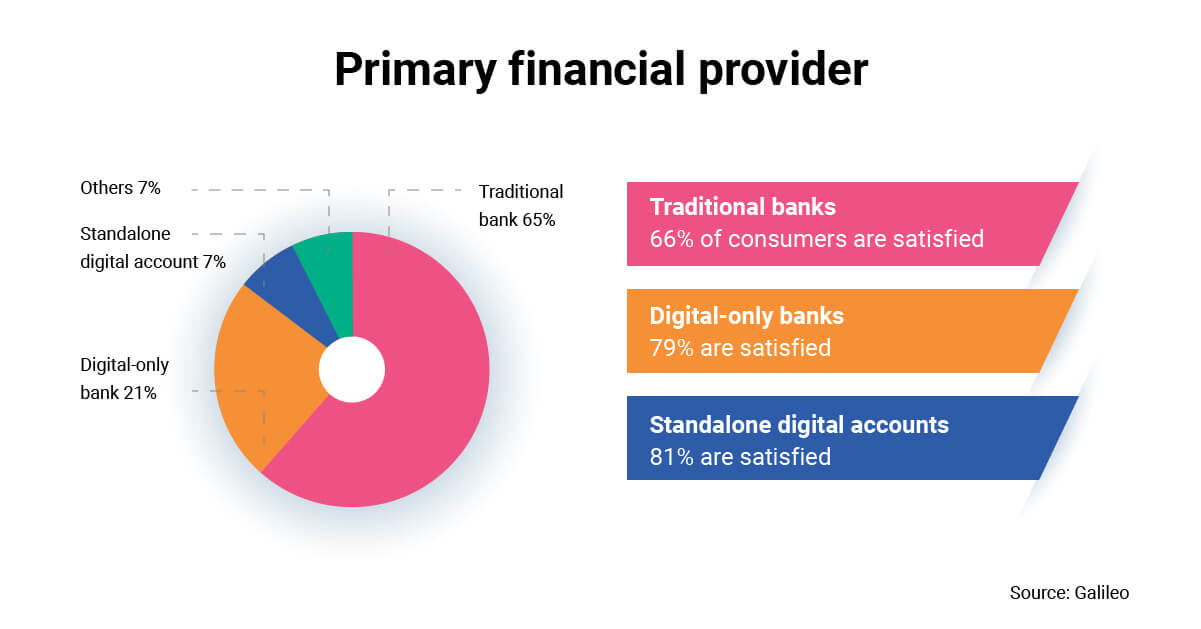 As the saying goes, "Creativity is intelligence having fun."
The best minds in banking are now getting creative. With customer experience, financial services, and more. It's not just about acquiring customers through viral marketing. It's also about retaining existing ones. And targeting underserved segments. Merchants and SMEs are a huge part of this market. Traditionally, they're considered too expensive to serve. But then, a service like Square Banking steps in. Square helps small businesses accept credit and debit cards using innovative software and hardware. These sellers were paying 45X as much on card transaction as large merchants. Square gave them more economical and effective solutions. Since their launch in July 2021, they has
onboarded millions of customers
. For almost three years, payment volume was increasing by an average of 10% per week. Founder Jim McKelvey writes in his book,
The Innovation Stack
, "This wasn't business taken away from Visa and Mastercard. This was business they never pursued."
Stories like this taught banks a valuable lesson.
Commercial banking customers expect an experience that is on par with retail offerings. They constantly raise the bar on their requirements. Meeting these expectations through value added services will help banks add revenue streams. This could be
Integration with ERP systems
Embedded finance, payments, and information services
Self-serve options and customer service based on AL, ML, and voice biometrics
Banks also opted for partnerships in the wake of the pandemic. Instead of viewing fintechs as competition, they embraced their innovations. IDBI Bank in India has signed a co-lending agreement with U GRO Capital, a small business lending fintech platform. Meanwhile, Punjab National Bank is focusing on digital underwriting and cash flow-based lending in partnership with Lendingkart.
3. Zero is the magic number
In the quest to spend more mindfully, many banks are making the shift to zero operations or zero-ops. It can be defined as "an idealized target state in which all operational work is either removed or automated". The aim is to simplify operations and systematically automate processes. And it has the potential to reduce costs by up to 80%.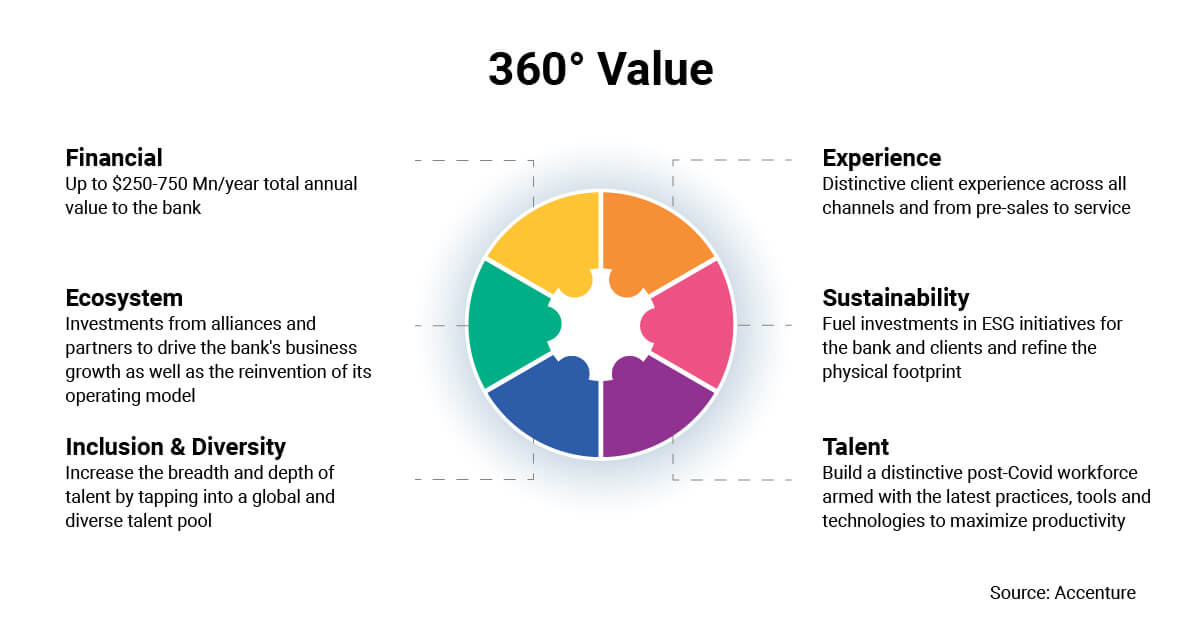 Source: Accenture
BCG suggests a
three-step process
:
Simplify: Identify and remove operational inefficiencies and overlaps. Standardize processes as much as possible.
Introduce progressive smart processing: Automate tasks and processes that will result in most value. This often combines the capabilities of people and technology.
Full automation: Supported by human programmers and remediation teams.
Ideally, this optimization leads to superior service, which then results in increased revenue.
From
fearing the cloud
and APIs, banks are now embracing them. With increased data and analytics at their fingertips, they can plan for new and relevant value propositions. That's where AI and ML come into play. They are more efficient than humans in narrowly defined tasks. Middle and back-office operations in banking can be reimagined with this tech. This will allow staff to focus on
complex customer-facing tasks
, instead of mundane labor. All of this begins with a cultural shift. The organization and its people should be ready to embrace an agile mindset. And management must be prepared to lead the change, respond to concerns, and incorporate feedback.
4. Payments: just the way you like it
Scan QR code. Type in the amount. Enter the PIN. Transfer done. Could it be any easier? That's what fintechs and banks are trying to find out. One possible path forward is open networks. There are advantages for all stakeholders if this is implemented:
Regulators: They prefer open, standardized platforms with low entry barriers.
Innovators: Will give a level playing field. No more brokering relationships in the background to grow their network.
Consumers: Ease of use across merchants and platforms.
The Reserve Bank of India has mandated mobile wallet interoperability starting April 2022. China has already instructed internet providers to allow rival links and payments services on their sites. With governments creating a practical ecosystem for open payment networks, banks must take notice. Especially since they are competing with a gamut of financial providers!
The other contender is real-time payments (RTP).
It allows users to instantaneously send and receive money. But this too has seen accelerated growth in the wake of the pandemic. The UAE Central Bank is launch a domestic real-time payments scheme in October 2022. Countries like Singapore and Philippines have shown strong governmental support for RTP platforms. While this is a fragmented and emerging aspect of digital payments, it has several advantages. For customers, it means lesser charges and fees and immediate access to their money. Financial services will benefit from increased customer spending and engagement.
5. Humanizing the digital
In the Banking Transformed podcast, Michael Abbott, Senior Managing Director, Global Banking Leader at Accenture says, "We've become functionally correct and emotionally devoid. We've lost touch with our customers. We've lost the ability to have a conversation or ask a question of the customer. Today, technology can put humanity back in banking by creating seamless operations and exceptional experiences." Because endless IVR calls are no longer novel. Mobile apps that redirect to net-banking websites for certain functions are frustrating. Chatbots that sends the customer in circles make for a CX they will definitely tweet about unfavorably.
Omnichannel is not just for retail experiences, but also for financial services.
Close to 30% of customers in a
Deloitte survey
said that they would like to be able to remotely connect with a bank representative 24×7. And 21% are looking for a consistent experience across channels. Product-related conversations, financial discussions, and emotional connections – all of these require a
human touch
. A quick call scheduled to discuss sensitive issues will yield greater results than a "personalized" e-mail template. Zero-ops here must be handled with care! For BFSI, 2022 is the year of simplification. The mindful use of technology will help banks streamline their financial operations. Which will lead to seamless customer experiences. And increase value – both monetarily and in terms of goodwill.