COVID-19 has negatively impacted most industries across the globe. There are a few exceptions, of course. One of those exceptions is education tech, or EdTech. While most start-ups around the world struggle to stay afloat, EdTech start-ups are rapidly growing. Right from attracting more investor funds (Fig. 1), to driving more sign-ups and customer engagement.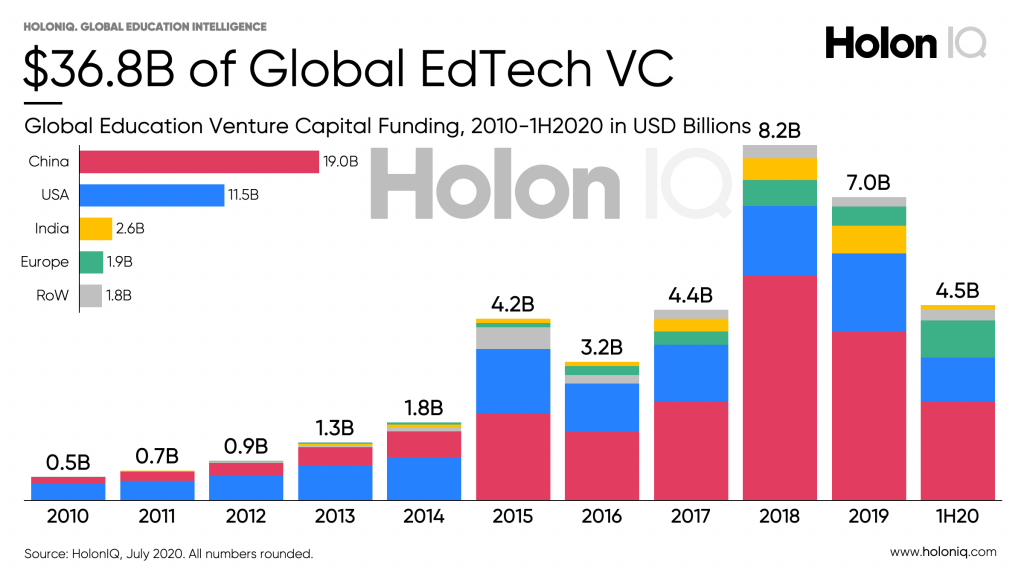 Source
The explosive popularity of digital education
The funds are pouring in and with good reason. In India alone, the EdTech user base (both free and paid) has doubled, from 45Mn in 2019 to 90Mn in 2020. And we still have a few months left in the year. Not just the number of users, but the amount of time spent on these platforms has increased from 60 to 90 minutes. That's a 50% jump!
On top of this, the EdTech industry has also seen a 40% spike in the number of people willing to pay for online learning platforms. There are now 83% more paid subscribers. All of this indicates that the industry is set to experience explosive growth over the next several years.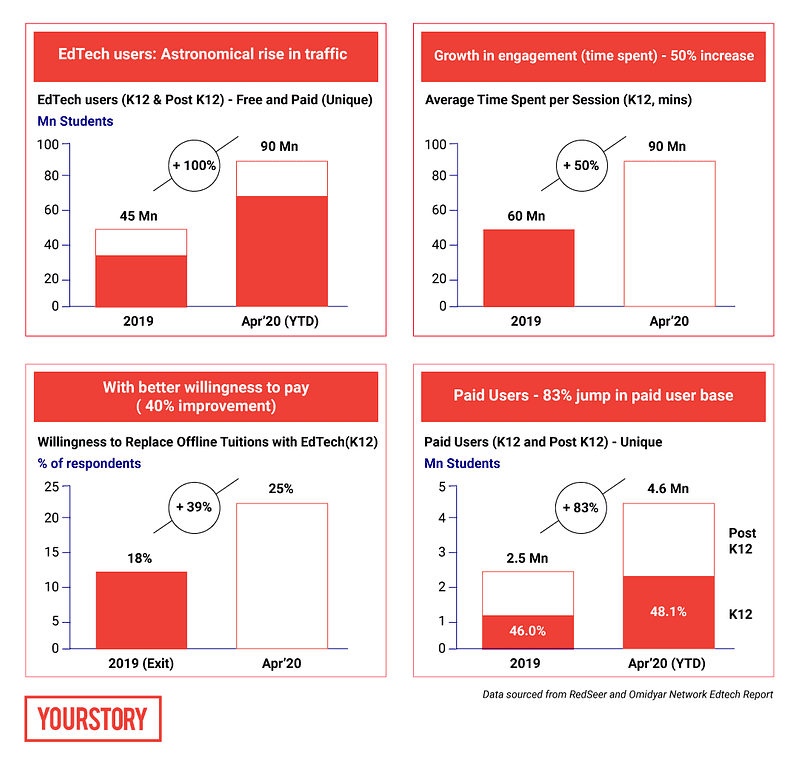 And it's easy to see why the popularity has suddenly surged. With traditional educational institutions under lockdown, students turn to digital platforms to supplement their formal education.
Additionally, due to the pandemic and the demand for a reduced workforce, many professionals find that they have a lot of time on their hands. Many have decided to put this time to good use and either learn new skills or upgrade them, by taking short online courses.
This trend is not just restricted to India. Ever since the pandemic broke out, EdTech platforms have seen higher web traffic across the globe. Below is a table with the total web traffic of the top three EdTech platforms across countries, along with their growth rate (post the start of the pandemic).
EdTech

platforms

across countries with the best web traffic

in July
India

UK

Spain

France

UAE

EdTech co

Traffic (growth % vs Feb)

EdTech co

Traffic (growth % vs Feb)

EdTech co

Traffic (growth % vs Feb)

EdTech co

Traffic (growth % vs Feb)

EdTech co

Traffic (growth % vs Feb)

Brainly

28.8 (+45.9%)

Duolingo

4.4 (+26.1%)

Duolingo

5.2 (+31.8%)

Etudiant.gouv.fr

5.9 (+64.3%)

Udemy

2.9 (+37.3%)

BYJU's

17.1 (+46.3%)

Coursera

3.7 (+58.9%)

Udemy

3.2 (+30%)

Duolingo

5.2 (+28.8%)

Coursera

1.8 (+58%)

Udemy

16.6 (+19.2%)

Udemy

3.7 (+30.4%)

Babbel

1.4 (+46.6%)

Udemy

3.2 (+32.3%)

Khan Academy

1.4 (+19.5%)
Banks and EdTech partnerships
If you think these trends don't hold any implications for banks and card providers, think again. In the wake of the pandemic, millions of students around the globe need access to affordable digital learning platforms to continue their education. Not only students but anyone with a lot of time on their hands, thanks to the lockdowns, will tap into online learning communities. Now, more than ever, it is important for banks to understand the educative needs of their customers. And cater to them by staying in sync with the changing times. Banks should consider the possibility of partnering with EdTech companies to provide their customers with the opportunity to update their knowledge and skills, all from the comfort of their home.
However, staying relevant to customers' needs is a multi-faceted task and not just restricted to providing the right offers. At Crayon Data, we have received requests from our numerous banking clients. They all want our help to stay relevant to their customers. To do so, we have engineered an exhaustive framework, to measure how relevant banks are right now and how they can increase their relevance quotient. Want to know more? Click here.
Also, read our previous article on the current state of the music and video hosting industry.