The average tech/mobile user has already been introduced to XR (extended reality). They aren't too far from casually using these technologies to escape the real world. Soon, the XR market will likely be extended to other use cases. Think telepresence, training and tracking across markets (consumer, enterprise, healthcare, etc.). Its advancement is skyrocketing. There are even robotic boots that move to match the movement of the wearer.
With increased digital presence and dependence on social media, new age customers are extending their lives (and personalities) on the web. In order to integrate their lifestyles seamlessly with technology, data from various sources will be unified. This will enable secure movement and mining of data within systems to derive inferences.
The future of finance is personal and contextual.
BFSI enterprises view customers as siloed, one-dimensional product holders. Instead of trying to understand them, banks force-fit seemingly overlapping traits based on historical data. They look at one part of the customers' lives, and sell them the same thing repeatedly. However, customers' taste and preferences are neither stationary nor arbitrary. Instead, they follow lawful and rational paths. Customers lose interest when banks don't keep up. As a result, communication becomes irrelevant, and customers engage less.
Taste Studio adds the missing ingredient to your customer data.
Taste Studio curates selling opportunities within a bank's portfolio in minutes. It helps banks adopt a holistic approach. A living, breathing model that evolves along with the customer. It asserts their tastes and preferences based on their life stage and context.
To demystify this, banks must understand individuals' motivations. Customers' inherent personalities and extrinsic personas adapt to their context and environmental factors. Customer data, therefore, should be looked at as part of a whole entity and not as a siloed organism.
Taste Explorer
Taste explorer is a no-code query builder that helps enterprise users explore opportunities. Powered by maya.ai, this intelligent platform understands the customer and matches them with the offer recommendations that are cognizant of their life stages. It uses internal and external datasets to refine the taste print for every customer.
The taste print is a set of unique data points, like digital DNA, that represent the customers' affinities for merchants and products. The system matches the taste print with every single merchant available in the geography and produces a Taste Match Score ™.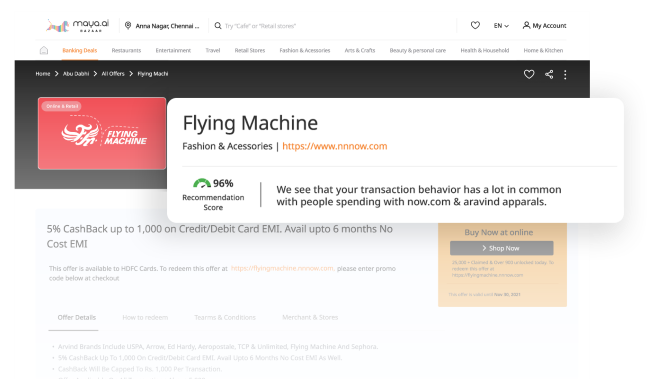 Portfolio managers can use Taste Explorer to identify opportunities for a given customer base. Alternatively, they can identify relevant customers for specific category or merchant. Enterprises will have greater context of every customer from Day 0.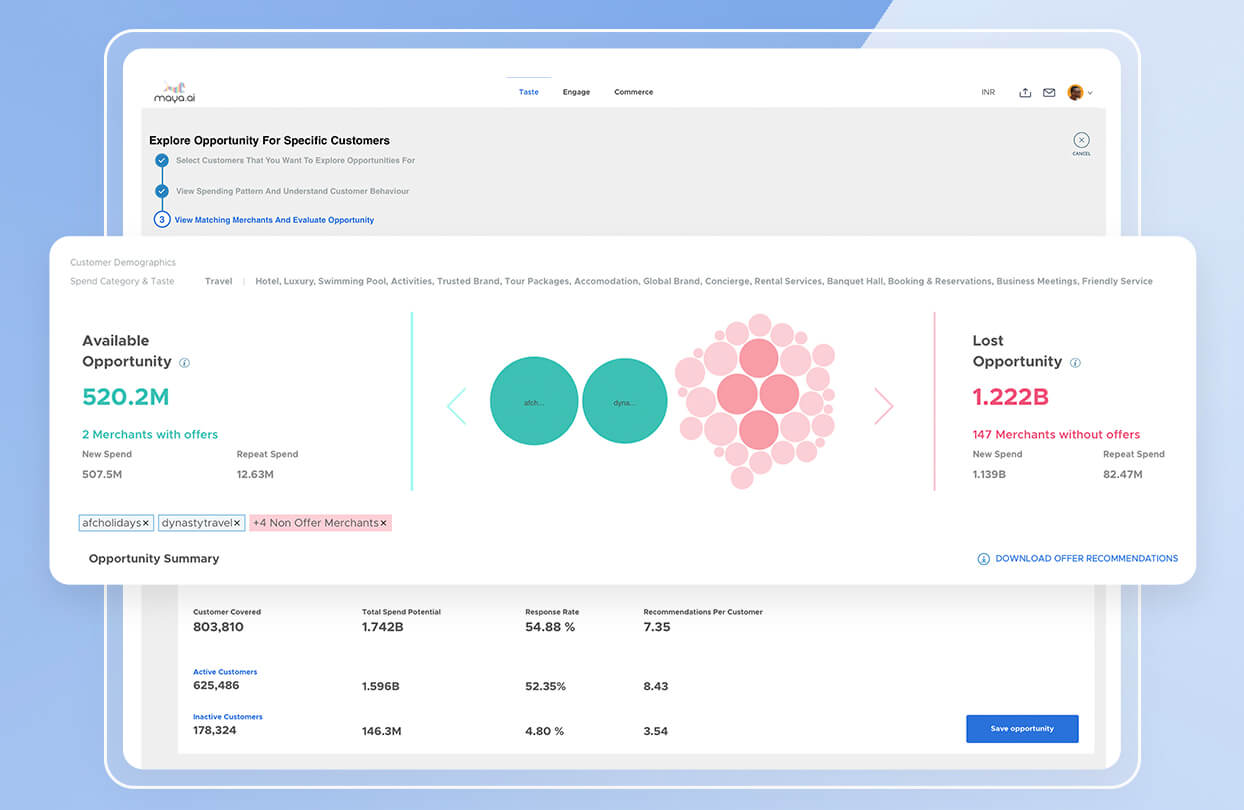 Taste Explorer ensures personalization on a segment of 1 and distribution of relevant recommendations every single day.
Taste Hub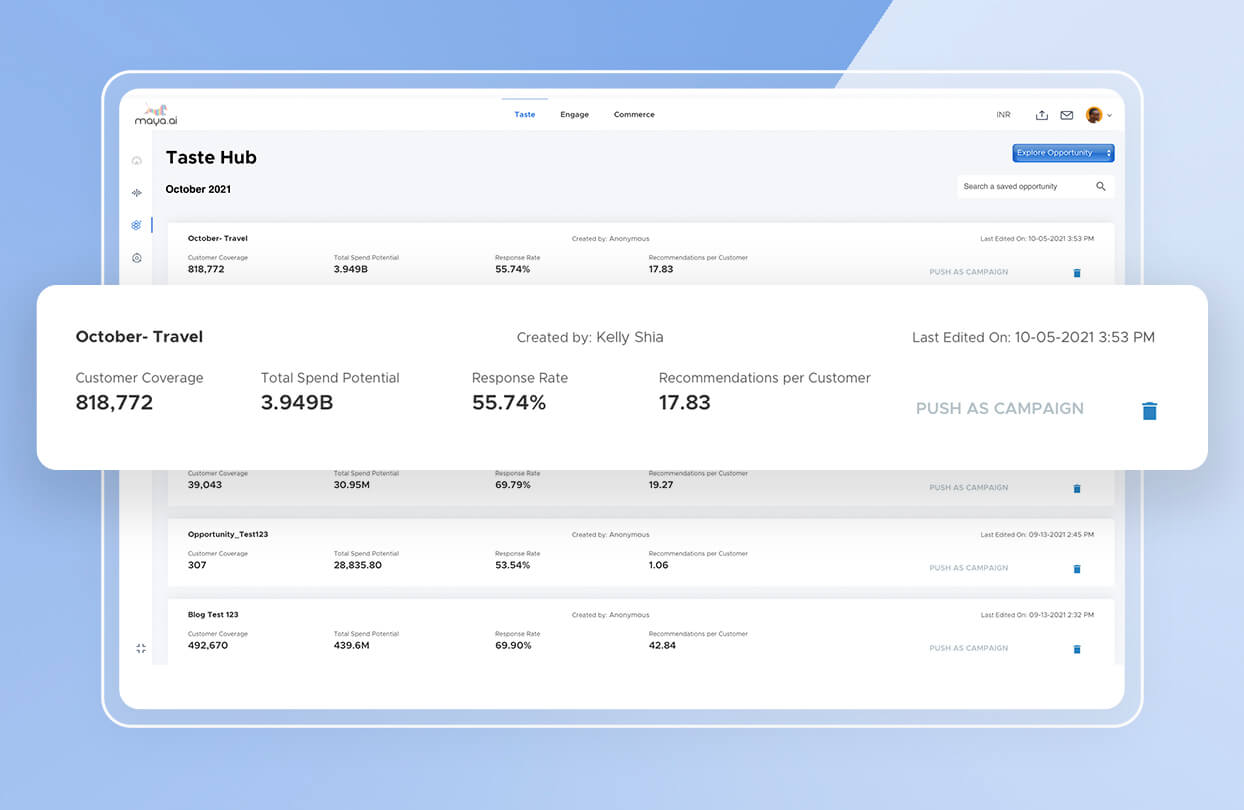 This serves as a one-tab summary for opportunities that were previously curated on Taste Explorer. This provides the enterprise user a comparable view of all the saved opportunities. This includes customer coverage, spend potential, response rate and even the average recommendations served per customer. With Taste Hub, Banks can run campaigns in a few clicks!
Portfolio Taste Map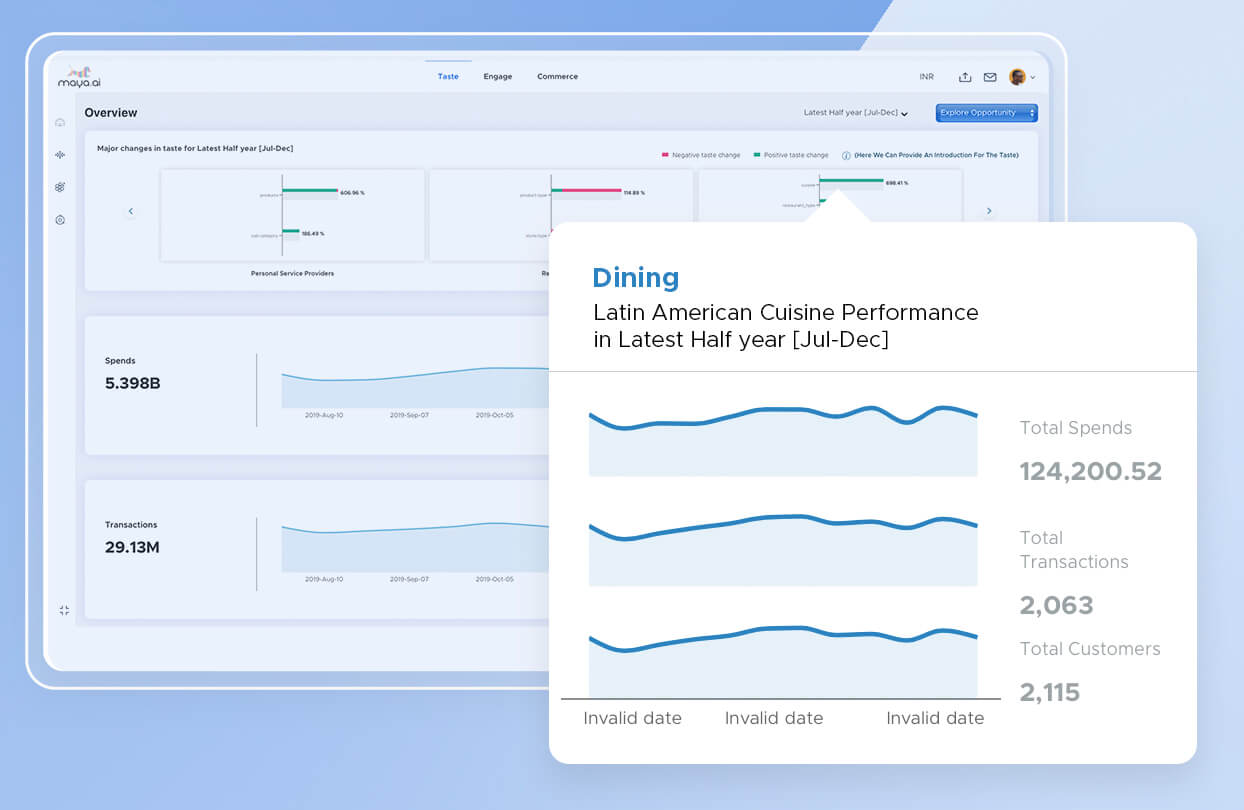 Banks and other enterprises can uncover transactions and spends at a category level. They take anywhere from a week to a quarter to plan and execute a campaign. maya.ai helps banks unearth these opportunities and configure them on the go. It does so by tracking macro and micro trends, giving the portfolio manager an overview of changes. It covers tastes [and behaviors], spends, transactions and customer distribution across categories. In the simplest terms, maya.ai observes the portfolio, finds the need of the hour, and distributes them as offers to customers through campaigns.
Case Study: A new chapter for charters
maya.ai caught the trend on staycations early on and helped one of our clients monetize. While most banks had completely shut down travel offers, we found an anomaly.
There was a subsection of travel that began growing rapidly. At this time, international travel halted, commercial flying was impossible. Commercial airlines too didn't have enough capacity to fly full-fleet. However, interest in charter flights were at an all-time high. 53% of the portfolio spends were travel related. And shockingly, 48% of the travel spends came from 4% of the customers. We built a campaign around this.
Using a similarity model to identify customers beyond those who've been historic flyers. We used portfolio metrics, travel related metrics and premium-identifier metrics.
Total potential estimated at $4.35 Mn.
Over 82% of the customers received 3+ recommendations from top charter flying destinations
Data is ubiquitous, but without maya.ai's Taste Studio, you won't get actionable insights so easily.
Ready to talk about Taste Studio yet? Share your details below, and one of our personalization experts will get in touch!
More from the Explore maya.ai series here.