It's that wonderful time of the year again, especially for retailers around the world. (Cue All I Want for Christmas Is You in the background.) The end-of-the-year sale is one of the most important sales periods for retailers around the world. It's a chance for them to reach their annual targets. Over the last five years alone, end-of-year and holiday shopping made up an average of 19% of annual retail sales. While eCommerce accounted for 20.9% of the total holiday spends in 2019, it was expected to grow by 20% to 30%. And it got very close to that target.
Today, consumer sentiments towards the holiday season are like a bag of assorted Christmas candy. These sentiments have reflected in 2020's retail trends. Some trends have remained consistent over the years. Others have changed, accelerated by the pandemic. Some new trends have surfaced as well.
Here's what
remained
the
same
According to Deloitte's 2019 and 2020 holiday retail surveys, there are four consumer trends that haven't changed since last year.
#1 Quality
gifts and shopping experiences
Great product catalogs with high-quality gifts, amazing deals and offers, and easy, convenient shopping experiences continue to drive the holiday shopper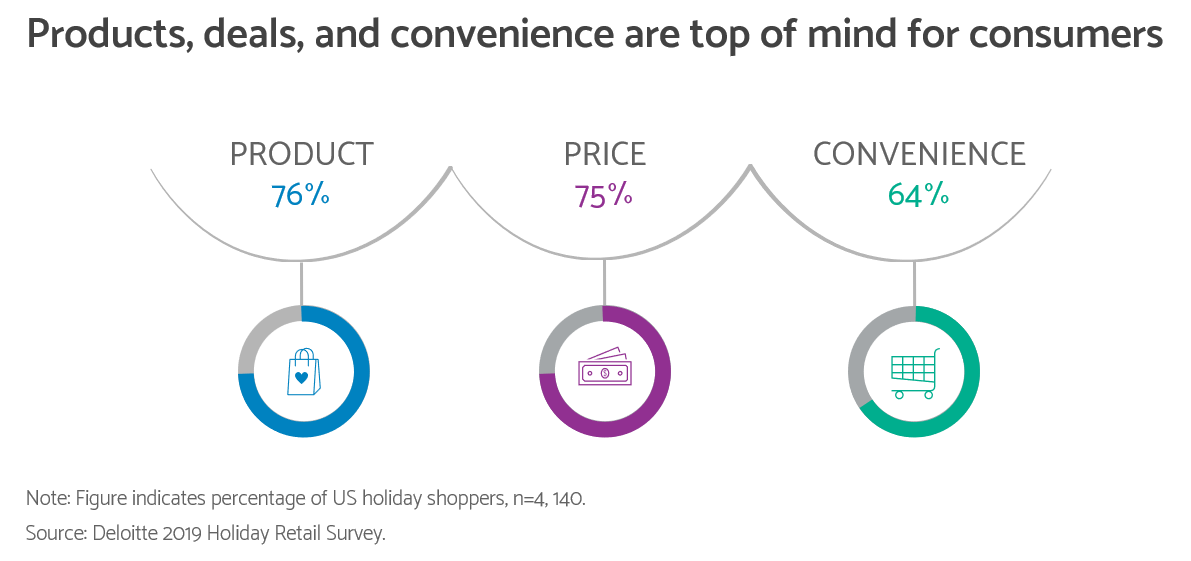 Source: Deloitte's 2019 Holiday Survey
#2
Free deliveries
over speedy ones
Consumers want their holiday gifts delivered for free. 85% of the survey participants would rather opt for free shipping over quicker, but comparatively expensive alternatives.
#3
One-stop shop for all online shopping
Online retail aggregators like Amazon bring with them an infinite inventory as well as 24/7 availability on their platforms. This makes it easier for consumers to shop from the comfort of their homes. It's not surprising that consumers continue to turn towards online shopping platforms to complete their holiday shopping.
Online retailers have also become the most preferred source for holiday research across all generations, with over 63% of the shoppers responding that they use them.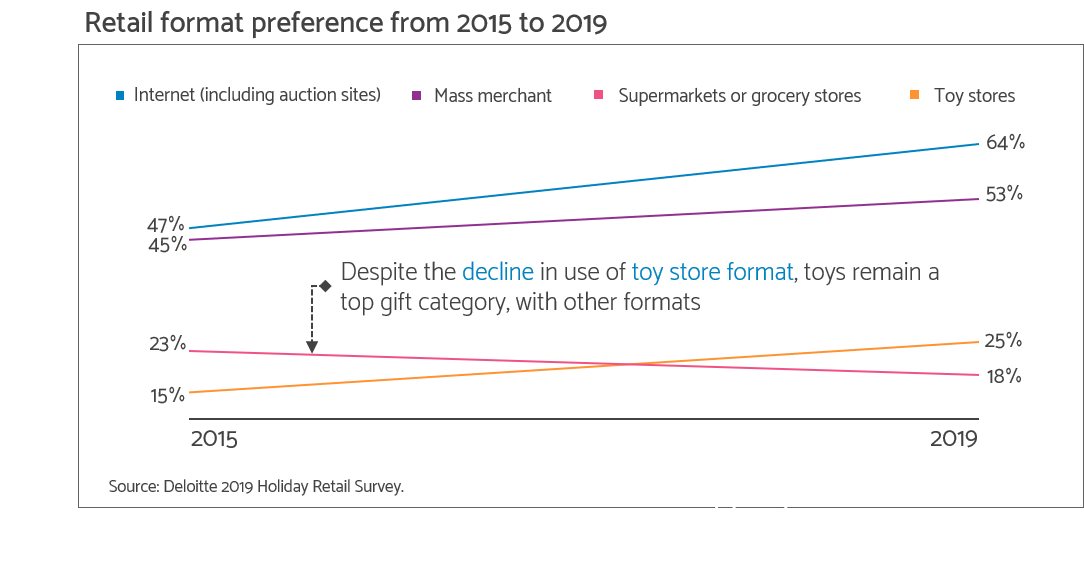 Source: Deloitte's 2019 Holiday Survey
#4

Shop with b

lockbuster deals
Most consumers plan to spend a little less during this holiday season. Instead, they will choose to wait for the few blockbuster deals days, like Prime Day and Black Friday, to splurge on their shopping. According to McKinsey, 39% of the respondents also said that they'd spend more than last year on these blockbuster days.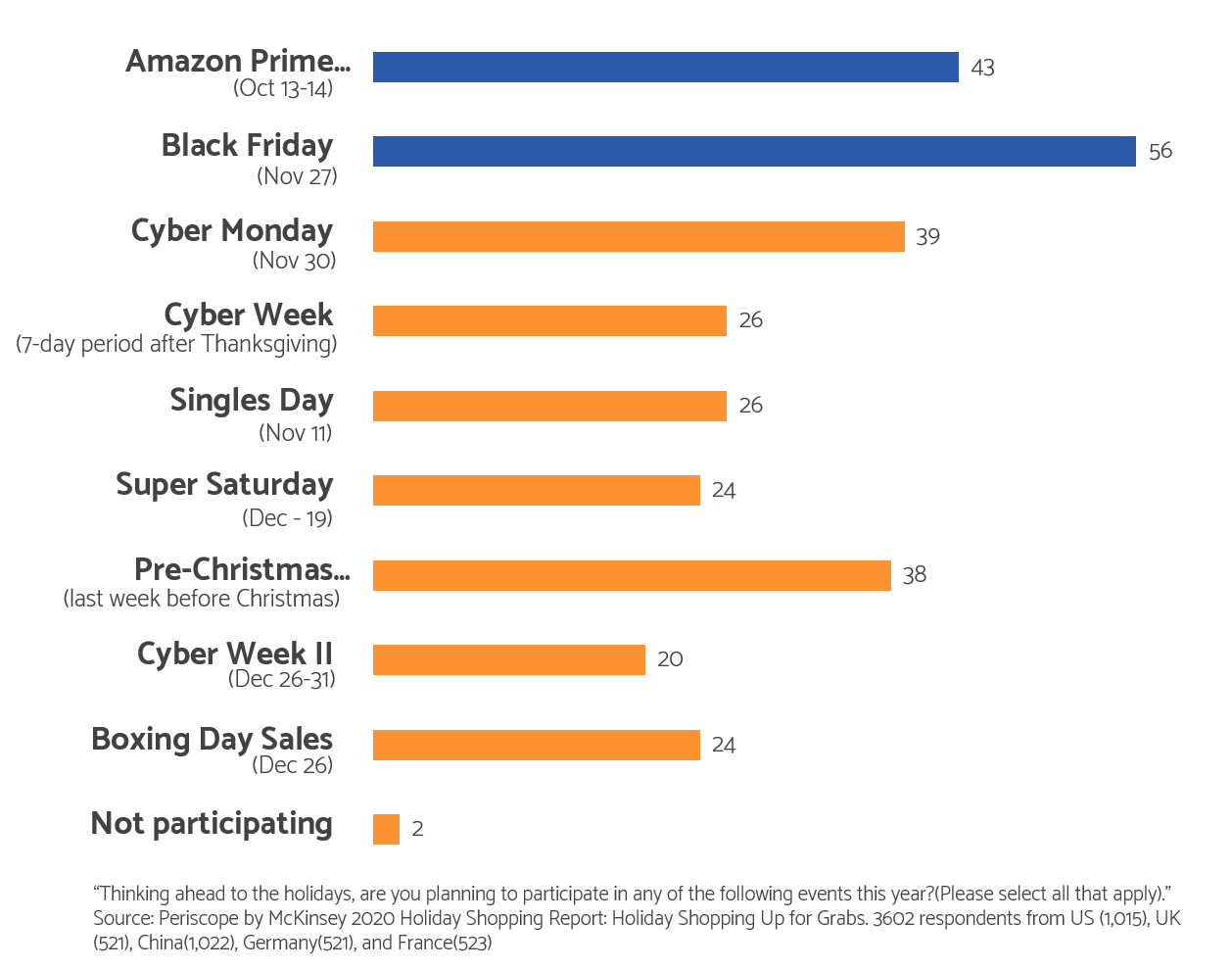 Source: Deloitte's 2020 Holiday Survey
Here's what
got
a little push
from
the
pandemic
A couple of customer trends gained more traction due to social distancing regulations and lockdowns in countries across the world.
#1
Early shopping seasons
The delayed Amazon Prime day in October, triggered an early start to the winter holiday shopping season this year. Many other retailers soon following suit. The NRF reported that more than 52% of the shoppers took advantage of these early sales and continued to spend through the Thanksgiving weekend.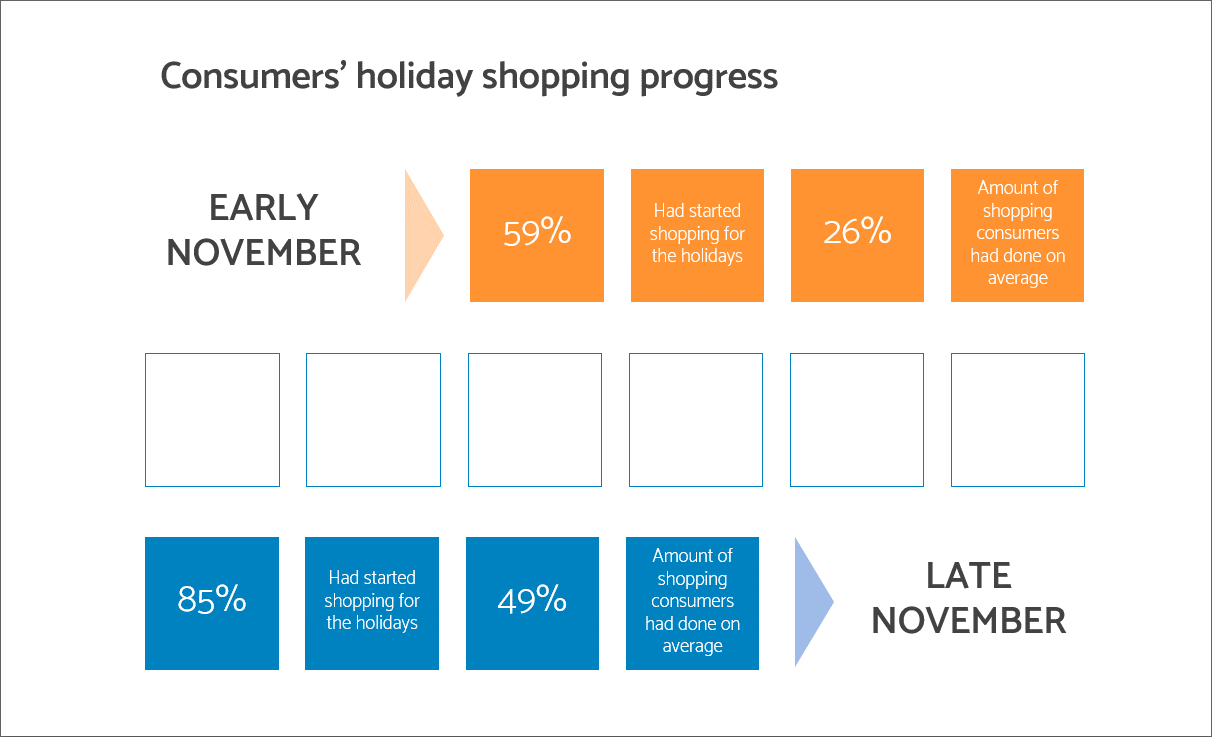 Source: NRF Winter Holidays Survey 2020
#2
Ecommerce continues to take massive leaps
It's very clear that consumers continue to shift towards online retailers. Many forecasts project that over 70% of sales will happen on digital shopping portals. The NRF stated that, for the first time, the number of online Black Friday shoppers passed the 100 million mark. Which is 8% more than the previous year. The number of online Saturday shoppers also grew, up 17% compared to 2019. Digital-only shoppers increased by 44% for the entire weekend, with a total of 95.7Mn people online.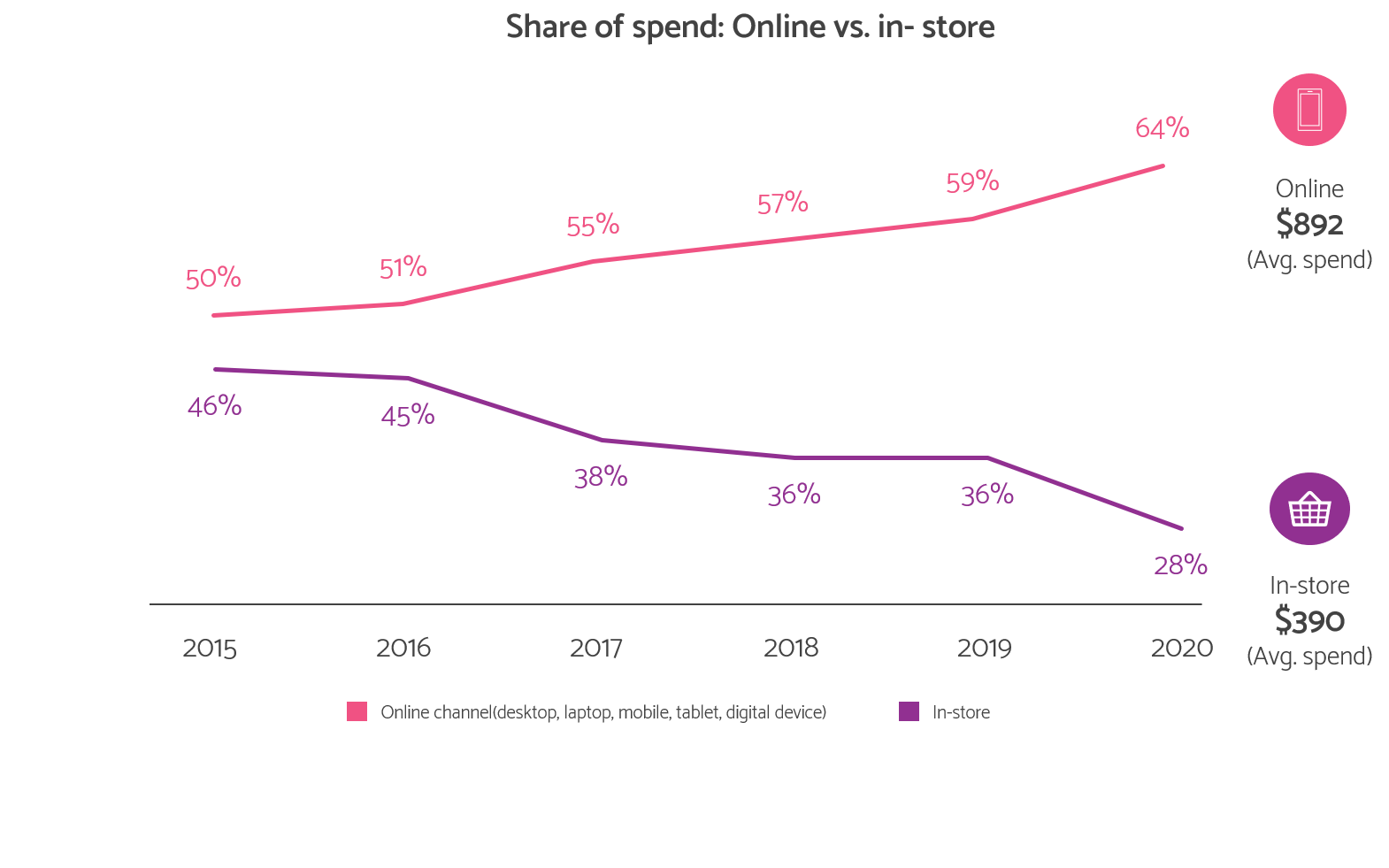 Source: Deloitte's 2020 Holiday Survey
Here's what changed drastically
As a result of the current state of affairs, 2020 saw several new consumer trends. These are:
#1 A drop in travel, but a spike in
retail
The holiday season is about warmth and togetherness. Earlier, consumers used to spend close to 40% of their holiday budget on experiences such as entertainments at home, dine outs, or staying at resorts. But Covid-19 has put a damper on things. There is a projected 34% decline in travel spends, which will now flow into retailers.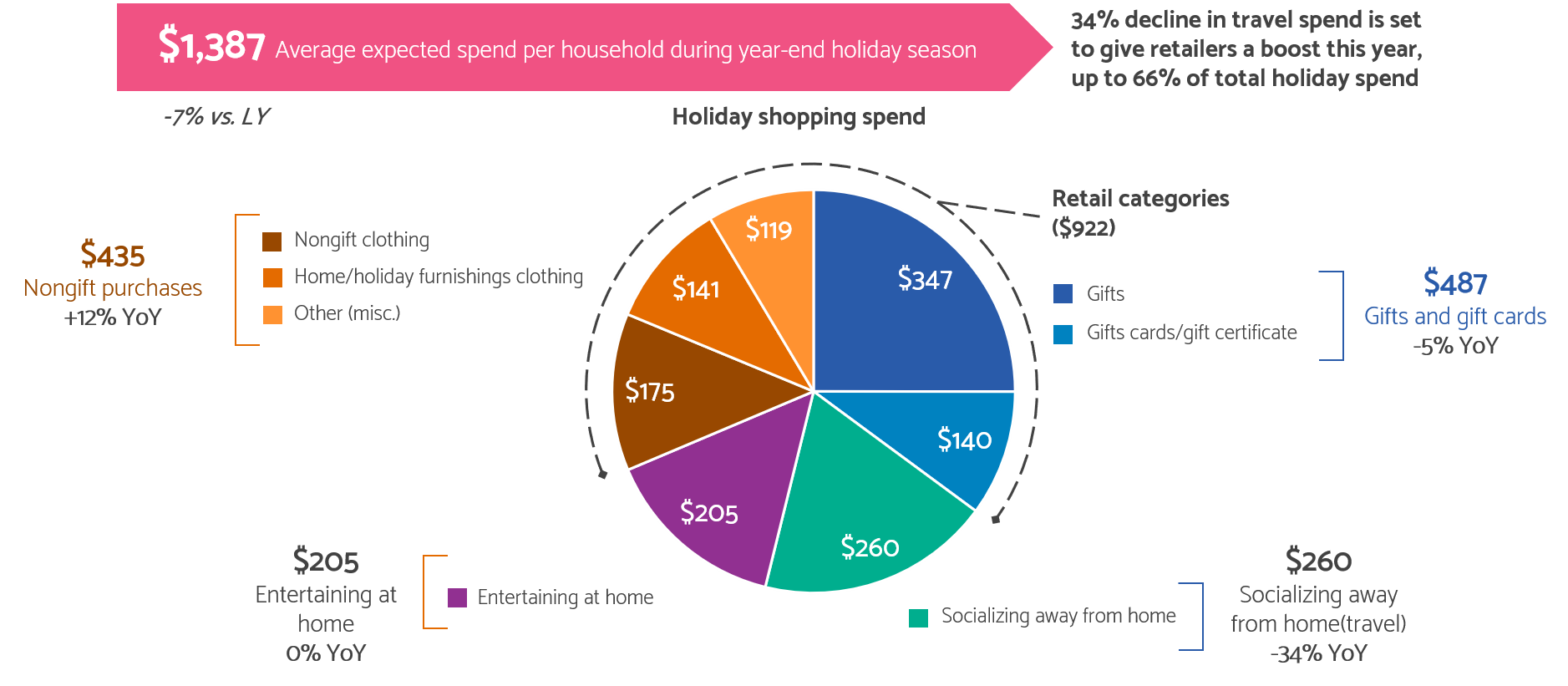 Source: Deloitte's 2020 Holiday Survey
#2 T
he
b
asket reset
While gift cards and clothing remain the most preferred gift options, experts predict non-gift items to make it to the list. These include in-home entertainment, home décor, and vouchers for future travel. People would also choose to pamper themselves at home with food & beverages, comfortable clothing, and health and beauty gifts.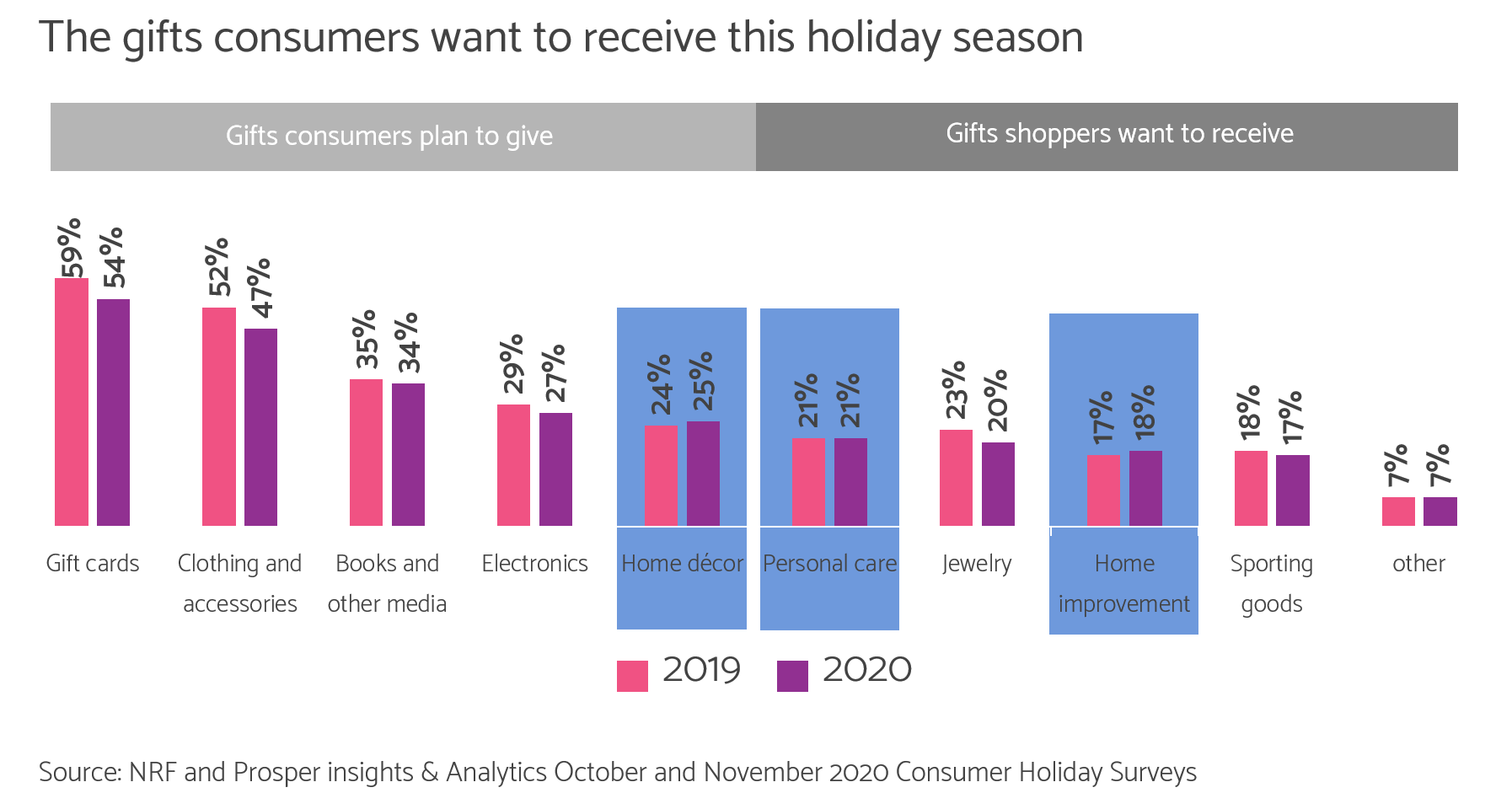 Source: NRF Winter Holidays Survey 2020
#3 No-touch delivery
New contactless options, such as curbside pickup and front door drop-offs, have gained significant popularity. The option to buy-online pick-up at the store (a.k.a BOPIS) has also evolved from a primarily safety-first alternative to a choice of convenience to customers.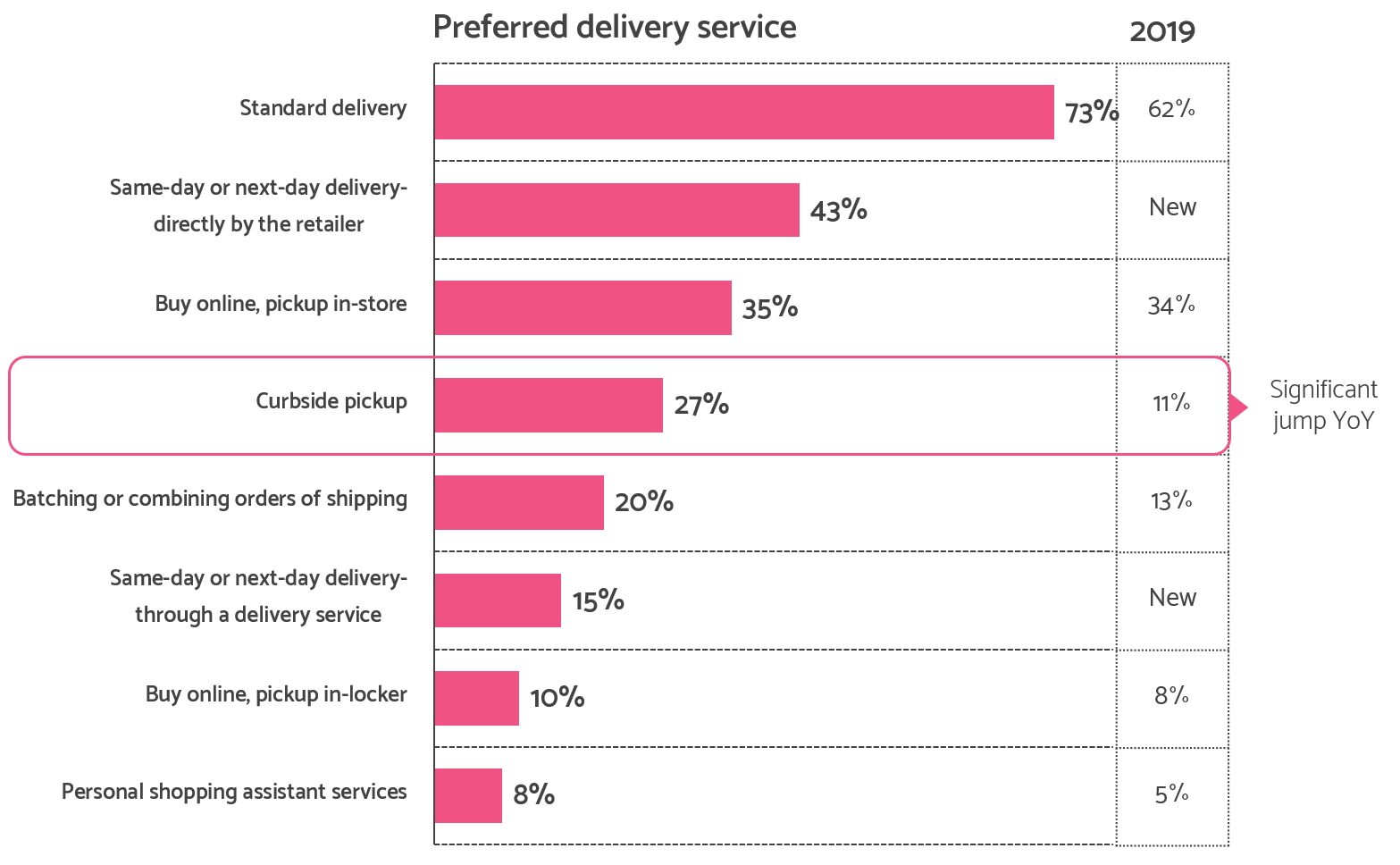 Source: Deloitte's 2020 Holiday Survey
#4 The Greta Thunberg
e
ffect
Climate change and environmental safety is a growing concern among new-age consumers. Especially in the millennial and Gen Z segment. In fact, younger shoppers are willing to pay more for socially responsible and eco-friendly products, in place for affordable but harmful ones. Reusable and recyclable products are also gaining popularity, especially in retail. There are also predictions for an increase in sales of second-hand products sale.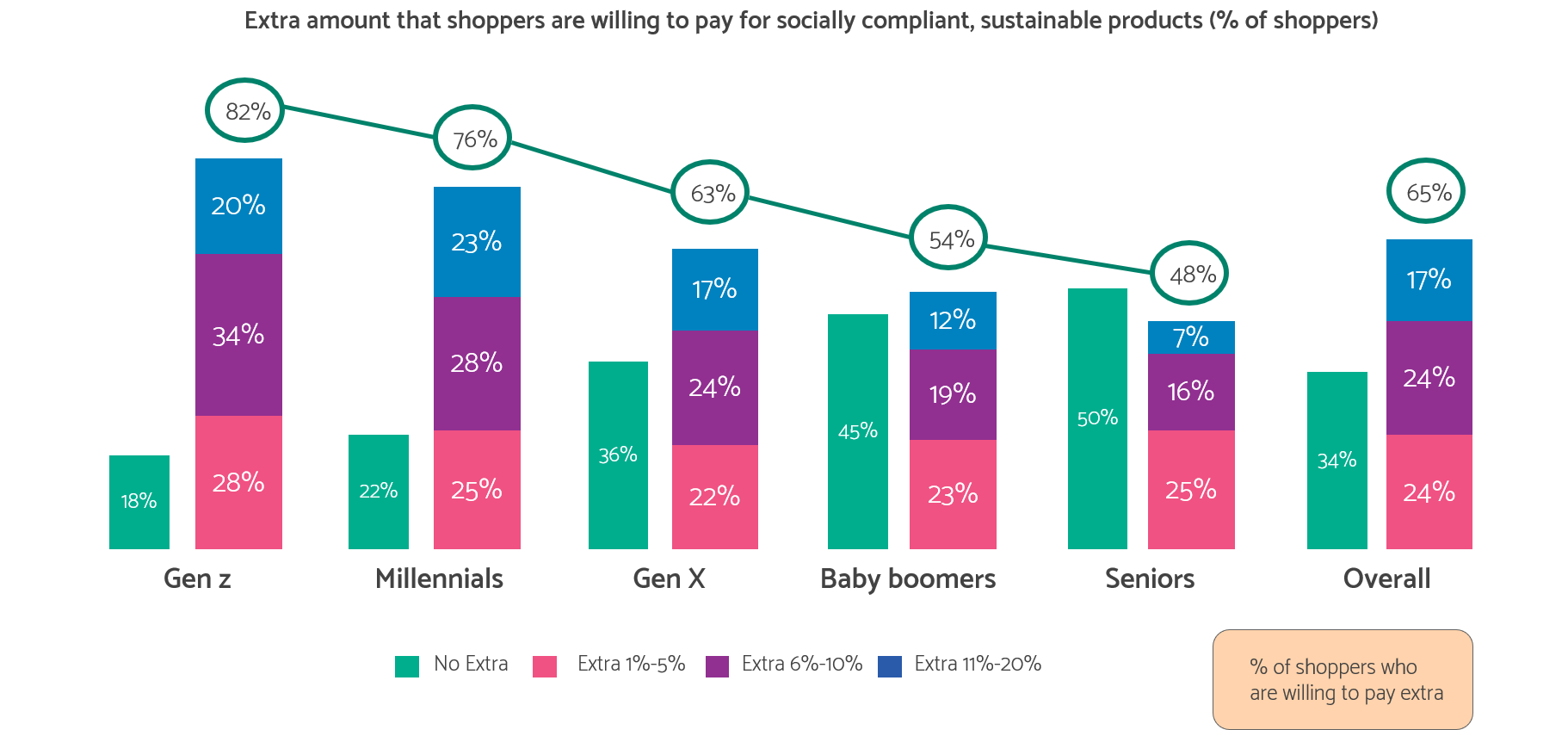 Source: Deloitte's 2020 Holiday Survey
#5 Ready to explore new brands
The market is getting more competitive, with the number of players in each category growing steadily. Study shows that 65% of shoppers are open to stepping away from old favorites to try new retailers this season. This puts a lot of pressure on most retailers to ensure great deals, greater quality, and more convenience to their customers. At the same time, they need to reinvent their consumer experience to engage and relate more closely with their customers.
B
anks
to cash in on retail therapy
As the retail industry continues to craft better and more customer experiences, financial institutions like credit card players and banks are also expected to do the same. But how do banks make the most of these retail trends to improve their portfolios and increase spends?
Find the answers in, Retail therapy 2021: how banks can unlock the future of retail with new digital experiences. Download the report today.