In the first of a series of blogs, we explored what personalized marketplaces are, and why they are important to banks, merchants and consumers. Today, we deep dive into how banks can thrive with a marketplace strategy that is built for each customer. 
In a global study, banking executives were asked, "Do you expect a shift in sales or customer relationship channels towards the following external partners?" The options included brokers, aggregators, and others. And overwhelmingly, 74% of those polled picked marketplaces as the most important.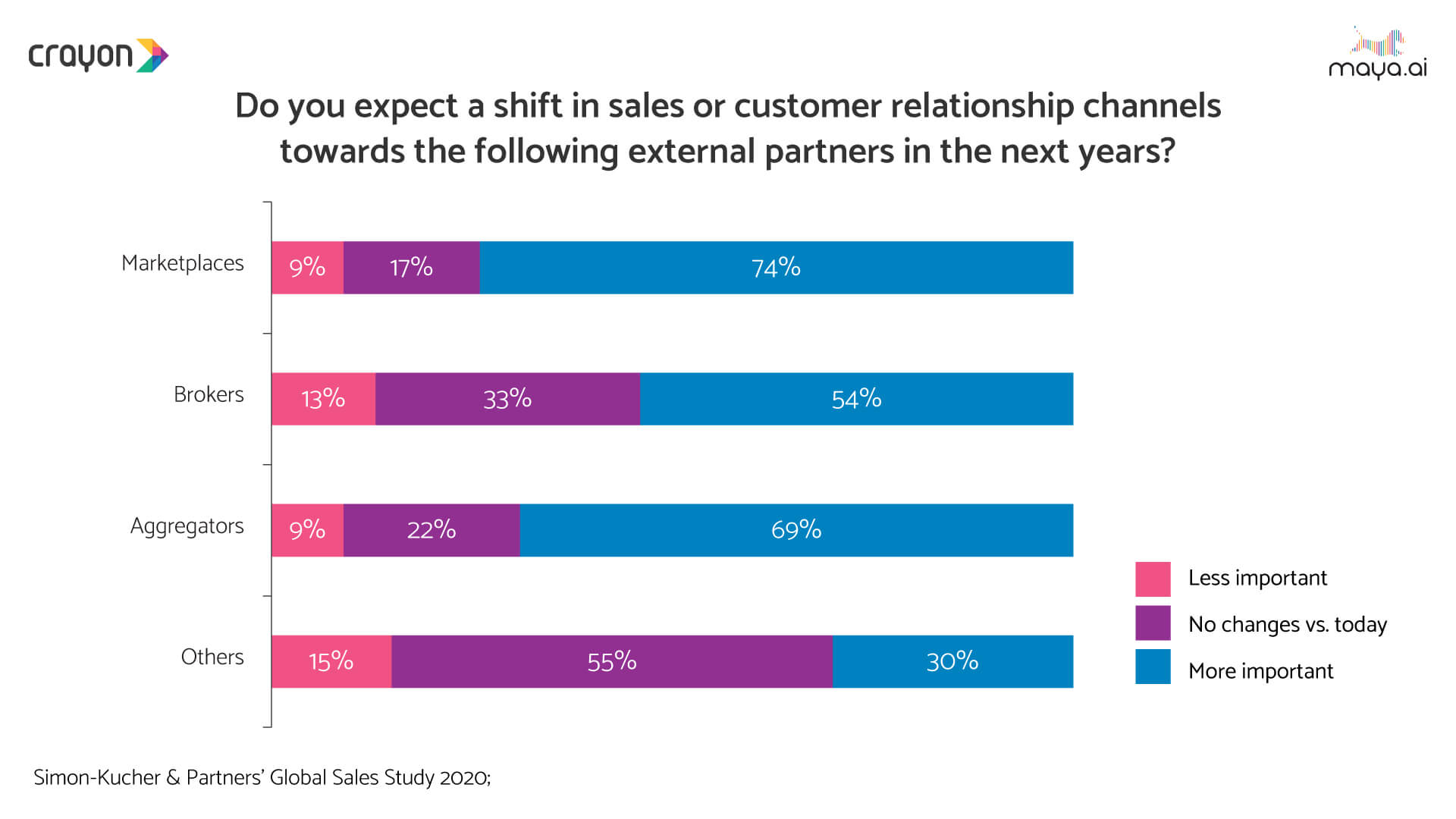 This is the kind of impact digital marketplaces have had on the financial services industry in the past year. These marketplaces are "digitally driven, one-stop-shop platforms". Think, digital shop window. Showcasing the best offers on products and services, curated for customer convenience. They can be hosted by the bank themselves, or on a platform like Crayon Data's maya.ai Bazaar.
Does my bank need a marketplace?
Catering to customer needs and expectations is the main goal of optimizing any banking experience. When they demand that banks keep up, a digital strategy is inevitable. Personalized experiences and relevant offers on a trustworthy platform is what they're looking for.
That is where marketplaces come in.
1. Personalized experiences: A Deloitte report defines hyper-personalization as "harnessing real-time data to generate insights". It is not a new concept in banking. Targeted products and services have always been deployed to increase customer loyalty. Marketplaces create a hyper-personalized ecosystem that makes consumers feel known and heard.
2. Relevant offers: These personalized experiences help banks become part of a customer's lifestyle. Behavioral and data science can be used to deliver services and products that are relevant to their needs. Travel, restaurants, and shopping are just a few options. Marketplaces can increase customer engagement as they will spend more time on the bank's platform.
3. Trustworthy platform: Oliver Mitchell, CEO at Moneycado writes, "Financial product decisions hinge on high trust." When customers have trusted a bank with their money, they are more likely to trust the bank's partners as well. A marketplace that connects them with reliable merchants and offers that make sense for them will drive more transactions. And increase goodwill.
Finding a banking marketplace platform that works 
Steve Cocheo, Executive Editor at The Financial Brand, writes that on external marketplace sites, "financial institutions have more trouble controlling their message and they don't necessarily face an even playing field". Complications can arise in any digital venture. Banks will have to consider operational, legal and compliance issues, and the accompanying risks.
The safer bet would be for banks to create their own ecosystem, with a trusted third-party platform. Ones that can offer GDPR compliance and avoid using PII. Of course, there are plenty of guides and in-depth studies on how banks can create their own marketplace strategy from scratch. But the faster and more effective options are plug and play platforms like maya.ai. Banks could go from data to digital in just 7 days.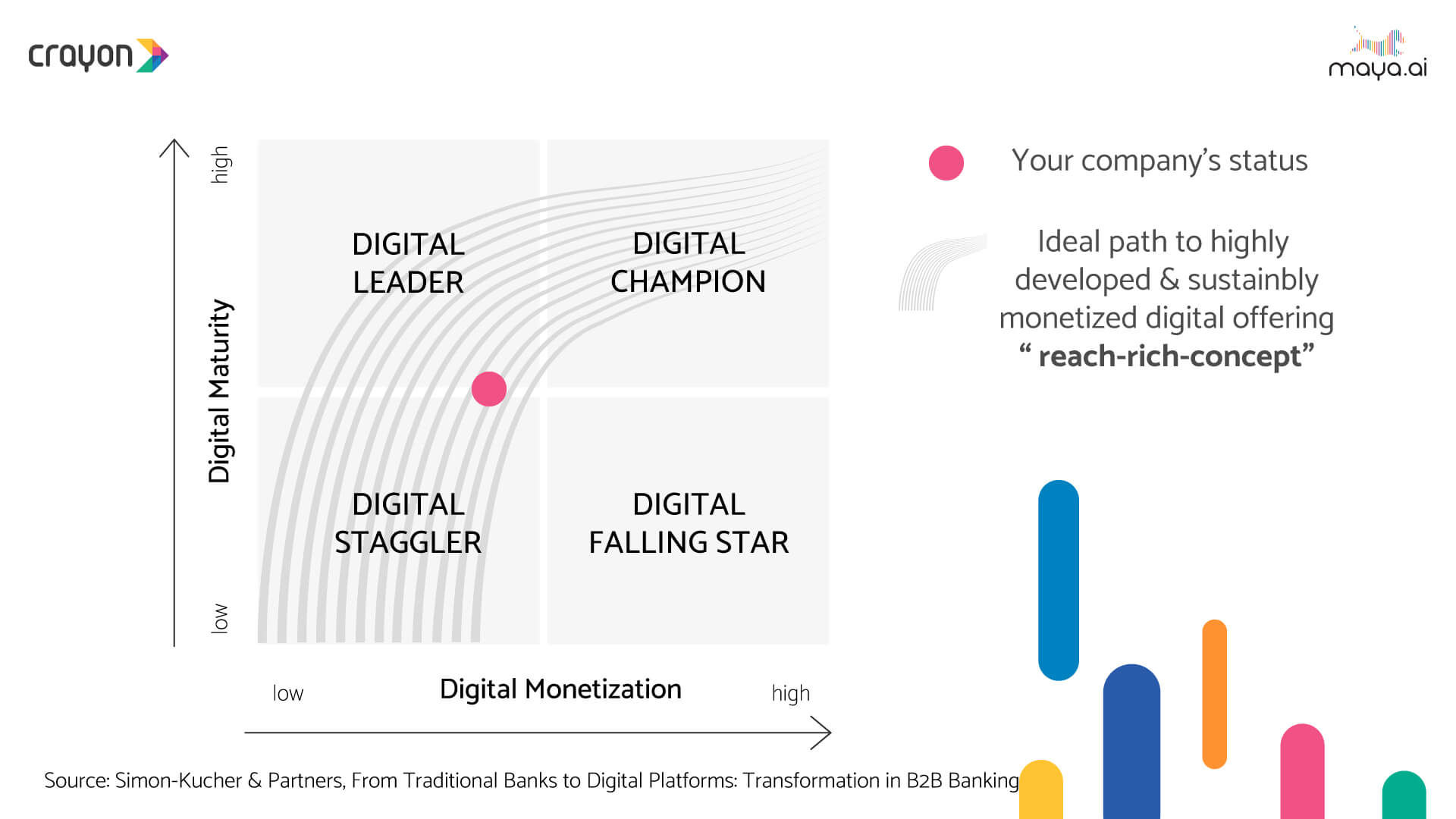 It is not just a matter of surviving against the competition of neobanks and fintech firms. Marketplace integration can help banks become the center for all customer needs. High digital maturity and digital monetization are the mark of a digital champion in the finance space. The endgame is to evolve into a living bank. One that is consistently relevant to customers. It will not just help retain customers, but also acquire and engage them.
With insights from Simon-Kucher & Partners' Global Sales Study 2020; Accenture's Banking Marketplace: Making a Wise Pivot; Deloitte's The future of retail banking; and Aspire Systems' Marketplace Integration: The way forward for banks to achieve ambient banking.
Platforms like maya.ai work to create a 360-degree view of customers based on their profiles and preferences. Merchants on our Bazaar platform give a wide range of relevant and personalized offers to choose from. To schedule a free demo with our personalization experts, share your details.