Today's customers are digital natives. Irrelevance annoys them. Studies show that 85% expect personalized services, while 67% expect personalized experiences. These numbers cannot be ignored. Banks that are early adopters to the age of relevance can be part of an 800 Bn USD personalization-led shift in revenue. In this series, we'll explore if banks around the world are ready for this change. This week, we look at Singapore.
Dumbbells. Bubble tea pearls. Nintendo Switch. This is what Singaporeans shopped for online during the pandemic. The highly banked population (98%) where 80% have access to the internet is at ease with ecommerce. Spend patterns in Singapore shifted, as interest in travel, hotel and shopping dipped in the wake of Covid-19 lockdowns. Staycations saw a steep rise, as did grocery, e-learning and health.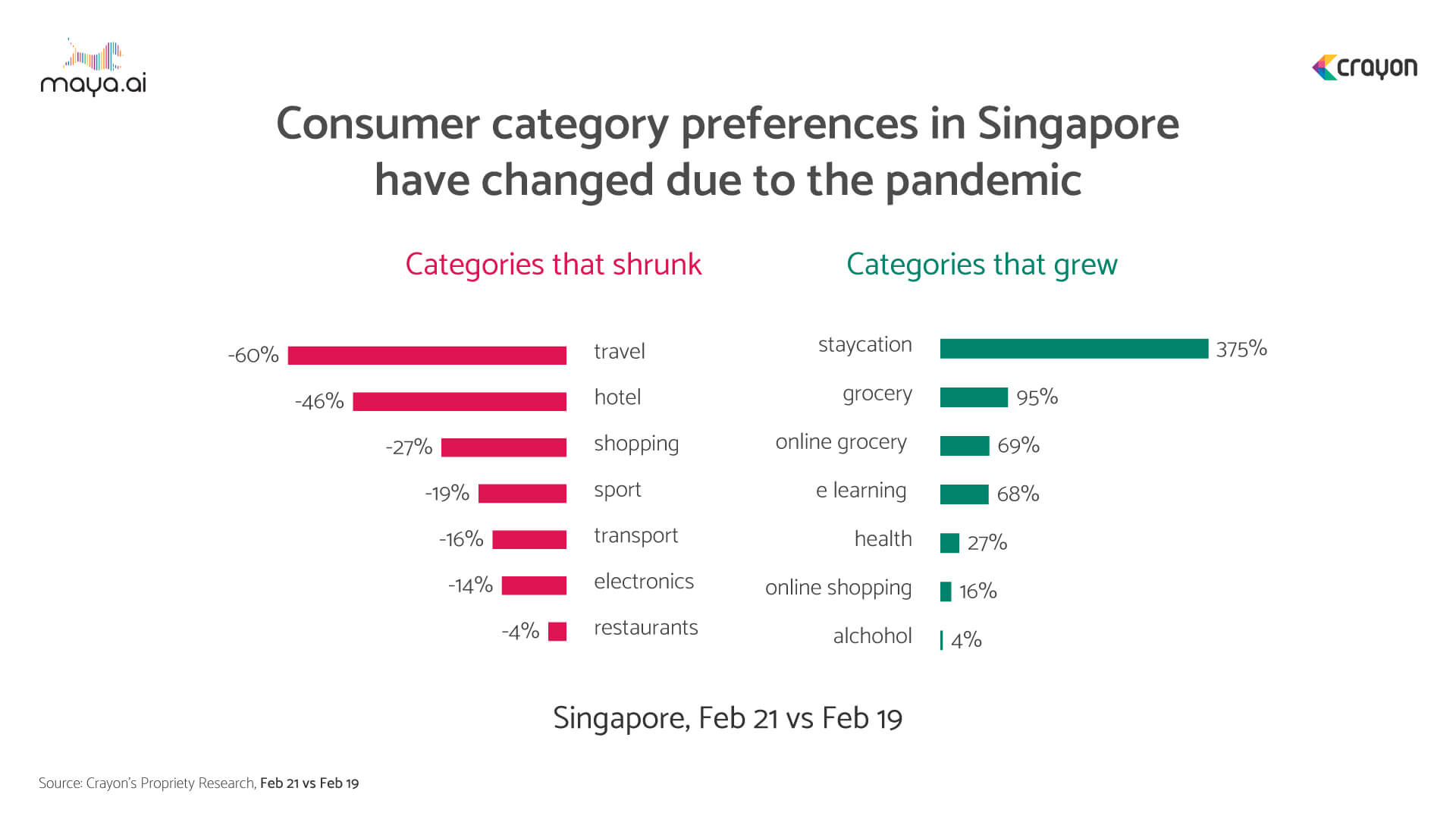 Singapore's switch to e-wallets
In 2020, there was over 50% growth in POS spends using digital wallets. And 1 in 5 ecommerce purchases were made using ewallets. With 42 digital wallet players, consumers in Singapore have plenty to pick from. PayNow, a digital payment service launched by The Association of Banks in Singapore, saw 80% adoption. The resulting transaction values on all these platforms: over 2 Bn USD, with a predicted CAGR of 14.9% (till 2025).
Singapore is also creating a favorable ecosystem for digibanks and neobanks.
The first few digibank licenses were issued in January 2021. This included:
A consortium of Singtel and Grab
Sea Limited
Ant Financial and
A consortium of Greenland Financial Holdings Group Co. Ltd, Linklogis Hong Kong Ltd, and Beijing Co-operative Equity Investment Fund Management Co. Ltd.
Neobanks, on the other hand, aren't required to hold full-banking licenses. They can partner with existing banks. Or use alternative licenses to provide bank-like services through apps. Currently, there are around 4 active neobanks in Singapore. With a potential loan portfolio size of 220 Bn USD, traditional banks risk losing 3 Mn active accounts to these digital players.
Profitability is not the only thing at stake here.
Customers in Singapore are looking for personalized experiences even in their financial services. Crayon Data's Relevance Quotient (RQ) is a proprietary framework used to analyze offers on bank websites and social media presence. Using this, we evaluated banks in Singapore. And found that less than 1% delivered personalized offers. Around 30% provide functionality to discover offers on digital assets. And 100% have broken fulfillment journeys! And, less than
50% surface relevant offers to customers during the pandemic
50% engage with customers on all digital assets, and
Approximately 50% surface offers across all social channels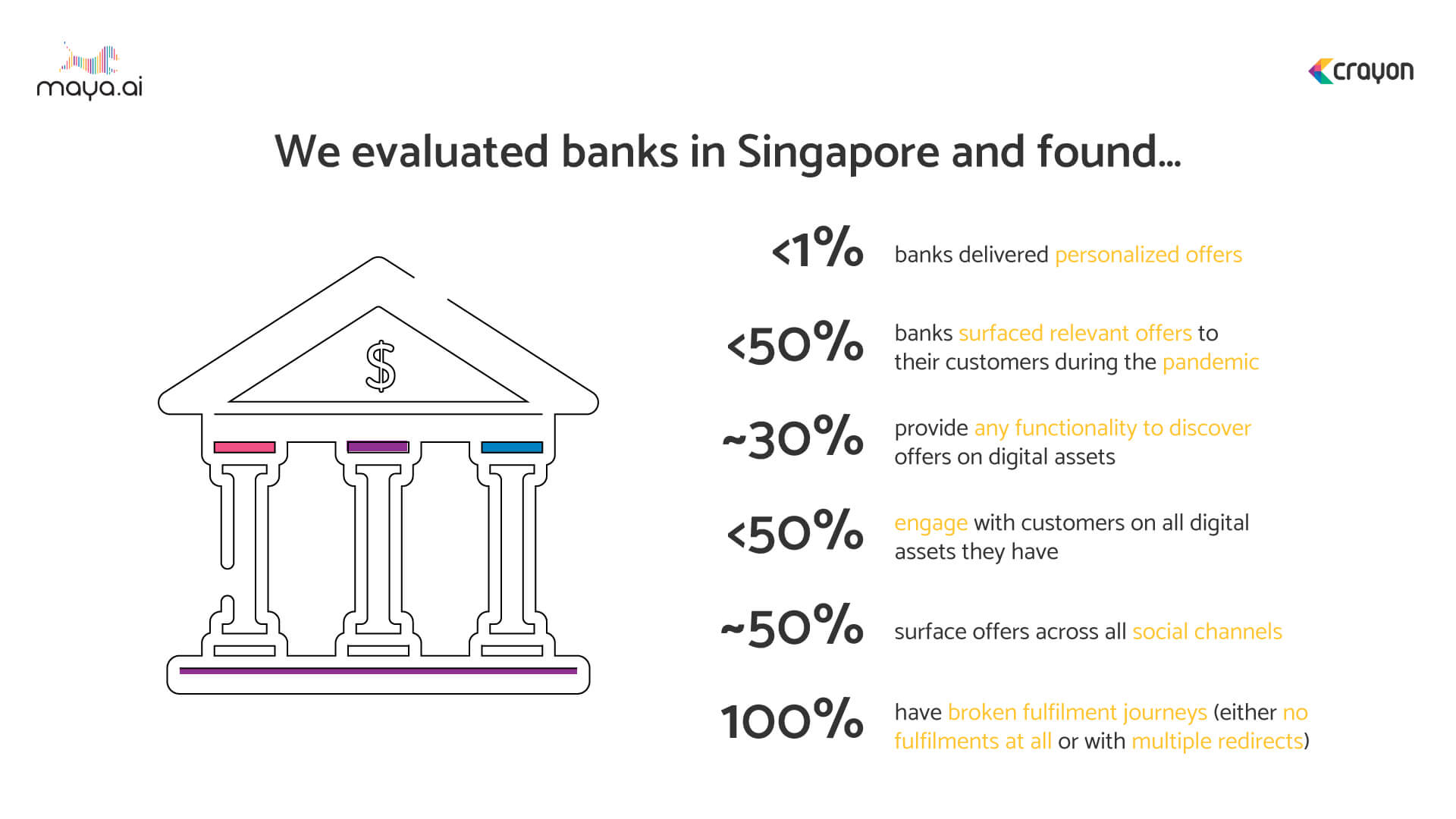 Most banks are around the 40% mark on the RQ scale, with Citibank and HSBC on top of the list. Standard Chartered, DBS Singapore, United Overseas Bank and OCBC Bank score above 30%. There's plenty of scope to use existing customer data to offer personalized services. Such in-depth data gives an insight into customer preferences and spend patterns. Banks can use this information to give customers what they want. And increase their own profitability.
Platforms like maya.ai work to create a 360-degree view of customers based on their profiles and preferences. Merchants on our Bazaar platform give a wide range of relevant and personalized offers to choose from. To schedule a free demo with our personalization experts, click here.
More from the #CountryInFocus series here.