Today's customers are digital natives. Irrelevance annoys them. Studies show that 85% expect personalized services, while 67% expect personalized experiences. These are not numbers that can be ignored. Banks that are early adopters to the age of relevance can be part of an 800 Bn USD personalization-led shift in revenue. In this series, we'll explore if banks around the world are ready for this change. This week, we look at Ghana.
As the Covid-19 virus evolves, we're learning the Greek alphabet, whether we want to or not. And when the Delta variant hit Ghana in mid-2021, consumers also had to learn a new way of shopping. They turned to e-commerce.
With about half the population having Internet access, the West African nation saw a 79% increase in online shopping in 2021. There was also a marked shift in spending patterns. Food delivery, grocery and e-learning saw massive growth. On the other hand, flights, dining and alcohol saw decreased interest.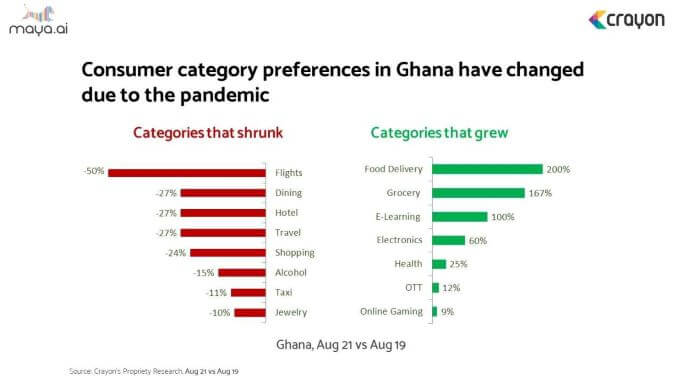 In Ghana, mobile money > credit cards
Currently, there are no neobanks in the country. Although increasing mobile and Internet penetration, and a penchant for technology, could provide a solid foundation for them to thrive in future. The more immediate competitor for traditional banks is mobile money.
Ghana has the fastest-growing e-wallet market in Africa. While 5.8% of the population hold credit cards, 38.9% have mobile money accounts. In fact, 3 to 4 Mn Ghanaians living abroad choose to remit money back home via these accounts. Key players include Airtel, Tigo, MTN and Vodafone. The digital wallet industry reached a transaction value of US$ 68.3 Bn in 2020, and is expected to grow at a CAGR of 23% during 2021-26.
Traditional banks in Ghana stand to lose out on 42% of an unbanked population.
Crayon Data's Relevance Quotient (RQ) is a proprietary framework used to analyze offers on bank websites and social media presence. In most countries in Africa and the world over, our research found that less than 1% of banks deliver personalized offers. Banks also
Struggle to surface relevant offers to customers during the pandemic
Have broken fulfilment journeys.
Do not provide functionality to discover offers on digital assets
Have difficulty engaging with customers on all digital assets
Do not surface offers across all social channels
Top enterprises in Ghana – including GCB Bank Limited, Ecobank Ghana, Zenith Bank of Ghana, Absa Bank Ghana Limited and Fidelity Bank of Ghana – have to give their customers personalized offers they cannot refuse.
To reach this level of personalization, banks need to have a holistic view of their customers. This can be achieved by analyzing spend patterns and understanding their preferences. Without infringing on their privacy, of course. The result? Better engagement, higher spends and increased retention!
Platforms like maya.ai work to create a 360-degree view of customers based on their profiles and preferences. Merchants on our Bazaar platform give a wide range of relevant and personalized offers to choose from. To schedule a free demo with our personalization experts, click here.
More from the #CountryInFocus series here.