Today's customers are digital natives. Irrelevance annoys them. Studies show that 85% expect personalized services, while 67% expect personalized experiences. These are not numbers that can be ignored. Banks that are early adopters to the age of relevance can be part of an 800 Bn USD personalization-led shift in revenue. In this series, we'll explore if banks around the world are ready for this change. This week, we look at Kenya.
Even as home gyms picked up in popularity during the pandemic, Kenya saw a drastic drop of customer interest in this segment. Online gaming and food delivery – other sectors that saw growth across the world – also declined. Instead, transport, health, online streaming, alcohol, and dining saw increased growth.
Perhaps this can be attributed to Kenya's young population, with a median age of 20. They are no stranger to banking. 83% have bank accounts. However, the country is far behind others on internet penetration. Only 40% have access to the internet. And of those, only 24% have made an online purchase.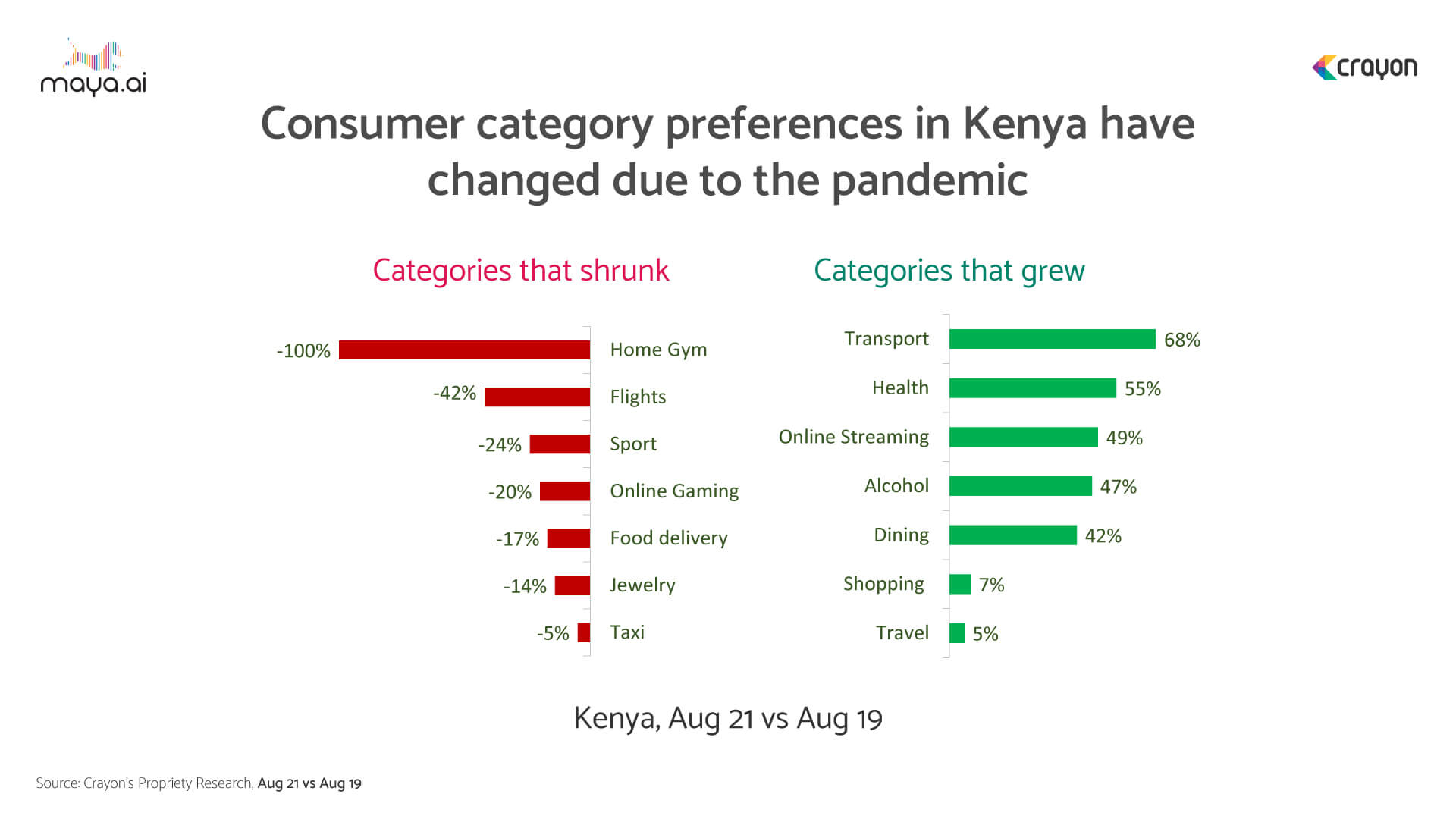 Digital wallets in Kenya
In 2019, the country had around 47.7 Mn mobile accounts. These accounted to 38.5 Bn USD spends. Major players include Equitel, MobiKash, m-pesa and Orange Money. The average mobile money customer moves 188 USD per month (close to 21,000 Kenyan Shillings).
Why should traditional banks be wary?
Crayon Data's Relevance Quotient (RQ) is a proprietary framework used to analyze offers on bank websites and social media presence. When we evaluated banks in Kenya, we found that less than 1% delivered personalized offers. Or engaged with customers on all digital assets. Moreover,
Less than 66% surfaced relevant offers to their customers during the pandemic
Less than 20% provide functionality to discover offers on digital assets
Approximately 20% surface offers across all social channels
Approximately 50% have broken fulfillment journeys
Standard Chartered and I&M Bank rank the highest at 31% RQ score. KCB Bank and Diamond Trust Bank of Kenya are close behind at 29%. And Absa Bank (formerly Barclays Bank of Kenya) are at 24%. Almost all the banks score high on the choice relevance. Social media presence was middling across the board. While there is plenty of room for improvement when it came to choice search.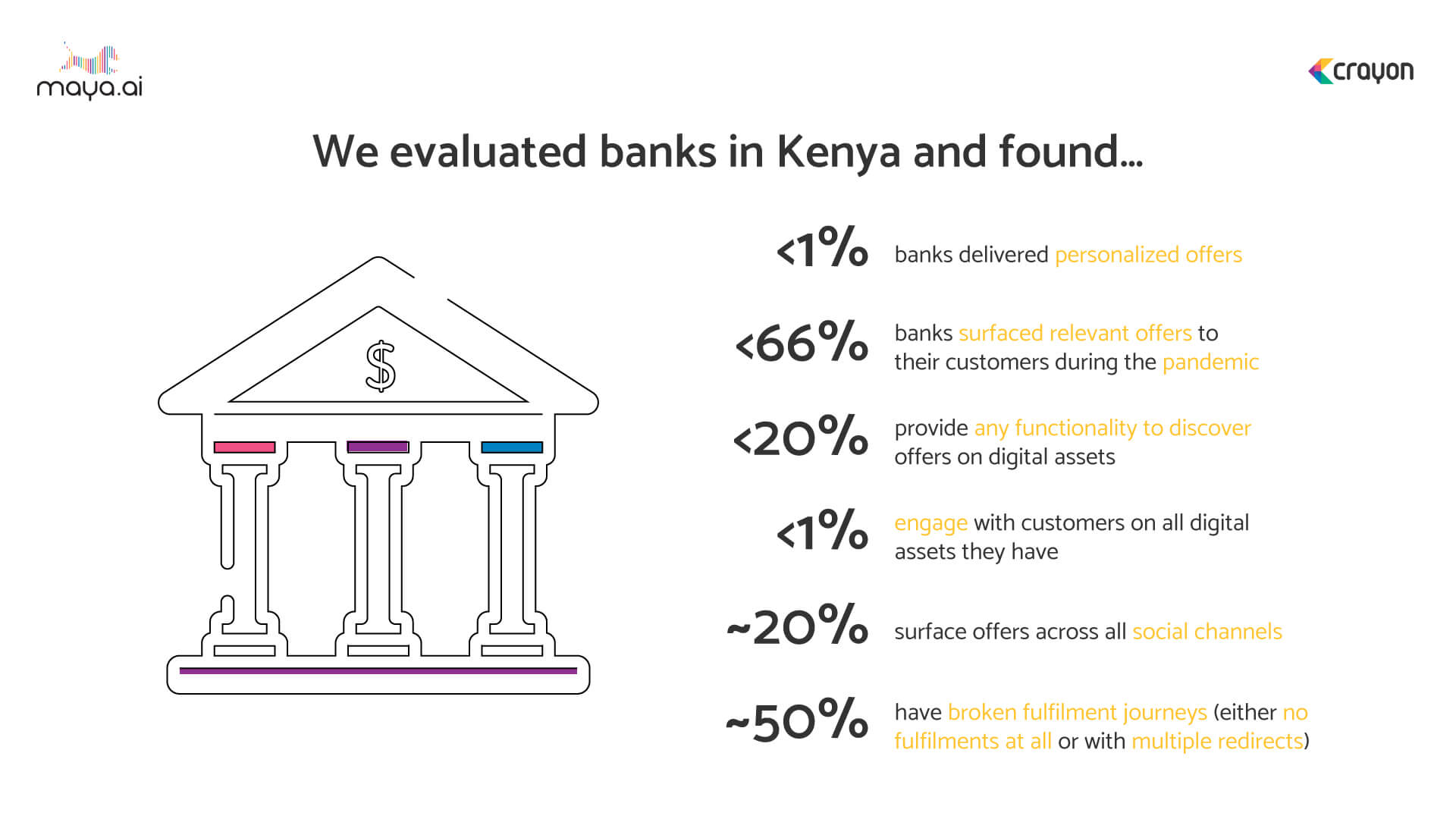 Neobanks like Umba have the first-mover advantage. They're the only digital financial service that is an alternative to traditional banks in Kenya. The mobile app offers services like free checking account, free instant peer-to-peer money transfers, lending, deposits, BillPay and cash back. To compete with such features, traditional banks must rethink their approach to customer experience. And create spaces that cater to their lifestyle.
Platforms like maya.ai work to create a 360-degree view of customers based on their profiles and preferences. Merchants on our Bazaar platform give a wide range of relevant and personalized offers to choose from. To schedule a free demo with our personalization experts, click here.
More from the #CountryInFocus series here.