Today's customers are digital natives. Irrelevance annoys them. Studies show that 85% expect personalized services, while 67% expect personalized experiences. These numbers cannot be ignored. Banks that are early adopters to the age of relevance can be part of an 800 Bn USD personalization-led shift in revenue.  In this series, we'll explore if banks around the world are ready for this change. This week, we look at Qatar.
The countries of the Gulf Cooperation Council had more than their share of economic setbacks to deal with during the pandemic. Volatility in the pricing of natural resources such as oil, coupled with the global downturn, meant that banks had to transform at a rapid pace to survive. In Qatar, FY2020 saw an overall decreased profitability level.
However, growth of assets and streamlined non-interest costs marked the same financial period.
A focus on new revenue streams helped achieve this growth. And improving customer relationships through digital solutions was part of their playbook. After all, the country's young and highly banked population (an average age of 23, with 85% holding bank accounts) are digital natives. 90% have access to the internet and 86% of those have made online purchases.
Even as far back as 2014, online shopping in Qatar saw rapid growth. Since 2016, the country has seen a 224% increase in digitally active customers. During the pandemic, customer category preferences shifted. From hotels, shopping, travel, flights and restaurants, to takeaway, alcohol, staycation and jewelry.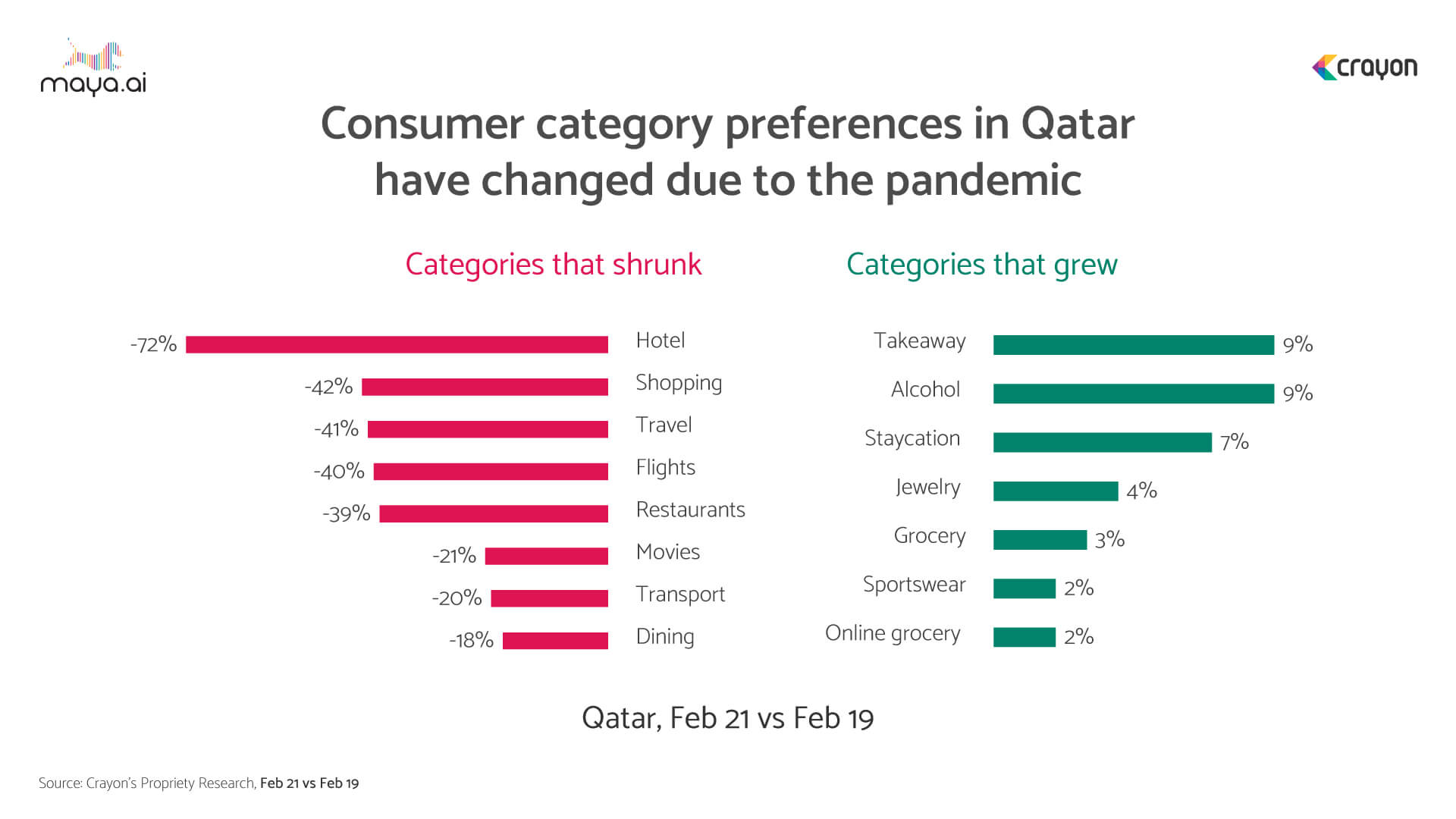 Digital wallets in Qatar too have seen 3X growth in the past year.
With over 10 players in the landscape, 2020 saw a higher adoption of e-wallets. We saw a transaction volume of 5 Mn, to the value of 440 Mn USD. And 3 out of 4 e-commerce purchases use digital wallets.
With Qatar aiming to go cashless by 2030, traditional banks are now positioning themselves as digital banks. Fintech firms from abroad are partnering with Qatar telecommunications for cross-border services.
How can banks in Qatar stay relevant?
Crayon Data's Relevance Quotient (RQ) is a proprietary framework used to analyze offers on bank websites and social media presence. When we evaluated 10+ banks in Qatar, we found that less than 1% delivered personalized offers. Over 80% have broken fulfillment journeys, and only half of the banks surfaced relevant offers during the pandemic. Also, less than 20%
Provide functionality to discover offers on digital assets
Engage with customers on all digital assets they have
Surface offers across all social channels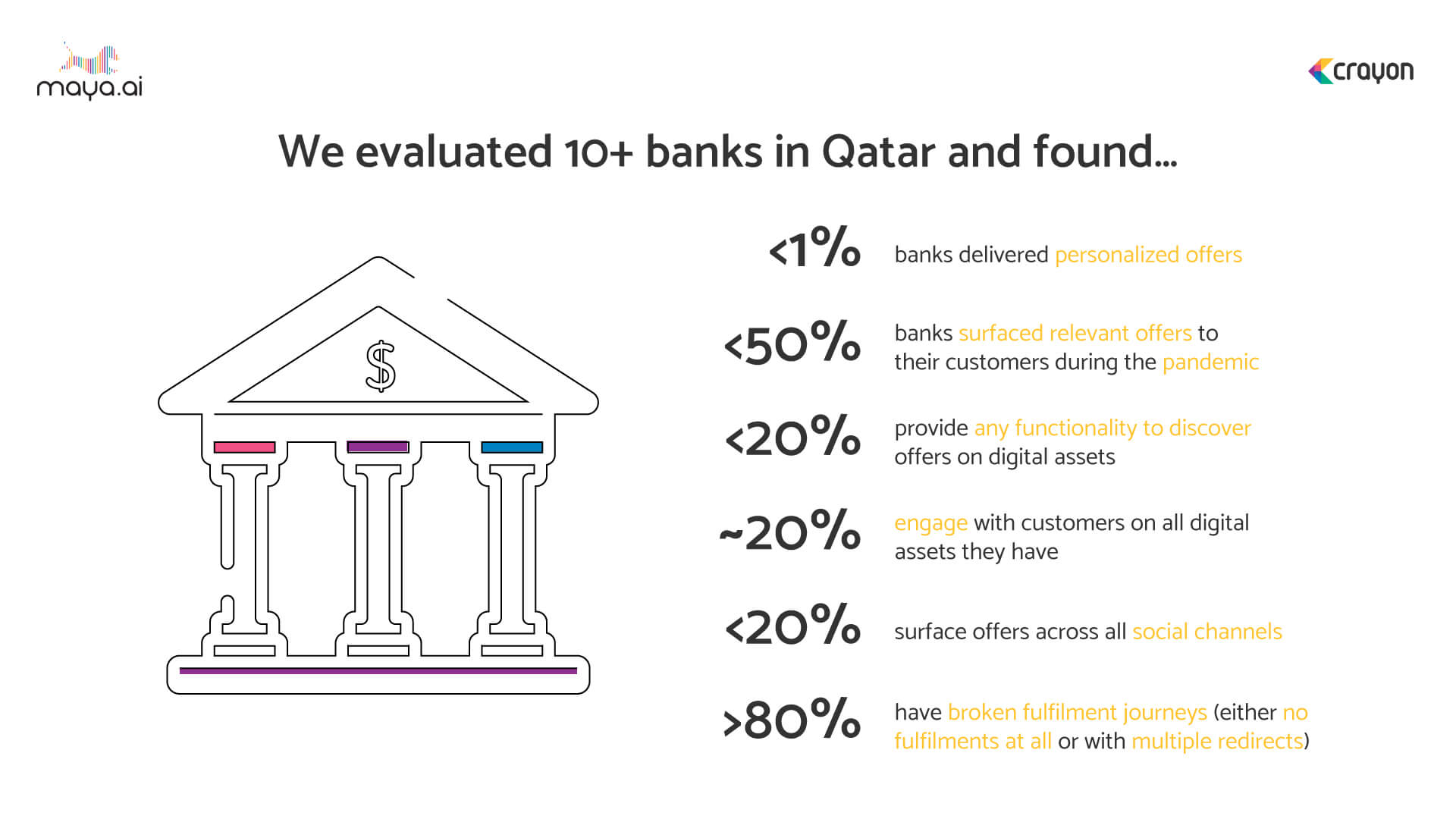 The overall RQ for Qatar's banks could do with plenty of improvement. Qatar Islamic Bank leads with 32%. Commercial Bank of Qatar, Ahli Bank Qatar and Dukhan Bank all follow at 29%. To excel at banking personalization, choice fulfillment and engagement, banks need to go further with their digital strategy.
Platforms like maya.ai work to create a 360-degree view of customers based on their profiles and preferences. Merchants on our Bazaar platform give a wide range of relevant and personalized offers to choose from. To schedule a free demo with our personalization experts, share your details.
More from the #CountryInFocus series: India, Philippines, UAE, Brazil and Indonesia.