Today's customers are digital natives. Irrelevance annoys them. Studies show that 85% expect personalized services, while 67% expect personalized experiences. These are not numbers that can be ignored. Banks that are early adopters to the age of relevance can be part of an 800 Bn USD personalization-led shift in revenue. In this series, we'll explore if banks around the world are ready for this change. This week, we look at Oman.
Even as countries try to figure out the way forward in a world of digital wallets, Oman is ahead of the curve. From January 1, 2022, it will be mandatory for all merchants to accept only cashless payments. The aim is to digitize business monetary transactions. While ensuring convenience for customers.
It's not unfamiliar territory for Omani customers. The middle-aged population (avg age 30.6) are venturing into digital banking. Around 56% of people are banked, and 92% have access to the internet. Of these, 66% have made online purchases.
The rise of digital wallets in Oman
With over nine digital wallet players in the country, consumers are spoilt for choice. Some of the top players are noqodi, eFloos, pay+ and NBO Mobile Wallet. There has been approximately 7% growth in POS transactions using this payment method. In fact, 45% of all banked users transacted through digital wallets in 2020.
As e-commerce grew in popularity since 2019, so has wallet usage. The e-commerce market was valued at USD 2.19 Bn in 2019, and is expected to grow to USD 6.52 Bn in 2026. But what have Oman's consumers been buying?
From 2019 to 2021, the pandemic changed their spending patterns.
Interest in dining, hotels, flights and shopping declined. But contrary to other regions, travel, jewelry and sport grew in popularity. Alcohol, staycation and health too were areas of growth.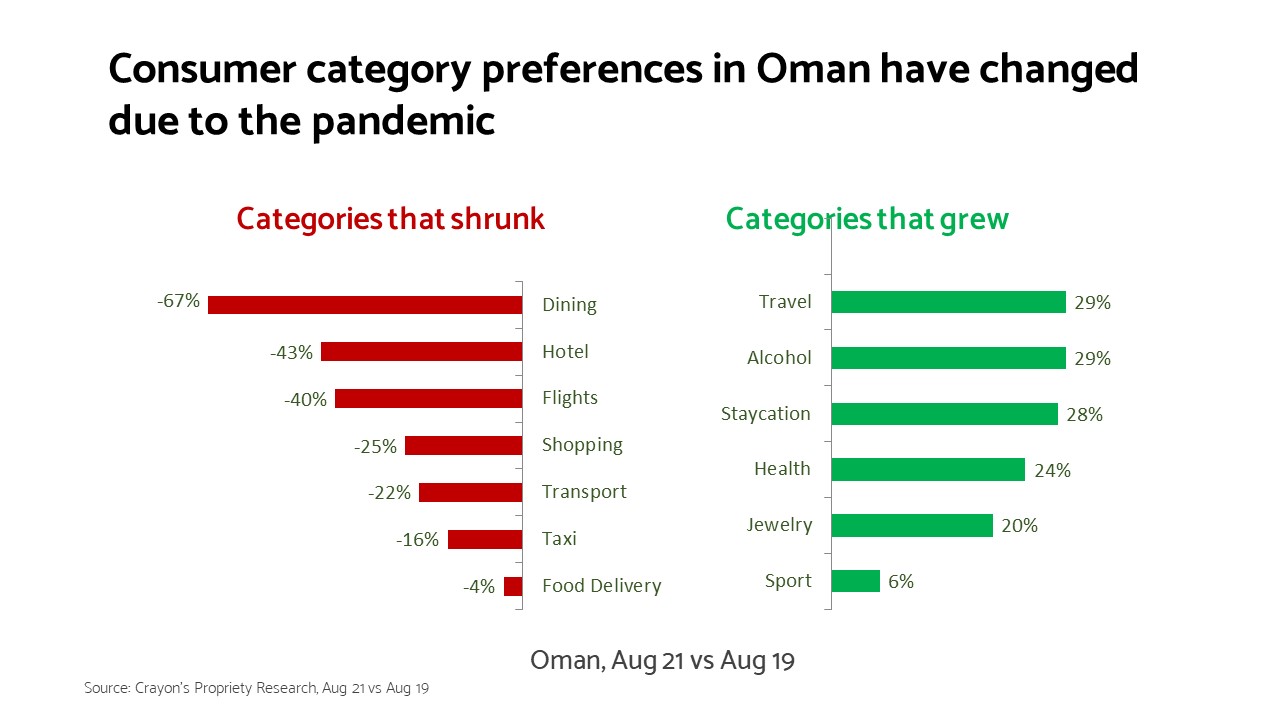 Oman also has about 2 Mn unbanked population. They will soon need to pick a financial provider once cashless transactions are the norm.
Yet, traditional banks in Oman struggle to remain relevant to an evolving population.
Crayon Data's Relevance Quotient (RQ) is a proprietary framework used to analyze offers on bank websites and social media presence. In Oman, traditional banks are positioning themselves as digital banks. There are currently four major banks in this space: Bank Dhofar, Bank Muscat, NBO and Bank Sohar.
Our research found that less than 1% of banks across the country deliver personalized offers. Less than half of the banks surfaced relevant offers to customers during the pandemic. And a whopping 99% have broken fulfilment journeys. Additionally,
Less than 66% provide functionality to discover offers on digital assets
Less than 80% engage with customers on all digital assets
Approximately 40% surface offers across all social channels
Oman Arab Bank and Bank Sohar fared best, with 38% overall RQ score. The former has 100% cross-channel integration, while the latter is only halfway there. Both banks have low choice engagement, but high choice relevance. Alizz Islamic Bank, Bank Dhofar, Bank Muscat and National Bank of Oman also have similar issues.
However, without any means of knowing customer preference, and fulfilling their choices, the impact of their existing offers is quite low. Having a deep understanding of spending patterns will help banks personalize their offers. Which leads to higher engagement and unlocked wallets. As well as repeat customers who will spread the word. Isn't that the dream?
Platforms like maya.ai work to create a 360-degree view of customers based on their profiles and preferences. Merchants on our Bazaar platform give a wide range of relevant and personalized offers to choose from. To schedule a free demo with our personalization experts, click here.
More from the #CountryInFocus series here.