Banking personalization in Thailand
Today's customers are digital natives. Irrelevance annoys them. Studies show that 85% expect personalized services, while 67% expect personalized experiences. These are not numbers that can be ignored. Banks that are early adopters to the age of relevance can be part of an 800 Bn USD personalization-led shift in revenue. In this series, we'll explore if banks around the world are ready for this change. This week, we look at Thailand.
It's not just Gen Z who are keeping online stores on their toes. Thailand's internet economy is slated to hit 53 Bn USD by 2025. Thanks to a middle-aged, highly-banked (81%) population of millennials. 75% of them have access to the internet, and 82% of those shop online. Only Vietnam is ahead of Thailand, while Philippines, Malaysia and Singapore follow.
Even as the pandemic affected spends on travel, hotels and flights, fitness was a big winner. Indoor biked and home gyms gained popularity. As did online groceries, movies and shopping in general. E-learning too was the need of the hour.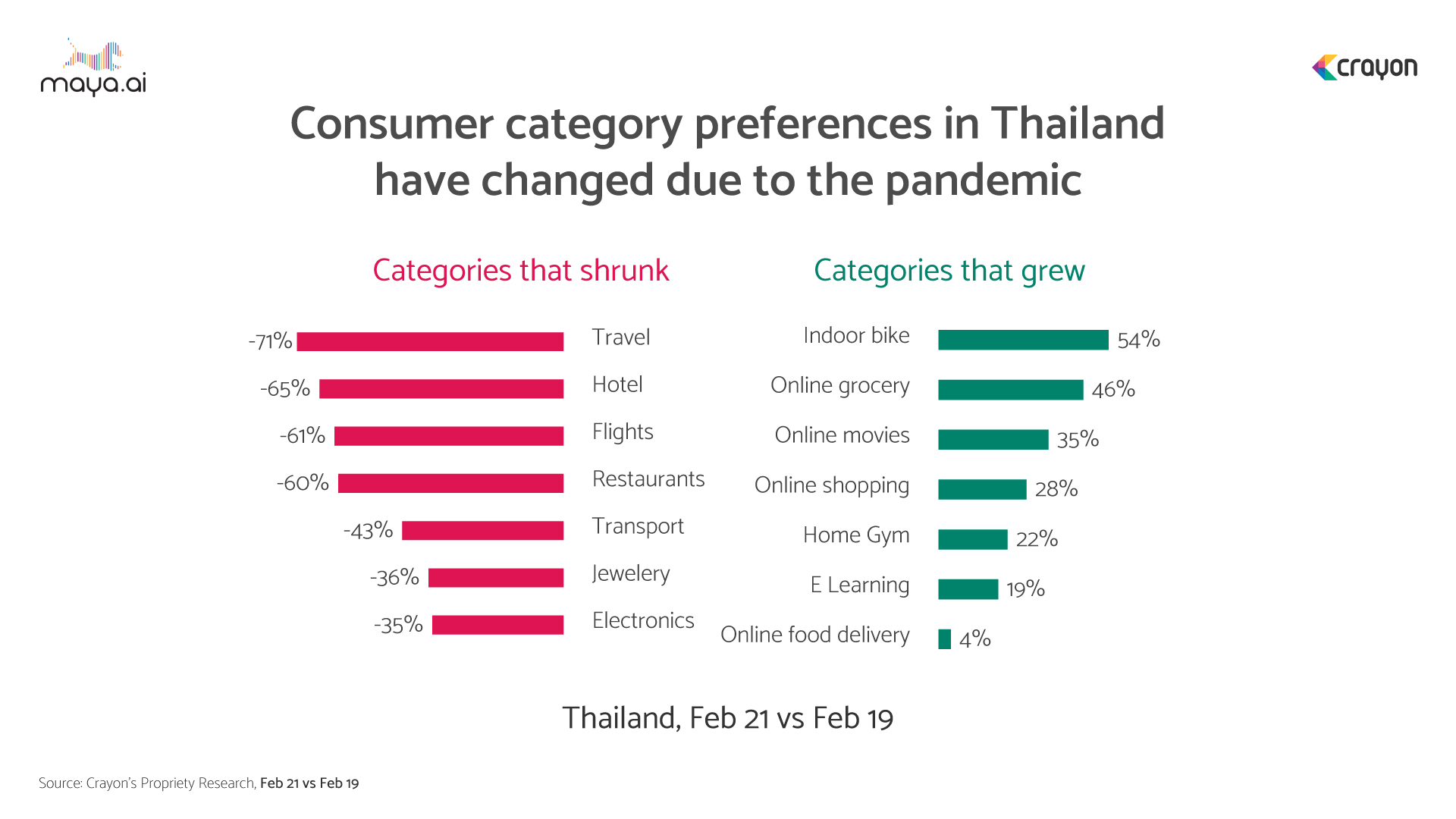 Thailand prefers digital wallets
Since the country has a low credit card penetration rate, customers prefer to use digital wallets. There is a plethora of options for customers to choose from, including PromptPay, Omise, SiamPay and TrueMoney Wallet. As of July 2020, digital payments registration had reached 55.2 Mn. There's also an average of 9.6 Mn daily transactions! Even before the pandemic, Thailand saw 2.6 Bn transactions in 2019. That makes them the country with the fourth largest transaction globally.
Open doors for neobanks
In addition to the digital wallet option, the Thailand government is expected to issue neobanking licenses by the end of 2021. 7% of retail business for Tier-1 banks will be partner-generated by 2025. Simultaneously, many Thai banks are partnering with tech firms to deliver lifestyle-oriented services. With a 169% growth of digital transactions in 2020, there is scope for more share-of-wallet than ever.
Traditional banks in Thailand risk losing 56 Mn active accounts to these digital players. Crayon Data's Relevance Quotient (RQ) is a proprietary framework used to analyze offers on bank websites and social media presence. When we evaluated banks in Thailand, we found that less than 1% delivered personalized offers. Over 40% have broken fulfillment journeys, and less than 60% engage with customers on all digital assets.  Moreover,
75% surfaced relevant offers to customers during the pandemic
Less than 60% provide functionality to discover offers on digital assets
Less than 25% surface offers across all social channels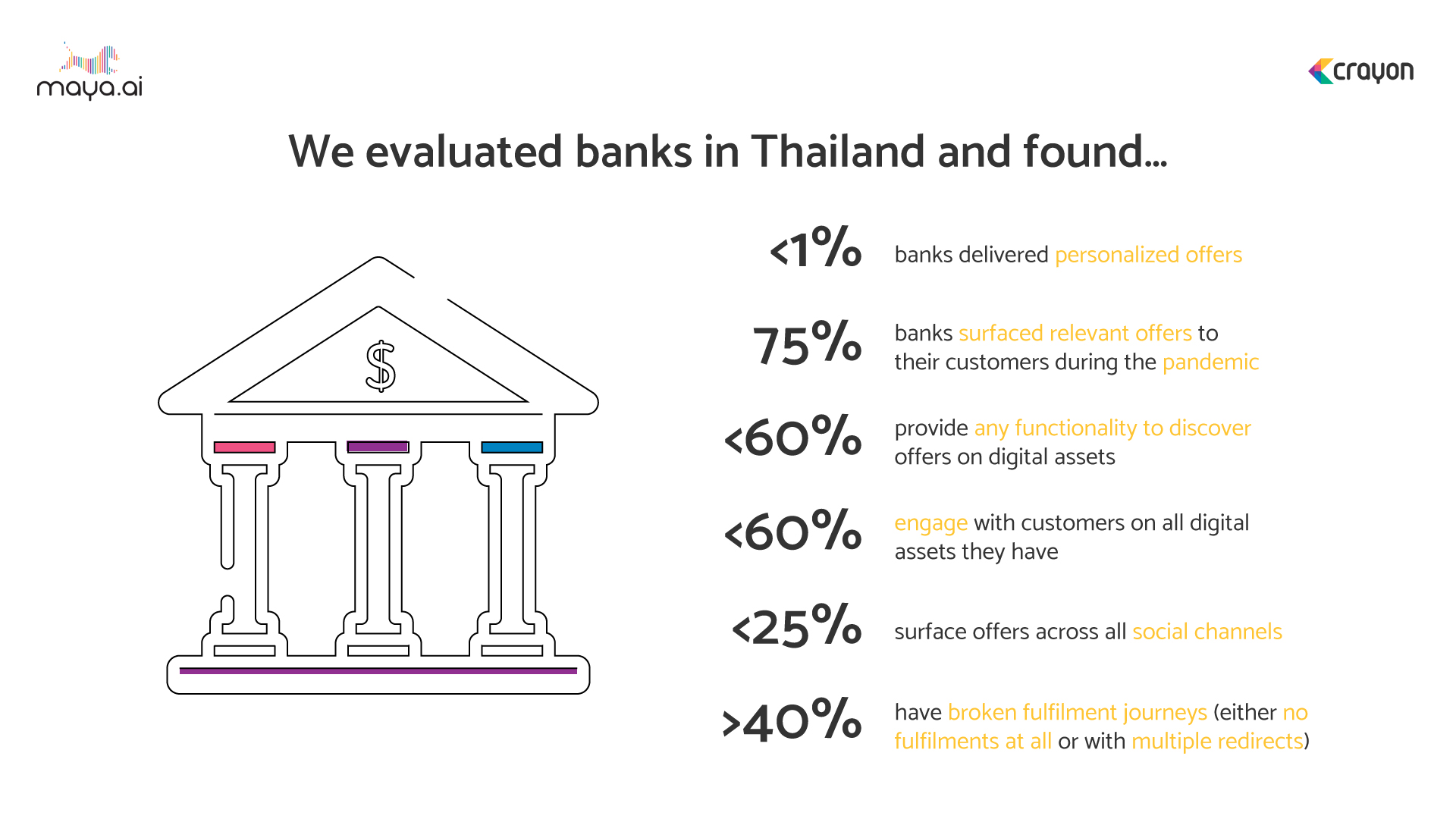 Krungthai Bank, Thanachart Bank, Krungsri Bank and Siam Commercial Bank lead the pack with over 40% on the RQ scale. Bangkong Bank, Citi Thailand and Aeon Thana follow between 20 to 30%. All these banks have room for improvement in terms. Prioritizing consumer preferences and 1-on-1 personalization in their digital strategies will help banks retain, activate and engage customers.
Platforms like maya.ai work to create a 360-degree view of customers based on their profiles and preferences. Merchants on our Bazaar platform give a wide range of relevant and personalized offers to choose from. To schedule a free demo with our banking personalization experts, share your details below.
More from the Country In Focus series here.