Today's customers are digital natives. Irrelevance annoys them. Studies show that 85% expect personalized services, while 67% expect personalized experiences. These are not numbers that can be ignored. Banks that are early adopters to the age of relevance can be part of an 800 Bn USD personalization-led shift in revenue. In this series, we'll explore if banks around the world are ready for this change. This week, we look at Turkey.
One of the oldest permanently settled regions in the world, Turkey is a geopolitical center. The moderately banked population is largely middle-aged (31.5 years median age). Approximately 71% have access to the Internet. And of these, 67% have made online purchases.
The pandemic has accelerated this growth since 2020. Consumers are now more digitally savvy than ever. By 2025, expect the total e-commerce spending across categories to reach 25 Bn USD! But spending patterns have also changed in the past couple of years. Flights, shopping, and sport have shrunk. As more companies stick to a hybrid or remote working model, groceries, online gaming, food delivery and electronics have seen significant growth.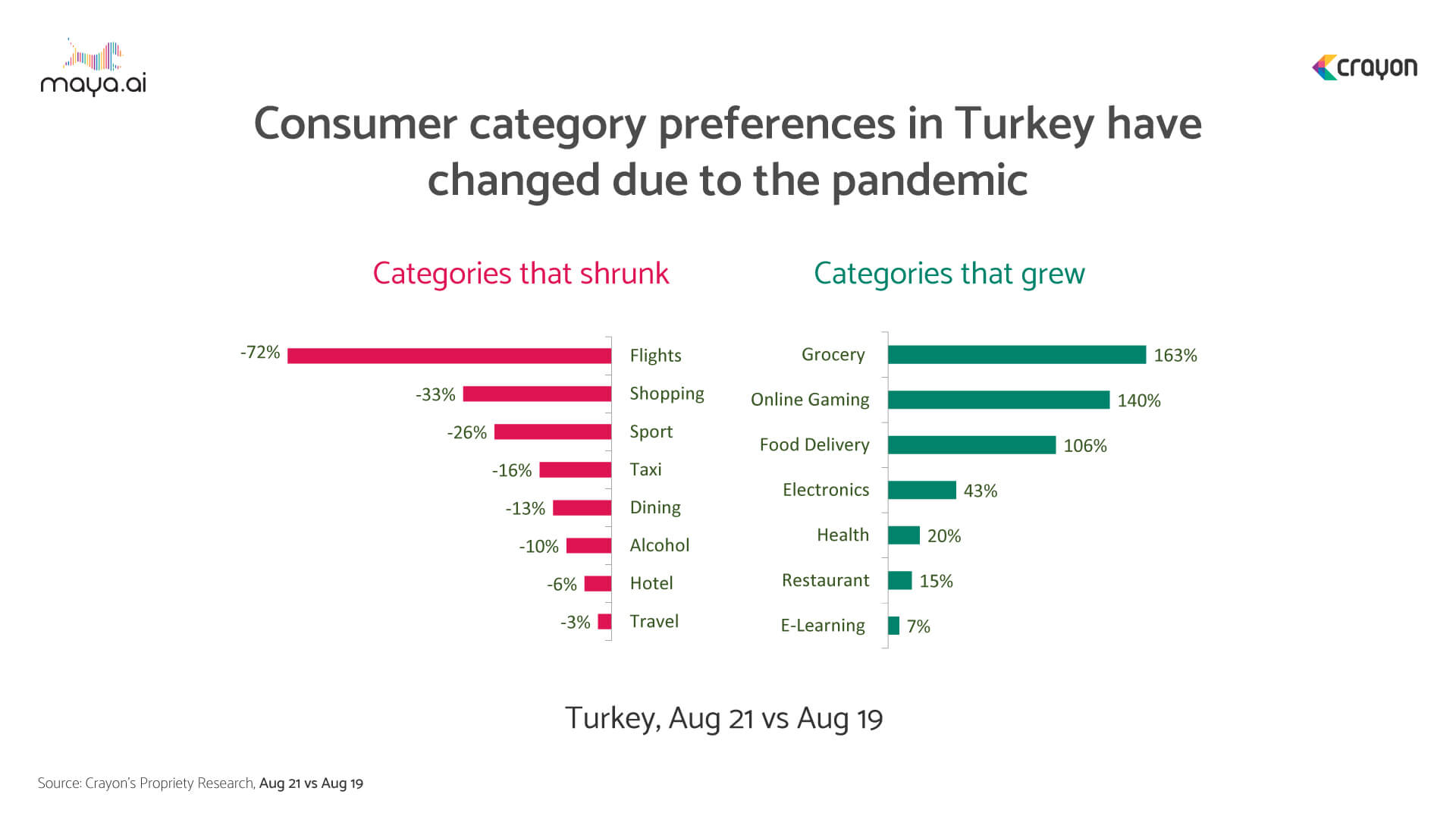 The 'Cashless Turkey by 2023' is an ambitious plan that's driving the growth of digital wallets.
E-wallet services account for 11% of all payment processing methods in the country. Research shows that the CAGR of transactions will rise to 8.2% and reach US$ 34 Bn by 2025. While there are several digital wallet players, BKM Express, Papara and Paycell are the leading names.
When it comes to point of sale transaction, however, e-wallets are currently a minority payment method. And only one in 10 ecommerce purchases use these wallets. But the uptake may increase with rising smartphone penetration.
Neobanking is on the rise in Turkey. Transaction values are projected to reach 23.2 Mn USD in 2022.
According to the Banks Association of Turkey, there are a total of 63 Mn active digital banking customers (July–Sept 2020). That's a YoY increase of 26%.
As consumers show interest, enterprises are preparing to meet the demand. The Central Bank of Turkey has received over 50 applications for payment and cryptocurrency licenses in the past year. Akbank, one of the country's largest banks, provides a social banking app Tosla through its AkÖde subsidiary, enabling users to perform daily financial transactions. Papara has grown to 5.5 Mn users.
Banks that don't make the shift risk losing out on 31% of the country's unbanked population.
Moreover, women make up 60% of this unbanked population. Banks need to offer experiences that cater to these specific markets. But how close are they to the mark?
Crayon Data's Relevance Quotient (RQ) is a proprietary framework used to analyze offers on bank websites and social media presence. Our research found that less than 1% of banks in Turkey deliver personalized offers.
Less than 40% engage with customers or allow them to discover offers on digital assets
Less than 60% surface offers across all channels
Approximately 99% have broken fulfillment journeys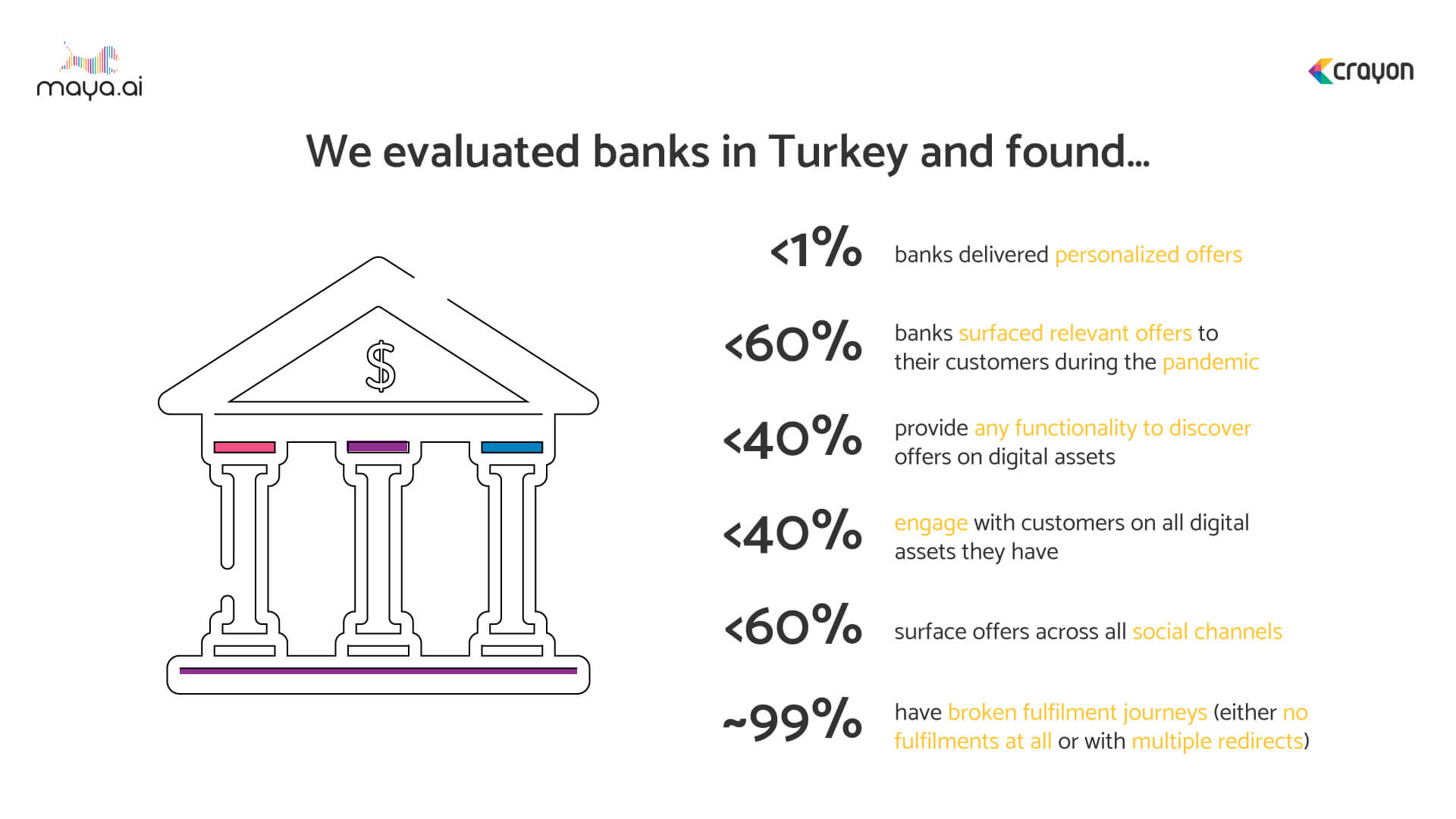 Akbank, Garanti Bank, TEB, and Ziraat Bankası score high on social media presence. But there's little to no choice interaction when it comes to the offers they present. Halk Bank and QNB Finansbank have a middling social media presence and score low on choice search and discovery.
Each customer should receive uniquely tailored offers that are hard to refuse. To achieve this level of personalization, banks need to have a holistic view of their customers. This involves analyzing spend patterns and understanding their preferences. Without infringing on their privacy, of course. The result? Better engagement, higher spends and increased retention!
Platforms like maya.ai work to create a 360-degree view of customers based on their profiles and preferences. Merchants on our Bazaar platform give a wide range of relevant and personalized offers to choose from. To schedule a free demo with our personalization experts, click here.
More from the #CuntryInFocus series here.