Today's customers are digital natives. Irrelevance annoys them. Studies show that 85% expect personalized services, while 67% expect personalized experiences. These are not numbers that can be ignored. Banks that are early adopters to the age of relevance can be part of an 800 Bn USD personalization-led shift in revenue. In this series, we'll explore if banks around the world are ready for this change. This week, we look at UAE.
Did you know that 99% of people in the United Arab Emirates (UAE) have access to the internet? That's the highest in the world! And while 66% of these consumers have made online purchases, this is a recent spike. The pandemic accelerated online spending. In 2021, an estimated 28% of card transactions in the country will come from e-commerce. That's over a quarter of a market that is expected to grow to 27 Bn USD in 2022.
Read more, travel less
But what did people spend on in the past year? With a median age of 38, UAE has an 87% banked population. When the pandemic hit, spending on flights, restaurants, sports and movies were understandably affected. So was shopping and jewelry purchases. Books and magazines, online grocery and home gym segments grew instead. Electronics, sportswear and alcohol were other categories that grew.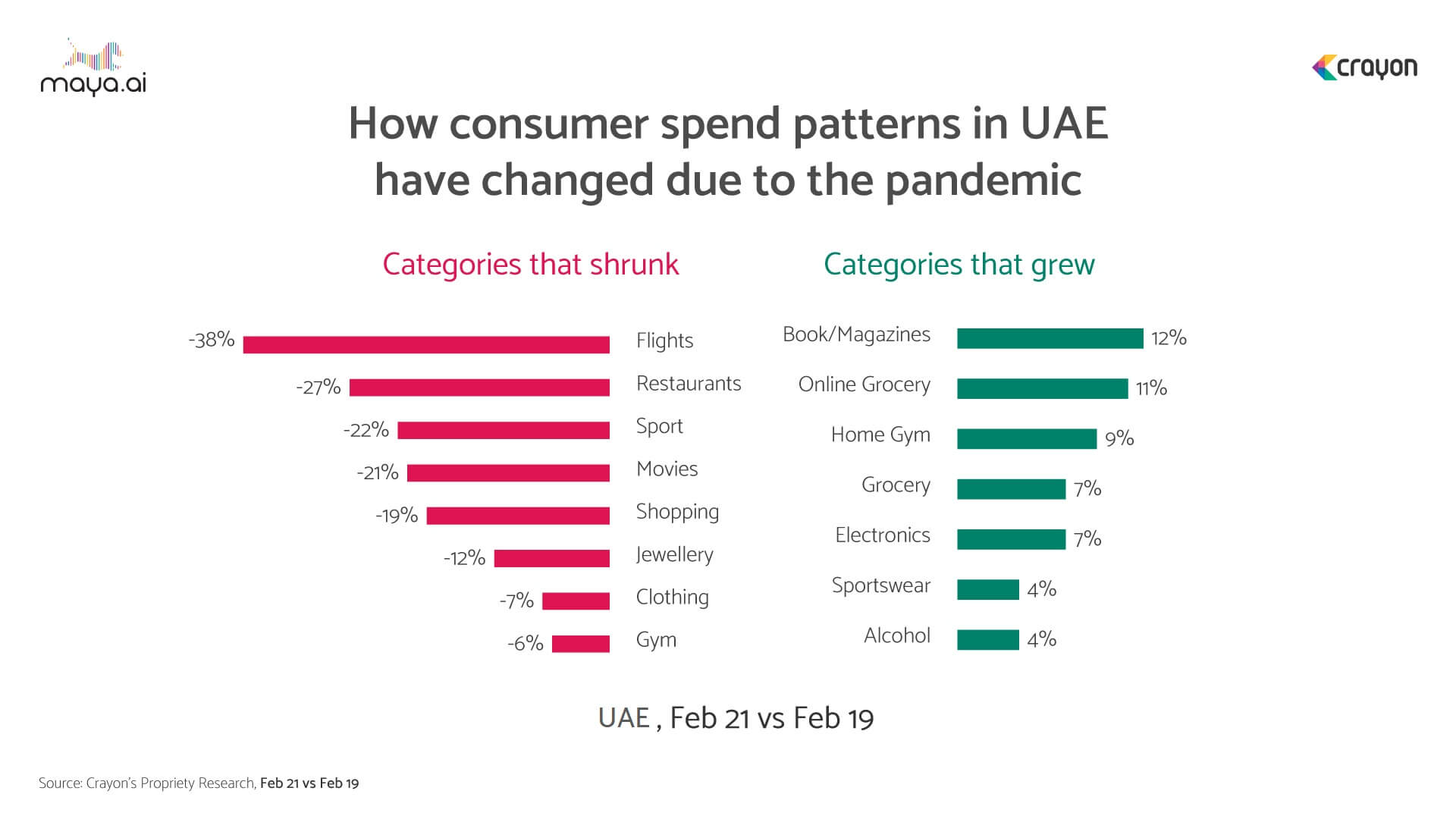 Digital wallets on the rise
Apart from credit and debit card, digital wallets are seeing greater adoption. In a single year (2019 to 2020) there has been a 50% growth in POS transactions using these payment methods. With 10+ options in UAE, including Samsung Pay, Apple Pay and Google Pay, the e-wallet market is expected to grow at a CAGR of 24% to 2.3 Bn USD by 2022. In 2020, e-wallets saw over 5 Mn USD worth of transactions.
Coupled with the high rate of internet access, the rise of neo-banking is inevitable. Five new Neo-bank licenses are expected to be issued by the end of 2021. This includes Dubai-based Fintech start-up Jingle Pay. Xpense caters to entrepreneurs, while Rise targets migrants. Traditional banks risk losing 8.6 Mn active accounts to these upcoming players. Not to mention the 1.3 Mn unbanked population.
Under-utilizing digital assets put UAE banks at a disadvantage
Crayon Data's Relevance Quotient (RQ) is a proprietary framework used to analyze offers on bank websites and social media presence. When we evaluated banks in the UAE, we found that less than 1% delivered personalized offers. Despite the high level of internet penetration, only a third of banks engage with customers on all digital assets. And only 40% surfaced offers across all social media channels. In addition,
66% surfaced relevant offers to customers during the pandemic
66% provide any functionality to discover offers on digital assets
40% have broken fulfillment journeys
Banks in the UAE could be losing 100s of millions of USD because of this current state of irrelevance.
There's plenty of scope for banks in the UAE to go further with their digital approach. When customers demand personalized experiences, it is important to know their preferences. It's also important to work on improving key parameters like choice fulfillment and choice engagement.
Platforms like maya.ai work to create a 360-degree view of customers based on their profiles and preferences. Merchants on our Bazaar platform give a wide range of relevant and personalized offers to choose from. To schedule a free demo with our personalization experts, share your details.
More from the #CountryInFocus series: Philippines