Today's customers are digital natives. Irrelevance annoys them. Studies show that 85% expect personalized services, while 67% expect personalized experiences. These are not numbers that can be ignored. Banks that are early adopters to the age of relevance can be part of an 800 Bn USD personalization-led shift in revenue. In this series, we'll explore if banks around the world are ready for this change. We start with the Philippines.
The Philippines might have a young, under-banked population, with only 25% of the country holding bank accounts. But a median age of 25.7 years means that 67% have access to the internet. And 70% of the internet population aged 16-64 have made online purchases.
Spending in a pandemic world
In keeping with global trends, categories like hotels, movies, restaurants and electronics have shrunk anywhere between 30 to 59%. Simultaneously, online gaming grew by 191% and e-learning by 90%. Health related activities (67%), alcohol (54%) and online grocery (50%) were others who gained traction.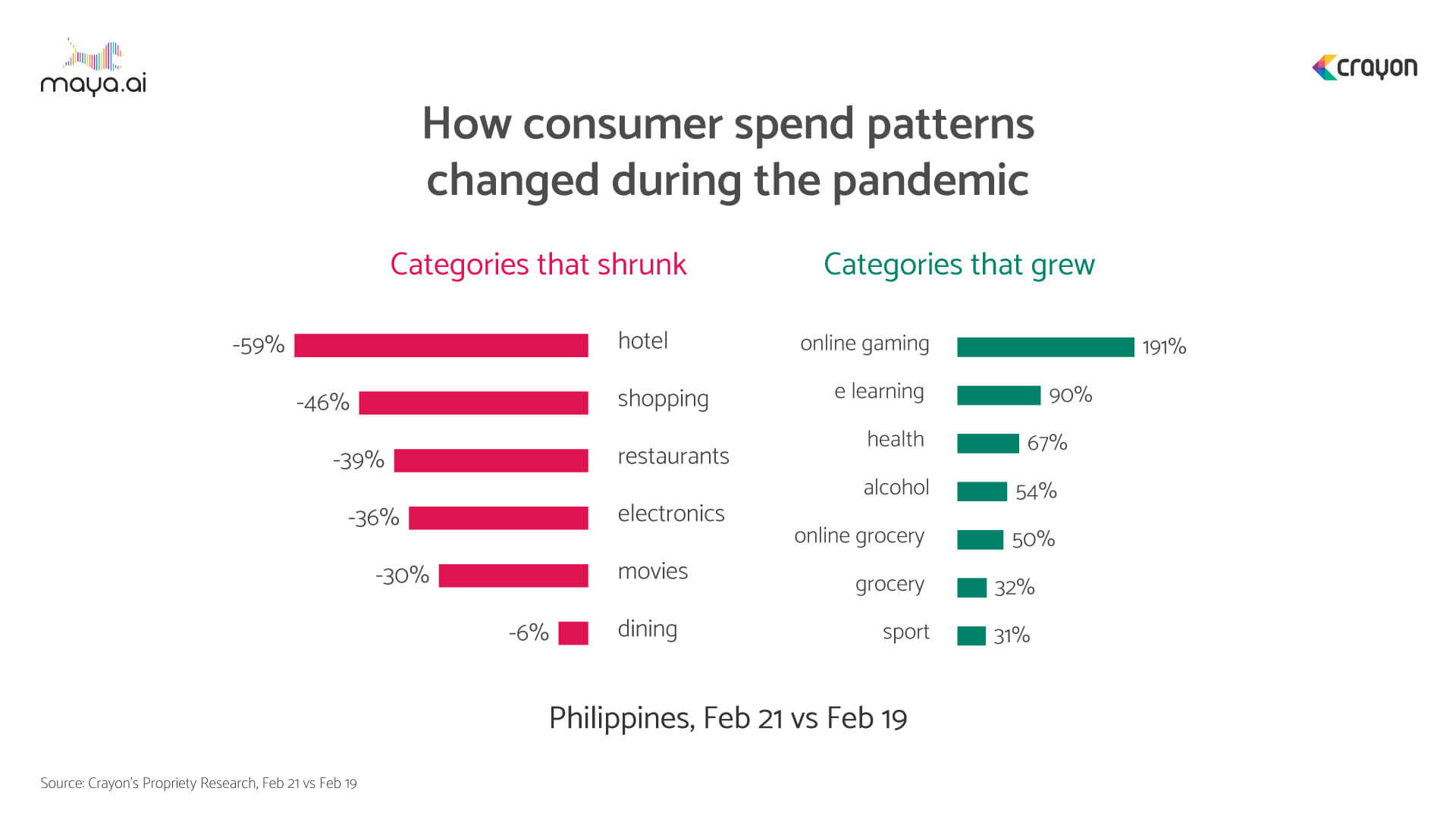 Digital wallets are seeing greater adoption, and Filipinos are spoilt for choice in this sector. The country has 55 e-money licenses. Of which 50% are from non-banks. In 2019-2020, there were 33 million e-money accounts, an increase of 22%. Subsequently, transaction values rose by 36%, leaving credit cards in the dust.
Neo-banking on the rise in Philippines
Philippines' banks are on the cusp of a digital revolution. But how prepared are they? The Central Bank's vision is to see 50% of retail transactions go digital by 2023. With a customer base of 51 Mn and a potential loan portfolio of 15 Bn USD, there's a lot at stake for traditional banks. Over 10 Mn active accounts are at the risk of being lost to Neobanks.
To stem their losses, banks have been seeking digibank licenses. In January 2020, Rizal Commercial Banking Corp announced plans to establish a wholly owned digital rural bank. Komo, a digital banking service by EastWest, launched in May 2020. Tonik launched a new digital banking platform in the first quarter of 2021. TymeBank from South Africa has partnered with local conglomerate JG Summit Holdings Inc. to apply for a license in the Philippines.
This will set them on a path to grow 5X and become profitable by 2025. Others like CIMB Bank are partnering with digital wallets like GCash to get their share of the market.
The struggle to stay relevant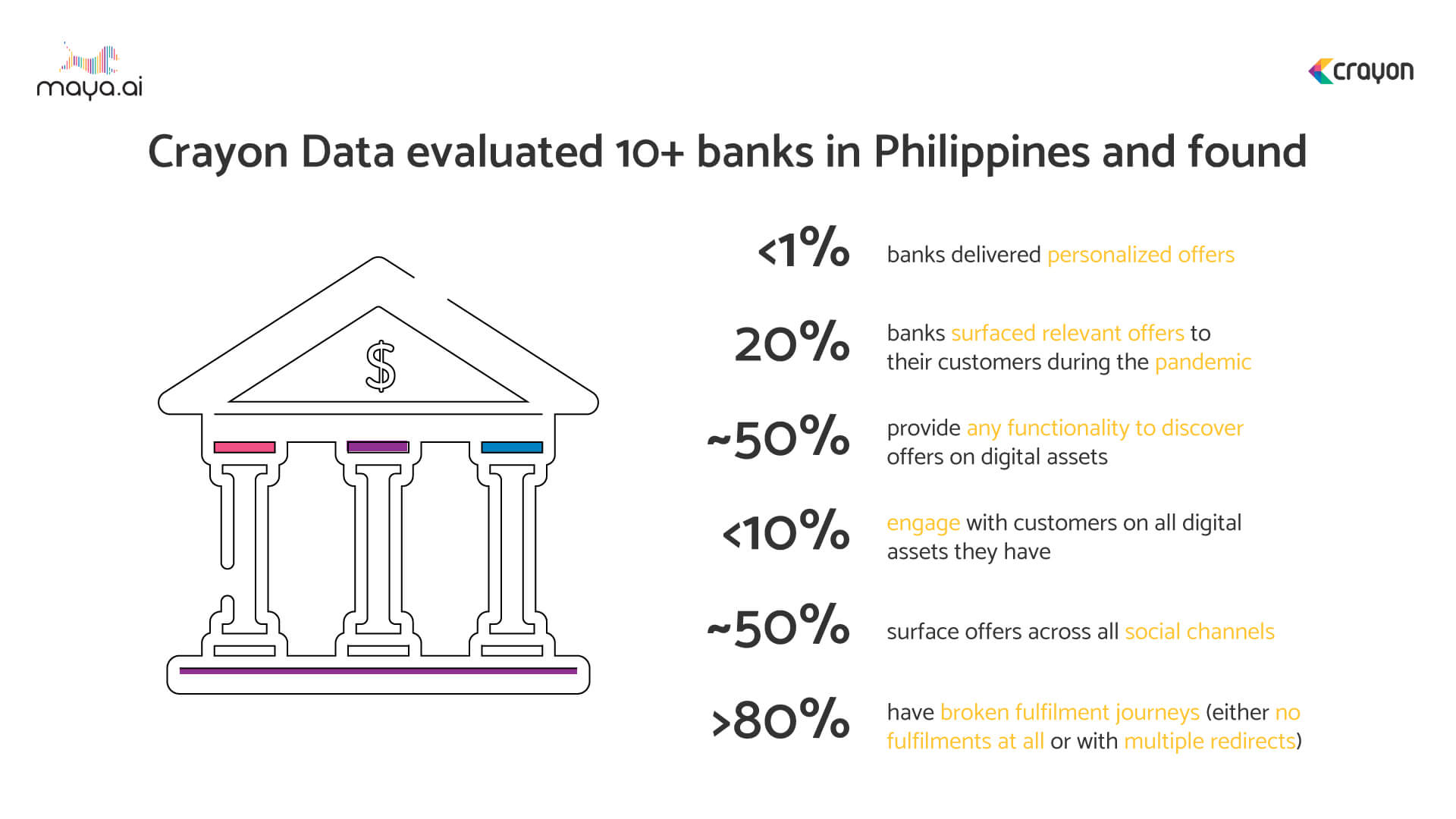 Crayon Data's Relevance Quotient (RQ) is a proprietary framework used to analyze offers on bank websites and social media presence. When we evaluated 10+ banks in the Philippines, we found that less than 1% delivered personalized offers. And less than 10% engage with customers on all digital assets. And over 80% had broken fulfilment journeys. In addition,
Only 20% surfaced relevant offers to customers during the pandemic
Approximately 50% provide any functionality to discover offers on digital assets, and
50% surfaced offers across all social media channels
Banks in the Philippines could be losing 100s of millions of dollars because of this state of irrelevance.
There's plenty of scope for banks in the Philippines to improve how relevant they can be to customers. Personalization is just the start. Customers also demand a consistent omnichannel experience for smoother transactions. Choice fulfillment and engagement and cross-channel integration are other key parameters to explore.
Platforms like maya.ai work to create a 360-degree view of customers based on their profiles and preferences. Merchants on our Bazaar platform give a wide range of relevant and personalized offers to choose from. To schedule a free demo with our personalization experts, share your details.
More from the Country In Focus series here.