Today's customers are digital natives. Irrelevance annoys them. Studies show that 85% expect personalized services, while 67% expect personalized experiences. These are not numbers that can be ignored. Banks that are early adopters to the age of relevance can be part of an 800 Bn USD personalization-led shift in revenue. In this series, we'll explore if banks around the world are ready for this change. This week, we look at Hong Kong.
Even before the pandemic swept across the world, Hong Kong's consumers had shifted to online purchases. With the political unrest of 2019, retailers of essential goods had already invested in online models. Which is why ecommerce sales are expected to grow by over 11% in 2021 alone.
Supported by high internet access (91%) and a banked population of 95%, this number comes as no surprise. After all, 70% of those with internet access make purchases online. During the pandemic, demand for flights, travel, shopping and restaurants shrunk. Staycations, OTT and food delivery grew as people continued to isolate and work from home.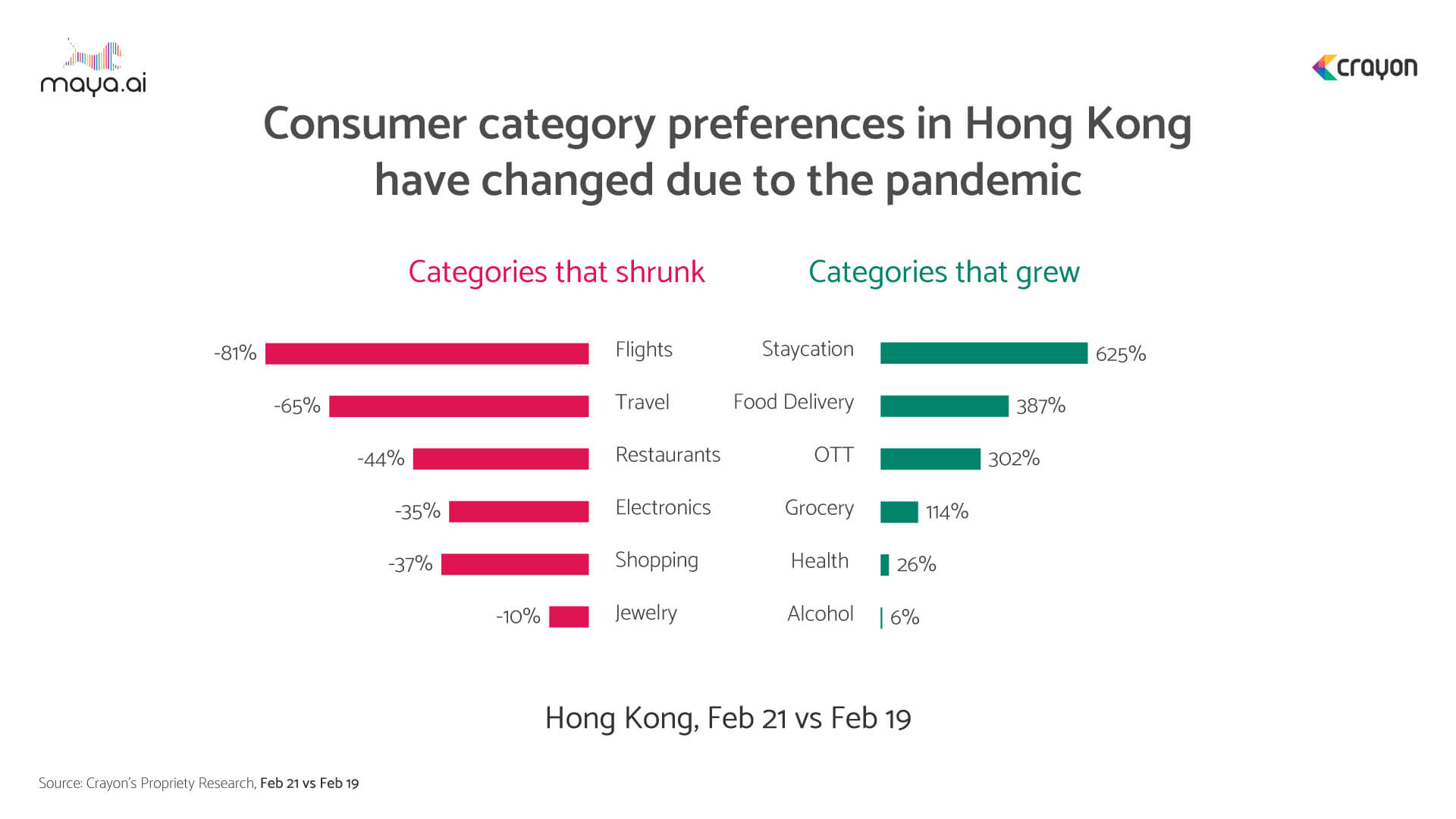 Say hello to the digital wallet
PayPal and AliPay are the most used digital wallet brands in Hong Kong. Google, Apple, Samsung and WeChat's payment platforms are also in the fray. And although 9 out of 10 consumers have used digital wallets in 2020, only 3 out of 10 ecommerce purchases are made using this payment method.
POS spends using e-wallets saw a 1.7x growth in just the past year. Annually, digital wallets see transaction values of 1 Bn USD, with a CAGR of 32%
Neobanks rising in Hong Kong
The Hong Kong Monetary Authority has established the same regulatory body for both traditional and neobanks. Currently, there are around 8 active neobanks in Hong Kong. But by 2025, they have the potential to grab up to 76 Bn HKD of annual revenues. That's a combined revenue market share of 19.3%.
Why should traditional banks be wary of this trend? Because there's a lot at stake. Including the 0.38 Mn unbanked population. And the 1.9 Mn customers neobanks will win by 2025.
Hong Kong's banks need a dose of relevance
Crayon Data's Relevance Quotient (RQ) is a proprietary framework used to analyze offers on bank websites and social media presence. When we evaluated banks in Hong Kong, we found that less than 1% delivered personalized offers. Around 60% have broken fulfillment journeys, and less than 60% engage with customers on all digital assets. Also, less than 50%
provide functionality to discover offers on digital assets
surface relevant offers to customers during the pandemic
surface offers across all social channels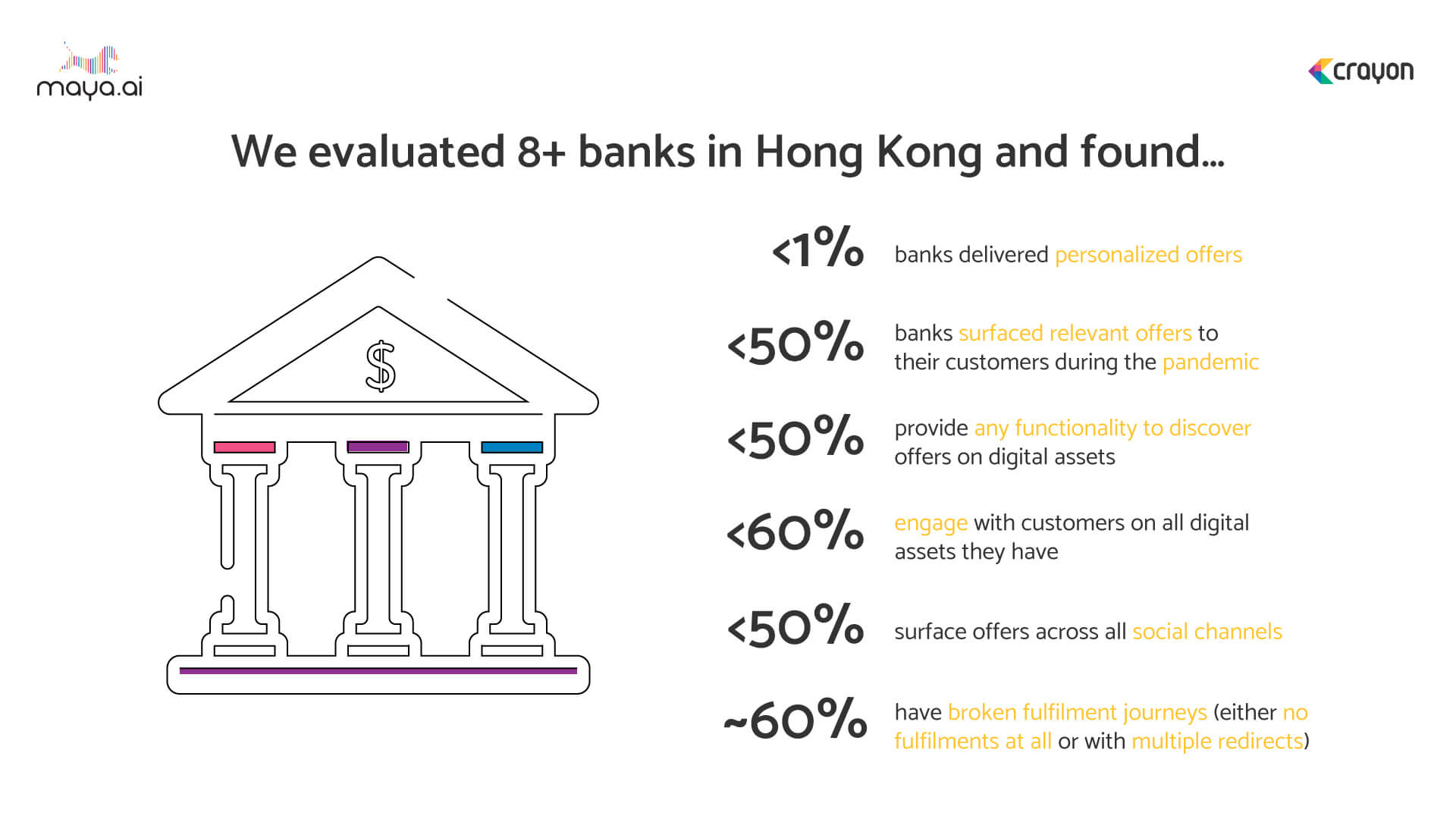 Citibank leads the pack at 54%, followed by Bank of China (38%), Hang Seng (35%) and Wing Hang (27%). DBS, Standard Chartered, HSBC and Bank of East Asia fall below the 25% mark.
Incorrect profiling, irrelevant engagement and multi-step transactions that go around in circles can sour the customer experience. Knowing a consumer's individual preferences and presenting them with personalized offers can go a long way in increasing share-of-wallet. And keep customers coming back for more.
Platforms like maya.ai work to create a 360-degree view of customers based on their profiles and preferences. Merchants on our Bazaar platform give a wide range of relevant and personalized offers to choose from. To schedule a free demo with our personalization experts, fill the form below.