Today's customers are digital natives. Irrelevance annoys them. Studies show that 85% expect personalized services, while 67% expect personalized experiences. These are not numbers that can be ignored. Banks that are early adopters to the age of relevance can be part of an 800 Bn USD personalization-led shift in revenue. In this series, we'll explore if banks around the world are ready for this change. This week, we look at Saudi Arabia.
With 93% of Saudi Arabia's population having access to the internet, consumers had no difficulty shifting to online transactions during the pandemic. Even as cash withdrawals dipped by 30%, there was a 75% surge in digital payments in 2020. The value of operations was close to 93.7 Bn USD, an increase of nearly 24.1%.
What were they spending on? As the Kingdom went on lockdown in early March 2020, citizens hunkered down indoors. Home gym, sportswear and indoor bikes saw increased interest. As did Netflix, grocery and takeaway food. Hotels, flights, restaurants and taxis lost market share.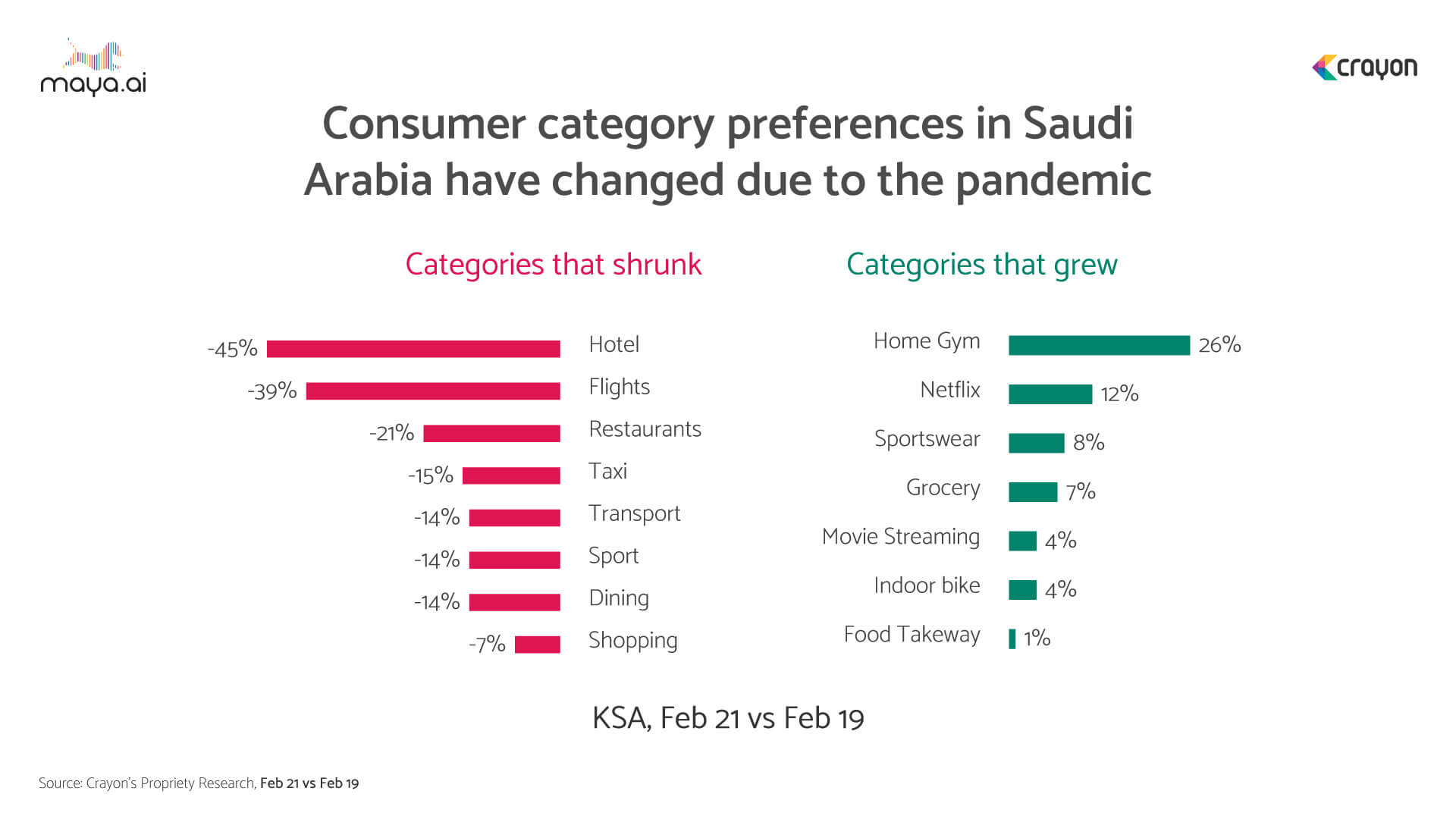 In the first quarter of 2021 alone, consumers spent over 266.5 Mn USD on delivery apps. And e-payments increased by 128%. That's 8.1 Mn transactions.
The rise of e-wallets in Saudi Arabia
These non-cash transactions are expected to make up 70% of all payments in Saudi Arabia by 2030. The Saudi Central Bank (SAMA) is moving things along. In 2020, they issued 15 licenses for e-wallets. This included Apple Pay, PayPal and Mashreq NEO. Western Union purchased 15% of stake in STC Pay (Saudi Telecom's digital payments subsidiary. And a recently granted license also makes STC a standalone digital bank.
Digital wallets are used for 1 out of every 4 e-commerce transactions. There has also been approximately 50% growth in POS spends using this payment method.
Saudi Arabia's Vision 2030 is all about digital transactions.
72% of the Kingdom's middle-aged population (average age of 30.8) already have bank accounts. Currently, 5 new applicants are being processed for neobank licenses. This includes 2 traditional banks and 1 digital bank. And in January 2021, SAMA announced plans to implement an open banking regulatory framework in 2022.
Banks that are keen to be part of the country's Vision 2030 – which aims for 70% cashless payments – need to set themselves apart.
Why banking personalization matters for banks in Saudi Arabi?
Crayon Data's Relevance Quotient (RQ) is a proprietary framework used to analyze offers on bank websites and social media presence. When we evaluated banks in Saudi Arabia, we found that less than 1% deliver personalized offers. Less than 66% surface relevant offers to customers during the pandemic and less than 20% engage with customers on digital assets. Moreover,
Less than 66% provide functionality to discover offers on digital assets
Less than 20% surface offers across all social channels
80% have broken fulfillment journeys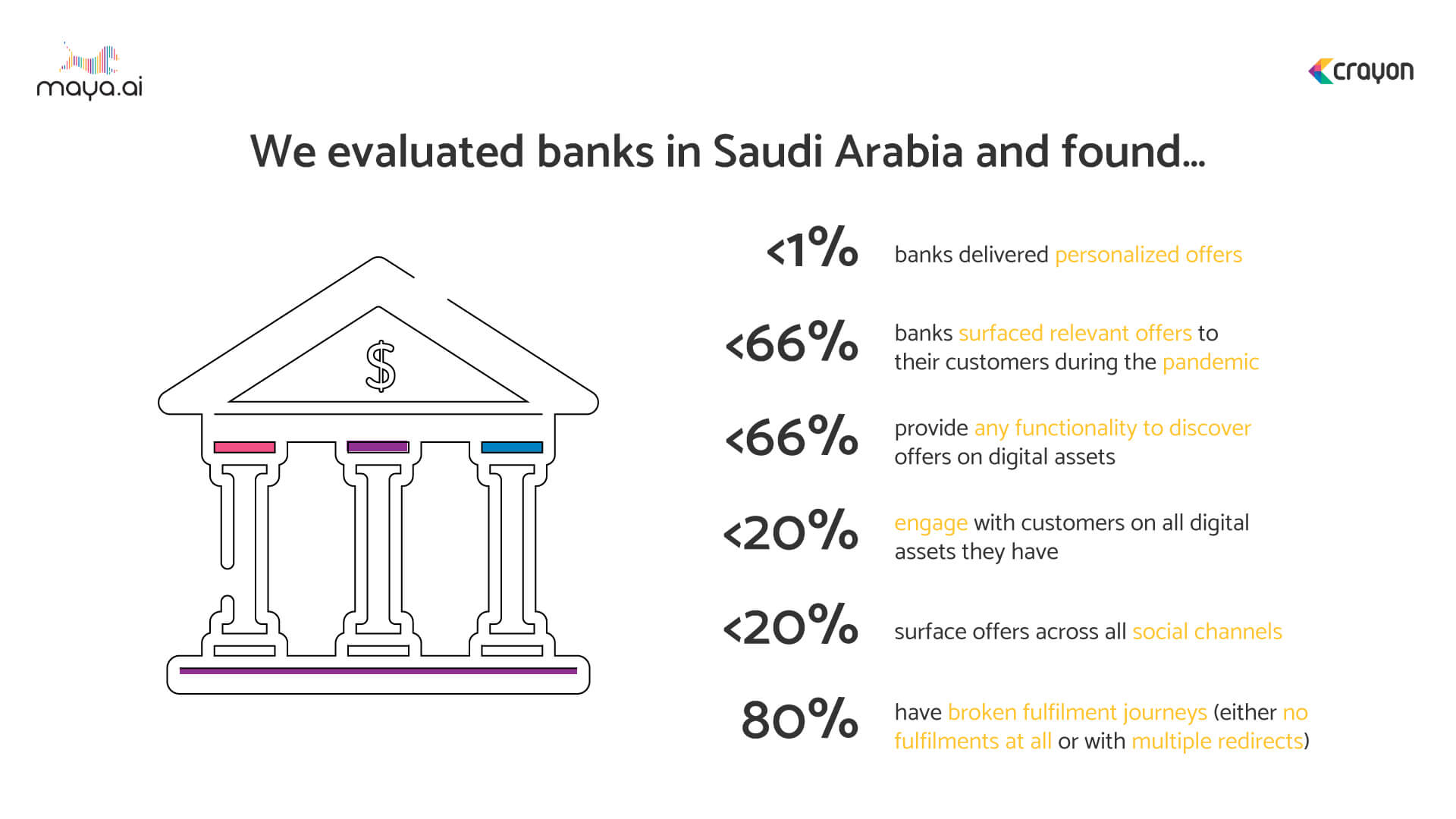 Bank Saudi Fransi, SABB and National Commercial rate on top of the RQ framework. But there is abundant scope for banks to go further. Customer preference should be considered. The result: banking personalization that engages customers and fulfills their choices.
Platforms like maya.ai work to create a 360-degree view of customers based on their profiles and preferences. Merchants on our Bazaar platform give a wide range of relevant and personalized offers to choose from. To schedule a free demo with our personalization experts, submit your details below.
More from the #CountryInFocus series here.