Today's customers are digital natives. Irrelevance annoys them. Studies show that 85% expect personalized services, while 67% expect personalized experiences. These are not numbers that can be ignored. Banks that are early adopters to the age of relevance can be part of an 800 Bn USD personalization-led shift in revenue. In this series, we'll explore if banks around the world are ready for this change. This week, we look at India.
One of the top takeaways from the recently concluded FinovateAsia Digital event was that "India is Asia". After all, the country is home to 17.7% of the world's population. Of over 1.3 billion people, 80% have bank accounts.
Currently, only about 50% of India's population has access to the internet.
But that's almost half a billion users already! Of these, 74% have made at least one online purchase. And there's more to come. In a 2019 report, McKinsey Global Institute predicted that India's internet users will rise by about 40% by 2023.
And as of January 2021:
There were 624 million internet users.
The number of internet users increased by 47 million (+8.2%) between 2020 and 2021.
Internet penetration stood at 45%
In the past year, there was a marked shift in online spending categories. Flights, movies, taxis, sport and hotels shrunk. Simultaneously, staycation (314%), online gaming (114%) and e-learning (107%) saw massive growth. As did grocery and general online shopping.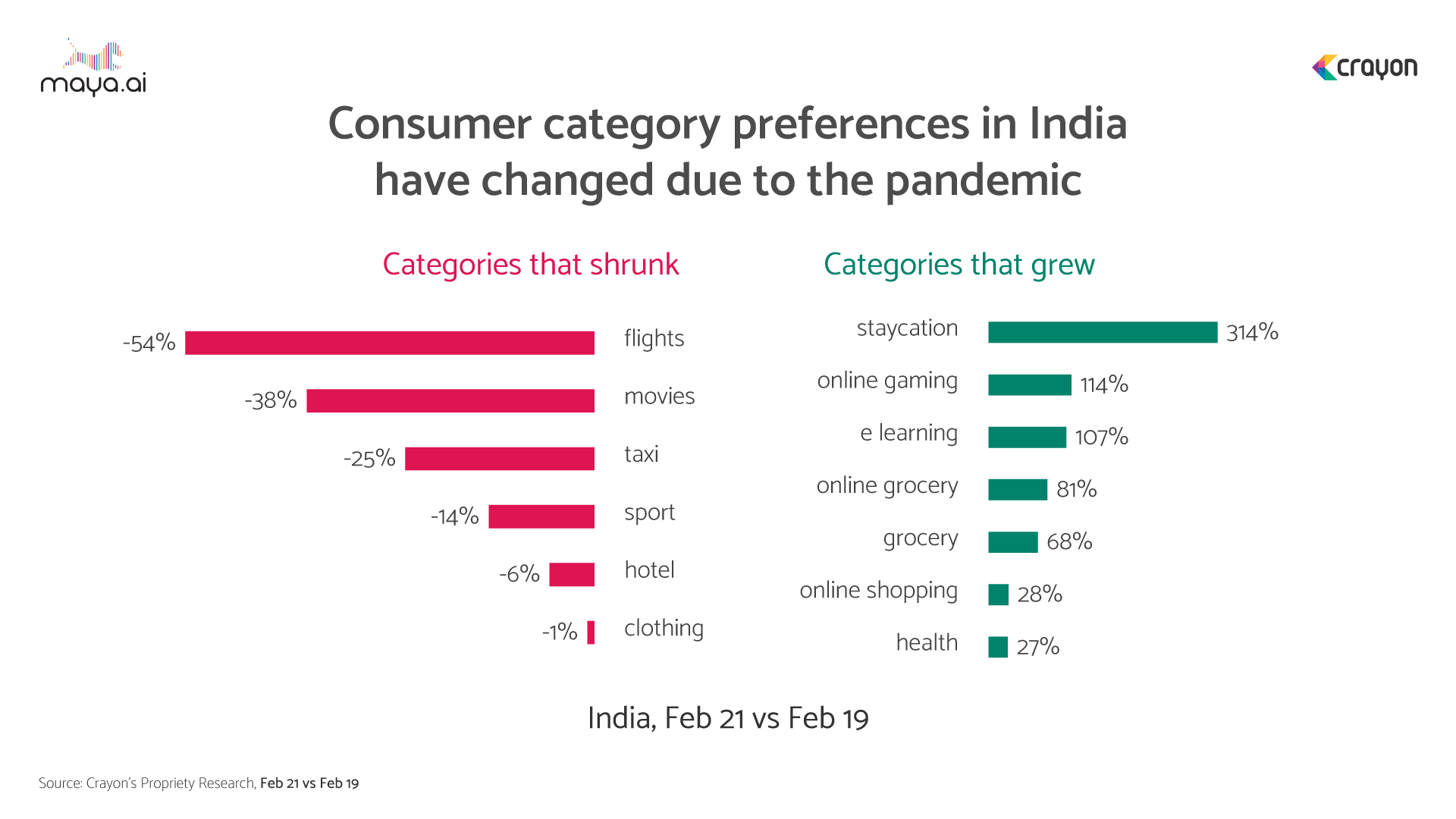 These numbers have also helped in greater adoption of digital wallets during the pandemic.
There are 43 digital wallet licenses, which saw 24 Bn transactions in 2020 alone. Two out of five e-commerce purchases use digital wallets. And in 2020, there was a 4.4% increase in spend using e-wallets. These transactions had a value of over 137 Tr INR – and this is expected to triple by 2024.
As for neo-banking, the current model is one of partnership between licensed banks and neobanks. There are around 27 active neobanks, with VC funding of over 111 Mn USD. With a 383% growth in digital transactions, the Reserve Bank of India is considering issuing independent digital bank licenses.
What's at stake for traditional banks in India?
An unbanked population of 190 Mn, and the risk of losing 300 Mn active accounts to neobanks.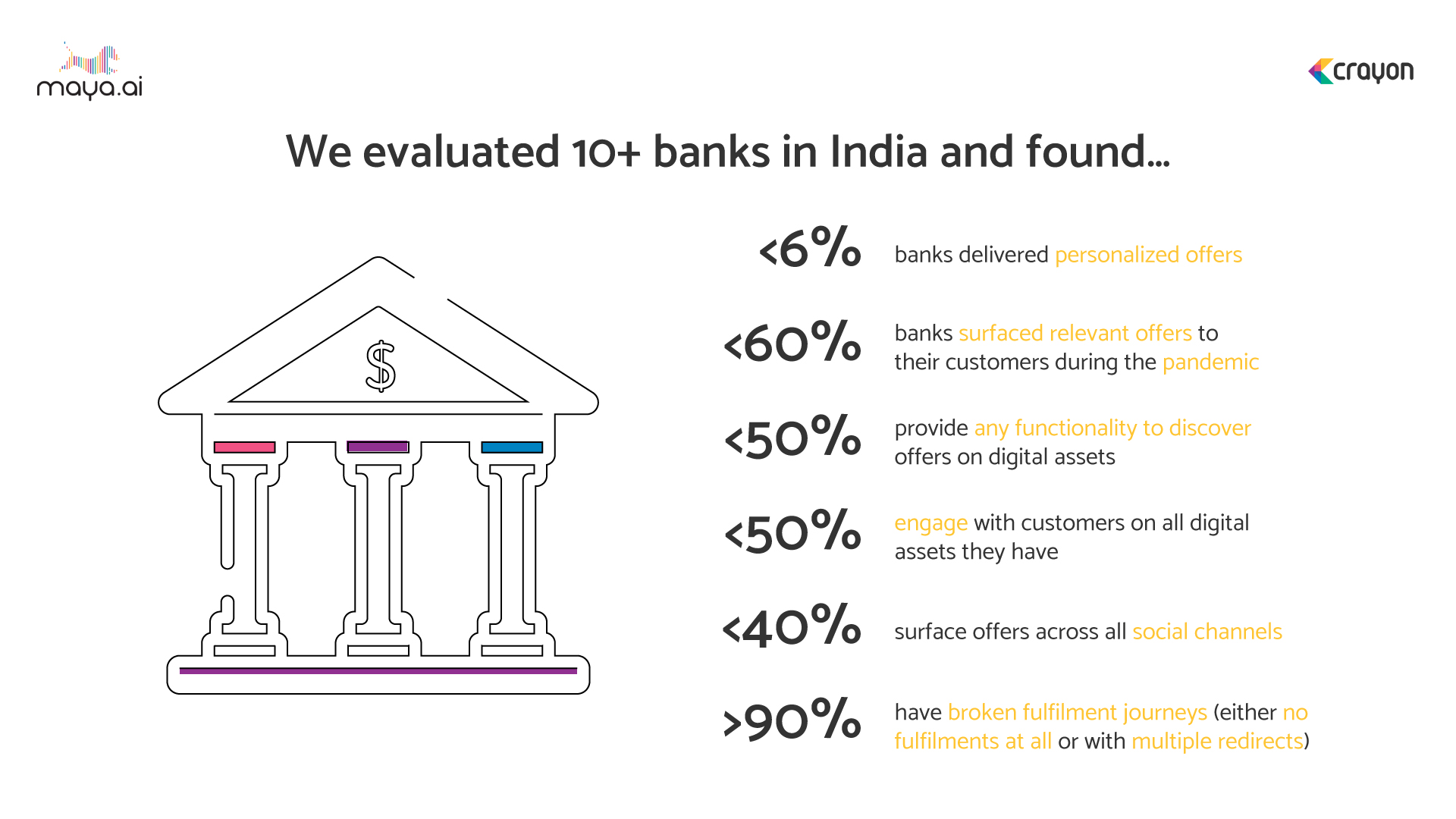 Crayon Data's Relevance Quotient (RQ) is a proprietary framework used to analyze offers on bank websites and social media presence. When we evaluated 10+ banks in India, we found that less than 6% delivered personalized offers. More than 90% have broken fulfilment journeys. Also, less than
60% surfaced relevant offers to their customers during the pandemic
50% provide functionality to discover offers on digital assets
40% engage with customers on all digital assets they have
IndusInd Bank leads the pack at 59% RQ, followed by SBI at 48% and Kotak Mahindra at 47%. Across the board, there needs to be more awareness of customer preferences. This will help in increased banking personalization, choice fulfillment and engagement.
Platforms like maya.ai work to create a 360-degree view of customers based on their profiles and preferences. Merchants on our Bazaar platform give a wide range of relevant and personalized offers to choose from. To schedule a free demo with our personalization experts, submit your details below.
More from the #CountryInFocus series: Philippines, UAE, Brazil and Indonesia.