Today's customers are digital natives. Irrelevance annoys them. Studies show that 85% expect personalized services, while 67% expect personalized experiences. These are not numbers that can be ignored. Banks that are early adopters to the age of relevance can be part of an 800 Bn USD personalization-led shift in revenue. In this series, we'll explore if banks around the world are ready for this change. This week, we look at Malaysia.
Everything about the average Malaysian banking customer points to a digital approach. They have a young population (29.2 years median age) and 92% have bank accounts. 83% have access to the internet. Of these, 82% have made online purchases. Studies show that they are not just spending more online as forecast in 2019, they're also buying into more categories online.
Hotel, travel, restaurants, shopping and flight categories took the biggest hit last year. And in 2021, grocery and food delivery came out top. E-learning and online gaming found increased popularity as well.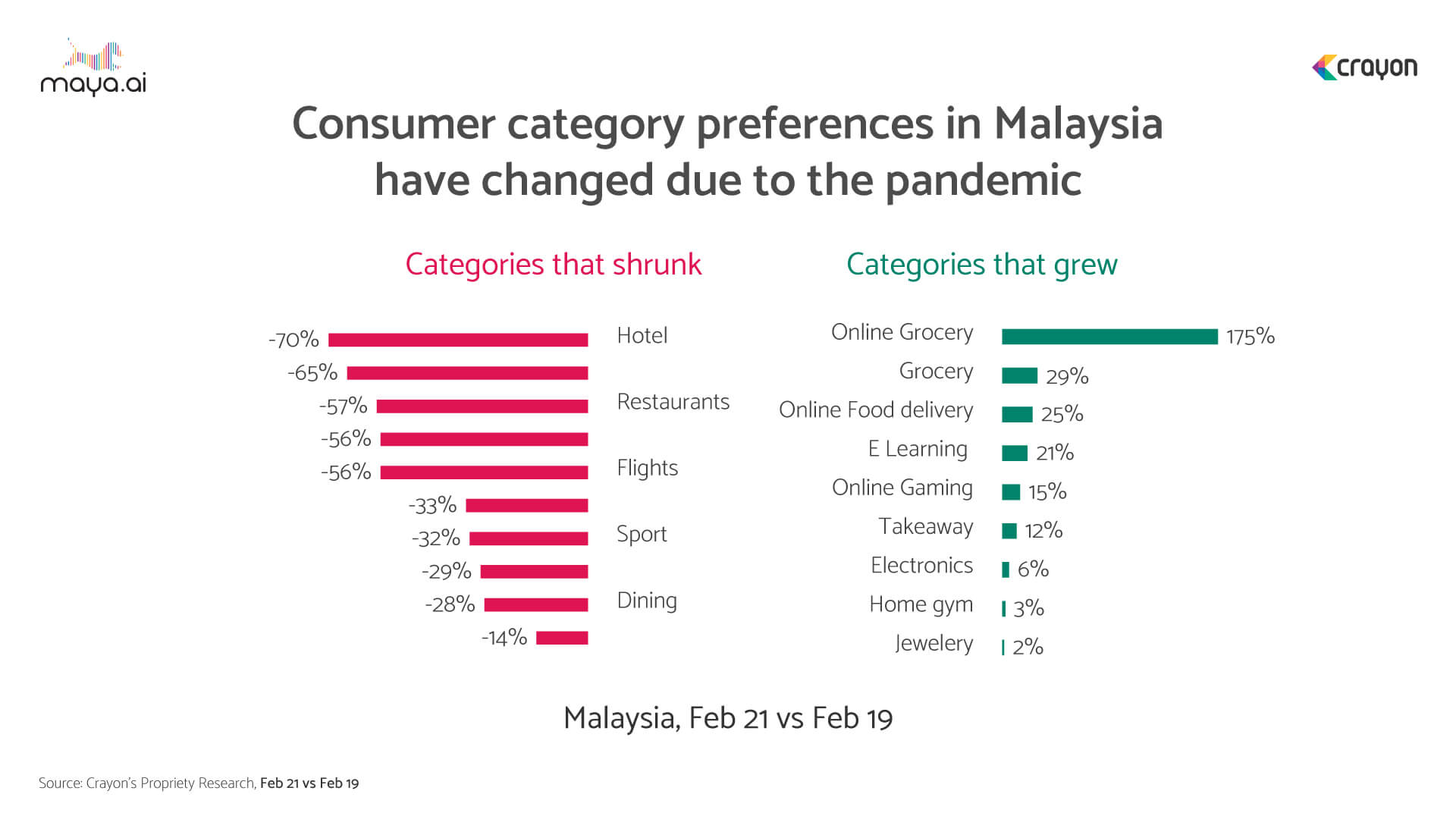 Malaysian customers are also shifting to e-wallets in the wake of the pandemic.
Three out of 5 Malaysians used an e-wallet in 2020. And 1 in 10 e-commerce transactions used digital wallets. There was 3x growth in POS transaction using this payment method. With 40+ options of digital wallets to choose from, little surprise then that the transaction value hit 20.8 Bn RM in 2020.
Overall, Malaysia has seen a 864% spike in digital transactions in 2020.
Surveys show that at least one-third of Malaysians will have digital-only bank accounts by 2025. The pandemic has only accelerated this growth. Bank Negara Malaysia (the country's central bank) is expected to issue 5 neobanking licenses in 2021.
Three traditional banks – CIMB, Maybank and Hong Leong Bank – are aiming for licenses as well. Fintech firms like Razer Pay and GrabPay are also in the fray. At stake? A 5 Mn unbanked population and the risk of losing out on 27 Mn active accounts.
Still, banking personalization in Malaysia is far from ideal.
Crayon Data's Relevance Quotient (RQ) is a proprietary framework used to analyze offers on bank websites and social media presence. When we evaluated banks in Malaysia, we found that less than 1% delivered personalized offers. Around 67% have broken fulfillment journeys, and less than one-third engage with customers on all digital assets.  And less than
60% provide functionality to discover offers on digital assets
40% surfaced relevant offers to customers during the pandemic
10% surface offers across all social channels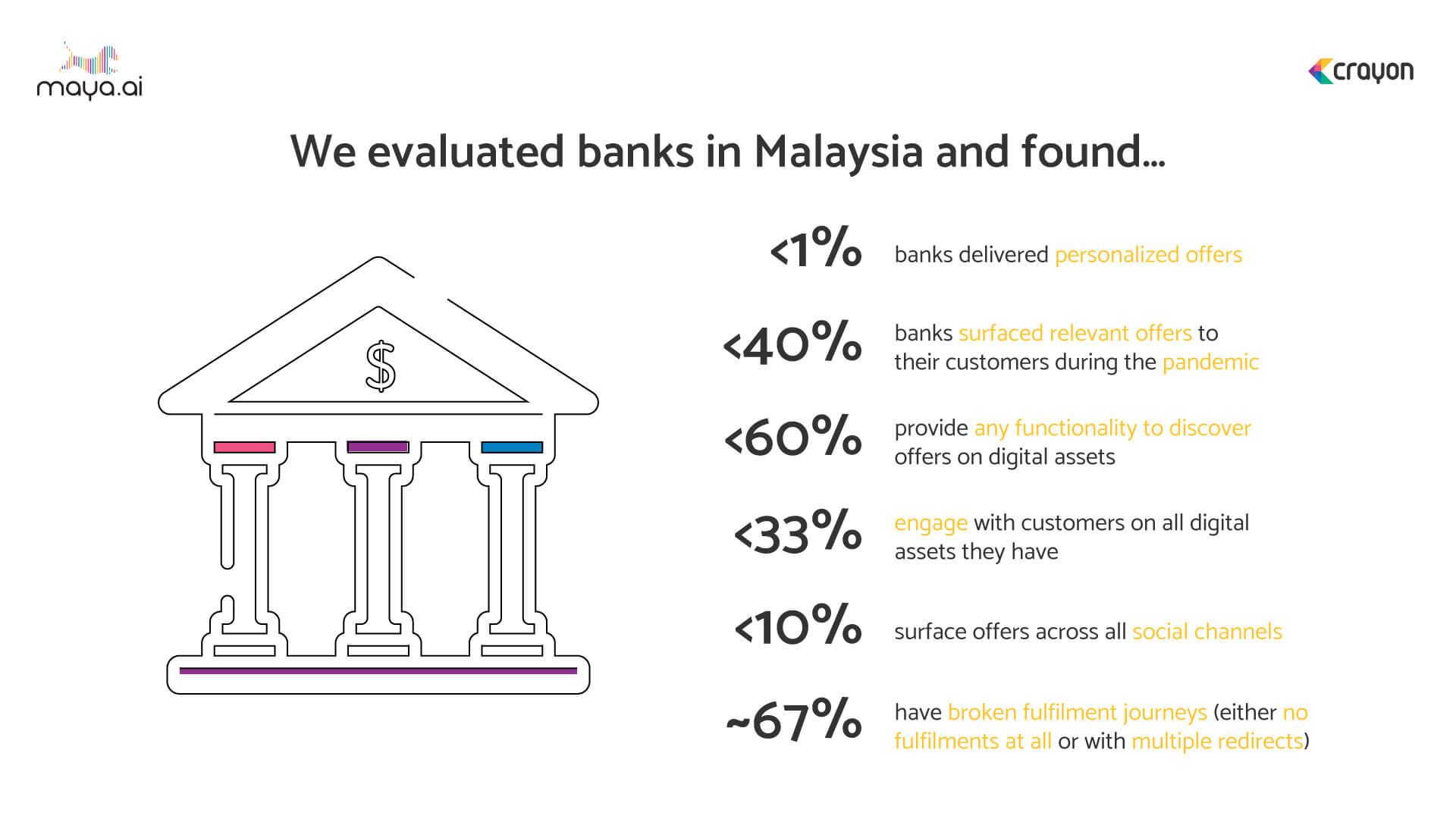 HSBC Bank Malaysia, CIMB, Citibank Berhard and UOB are on top of the RQ list (in that order). Maybank, Hong Leong and SCB Malaysia are middling at 25%. While RHB Bank and OCBC Bank Malaysia have a lot of catching up to do at 14% and 9% respectively.
Customer preferences, choice fulfillment and engagement are key parameters. Creating personalized banking experiences for customers can help traditional banks retain them and draw in new business as well.
Platforms like maya.ai work to create a 360-degree view of customers based on their profiles and preferences. Merchants on our Bazaar platform give a wide range of relevant and personalized offers to choose from. To schedule a free demo with our personalization experts, share your details.
More from the #CountryInFocus series here.