Today's customers are digital natives. Irrelevance annoys them. Studies show that 85% expect personalized services, while 67% expect personalized experiences. These are not numbers that can be ignored. Banks that are early adopters to the age of relevance can be part of an 800 Bn USD personalization-led shift in revenue. In this series, we'll explore if banks around the world are ready for this change. This week, we look at Bahrain.
The island nation of Bahrain has a middle-aged population (average age 32.5) that is pretty highly banked (87%). During the pandemic, grocery spending shrunk by 60%, whereas food delivery grew by 300%. Transport, shopping, flights, and jewelry also took a hit. Health and dining saw an increase.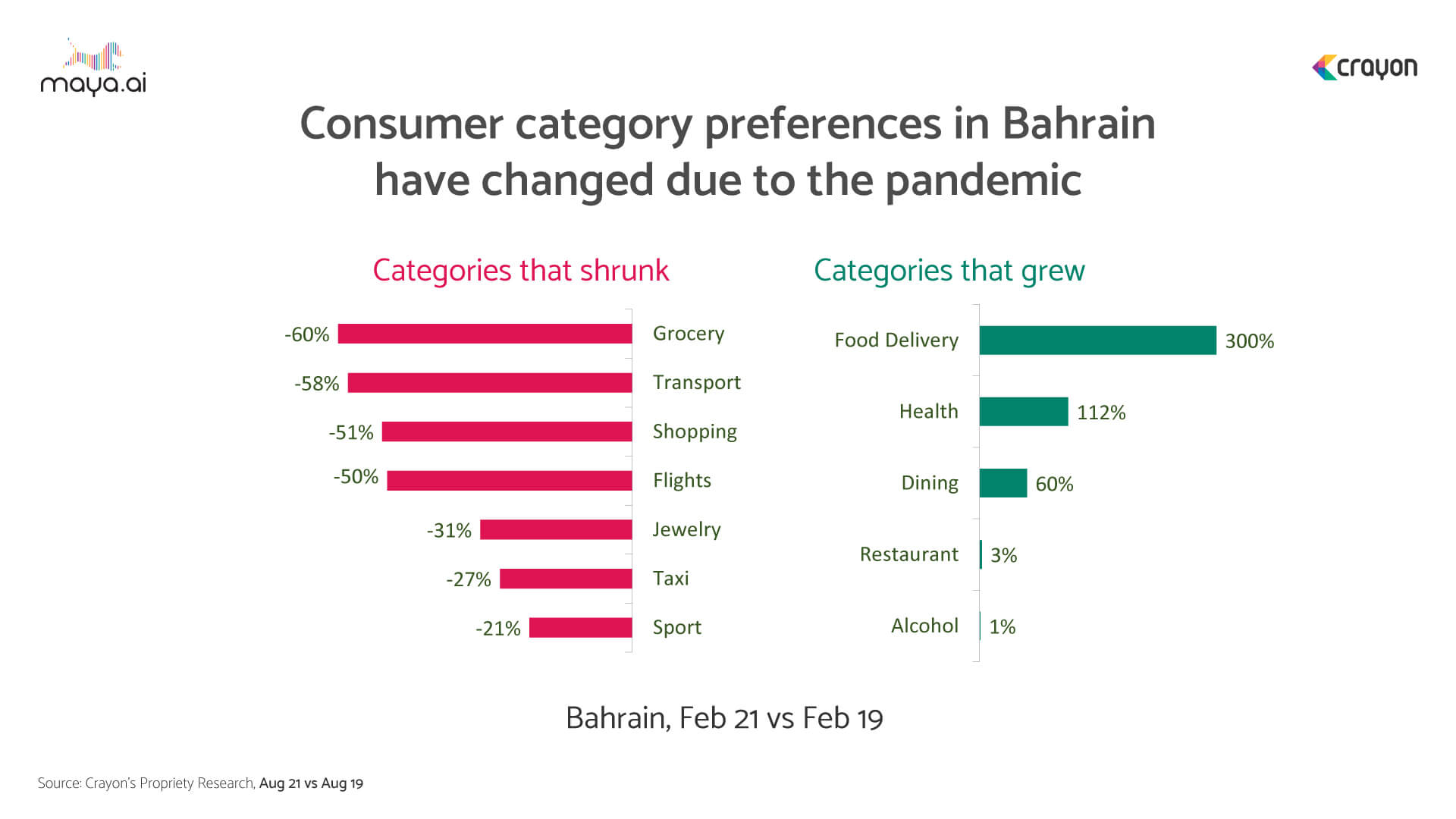 Rise of digital wallets in Bahrain
In the aftermath of the pandemic, countries across the GCC saw an uptick in the use of digital payment options. In Bahrain, this was not surprising. Access to internet is one of the highest in the world, at 98%. And 64% of them have shopped online.
The Central Bank of Bahrain recently released information that shows how massive the trend has been. In the first half of 2021, e-wallet transaction values touched 3.52 Bn USD. This was from more than 53 Mn transactions. In August 2021 alone, they reached nearly 744 Mn USD, with 11.3 Mn digital transactions.
There are 5+ e-wallet players: Apple Pay, STC Pay, MaxWallet and BWallet, among others. Three out of 10 e-commerce transactions use digital wallets. There has also been almost 6% growth in POS transactions using digital wallets. Bahrain's national electronic wallet, BenefitPay, announced a 785% increase in the number of remittances.
Neobanks enter the fray
In 2019, the Arab Banking Corporation launched Ila Bank. This was their foray into the digital, mobile-only banking space. And has since been named one of the most popular digital banks in the world. Customers can open an account using one ID and a selfie. They also offer easy savings schemes that drive positive behavioral changes in spending.
Traditional banks in Bahrain are at risk of losing 1.4 Mn active accounts. And the 0.2 Mn unbanked population.
Crayon Data's Relevance Quotient (RQ) is a proprietary framework used to analyze offers on bank websites and social media presence. Across regions, we've found that less than 1% of banks deliver personalized offers. Many do not engage with customers on all digital assets. Providing functionality to discover offers on these platforms can increase customer engagement. As will surfacing offers on social channels. It's also important to ensure a seamless fulfilment journey.
Ahli United Banks, Arab Banking Corporation, Albaraka Bank Group, Gulf International Bank and Bahrain Development Bank all have an established presence in the country. With personalized offers and outreach, a little effort can go a long way in customer retention, engagement and acquisition.
Platforms like maya.ai work to create a 360-degree view of customers based on their profiles and preferences. Merchants on our Bazaar platform give a wide range of relevant and personalized offers to choose from. To schedule a free demo with our personalization experts, click here.
More from the #CountryInFocus series here.