Today's customers are digital natives. Irrelevance annoys them. Studies show that 85% expect personalized services, while 67% expect personalized experiences. These are not numbers that can be ignored. Banks that are early adopters to the age of relevance can be part of an 800 Bn USD personalization-led shift in revenue. In this series, we'll explore if banks around the world are ready for this change. This week, we look at Vietnam.
Despite only 30% of the population having bank accounts, Vietnam has big plans for e-commerce. They're banking on the 70% who do have access to the internet. Last year, the government announced that they want half the population to shop online by 2025.
Vietnam's internet economy was estimated at $12 Bn in 2019, with an annual growth rate of 38% since 2015. It is also expected to surge to $43 Bn by 2025. In the aftermath of the pandemic, spending on hotels, travel, dining and jewelry dipped. On the other hand, indoor cycling, Netflix and online gaming gained traction.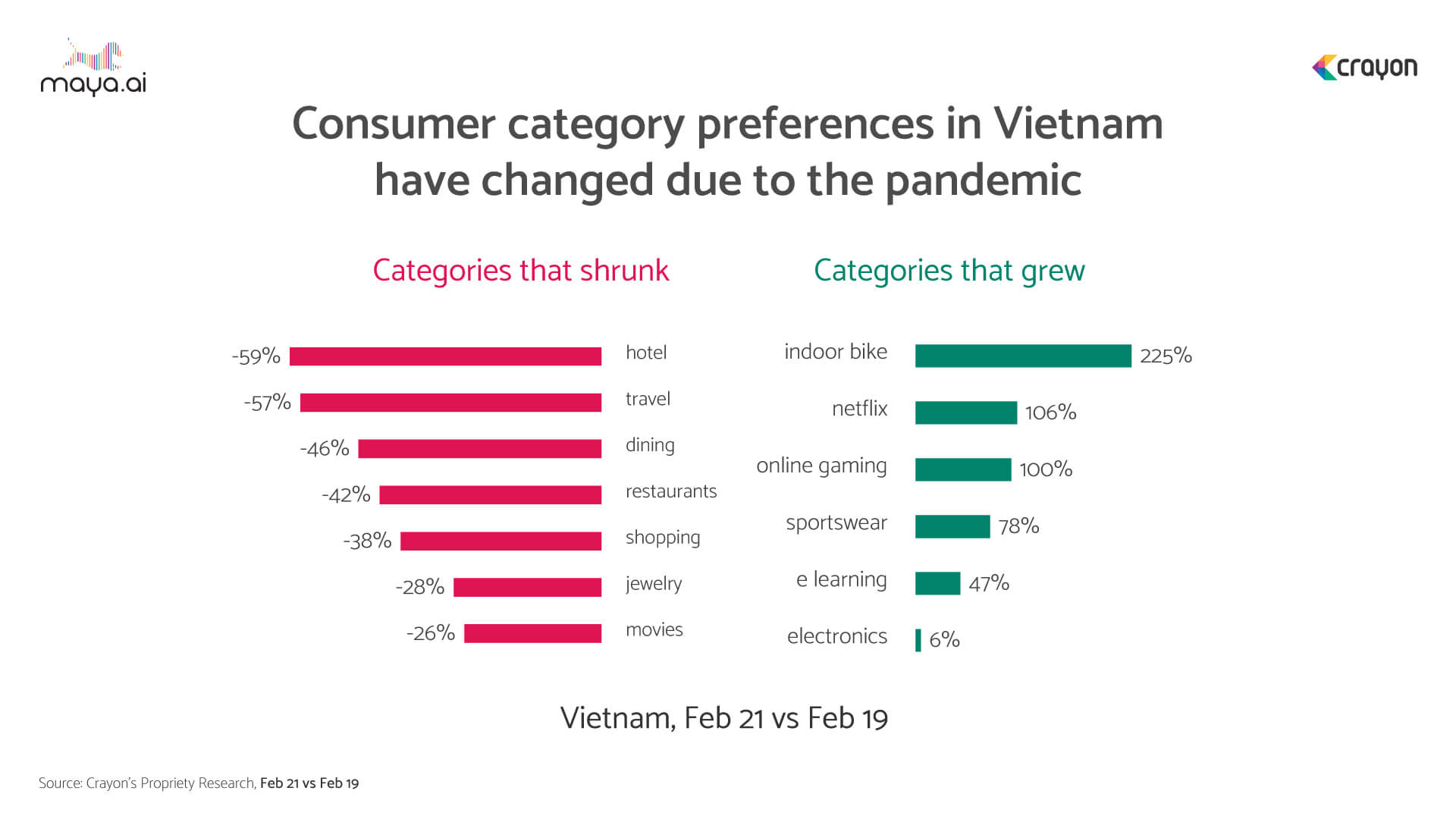 In the past year, digital wallets have also seen greater adoption in Vietnam.
The country has 38 digital wallet licenses, and over 13 Mn e-wallet accounts. In keeping with the larger plan, mobile transactions are slated to increase by 400% by 2025. In the past year alone, there has been a 3X increase in POS spends using e-wallets. And 1 in 5 ecommerce transactions use e-wallets.
With a mobile-savvy consumer base that's open to digital product, neobanks can find favorable conditions to thrive in Vietnam. Early movers include Timo, OctoMobile and TNEX, targeting an unbanked population of 40 Mn. With 60% of the Vietnamese workforce still receiving wages in cash, it will be interesting to see how the country will achieve 90% financial inclusion by 2030.
With the risk of losing 18 Mn active accounts, traditional banks in Vietnam must rethink their strategies.
Crayon Data's Relevance Quotient (RQ) is a proprietary framework used to analyze offers on bank websites and social media presence. When we evaluated banks in Vietnam, we found that less than 1% delivered personalized offers. Less than 20% surface offers across all social channels. And over 30% have broken fulfillment journeys. In addition, approximately 60%
Provide functionality to discover offers on digital assets
Surfaced relevant offers to customers during the pandemic
Engage with customers on all digital assets they have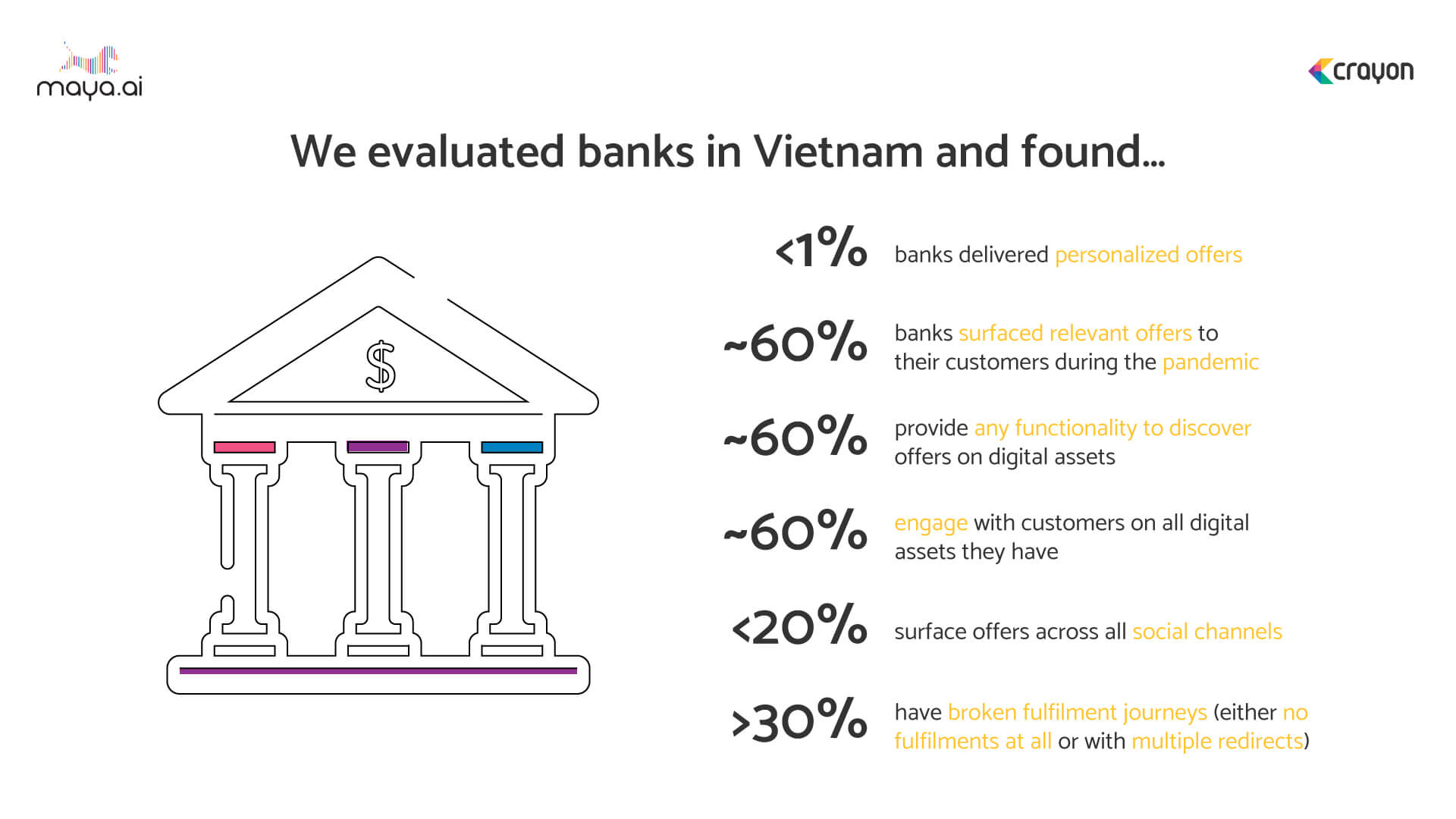 BIDV Bank (45%), Citibank Vietnam (44%) and VP Bank (42%) are leading, but still have plenty of scope for improvement. HSBC Vietnam, VIB Bank, MB Bank can also focus on using customer preferences to present personalized offers. Choices that engage customers and fulfill their needs will result in greater share-of-wallet. And happy customers who keep coming back for more.
Platforms like maya.ai work to create a 360-degree view of customers based on their profiles and preferences. Merchants on our Bazaar platform give a wide range of relevant and personalized offers to choose from. To schedule a free demo with our personalization experts.
More from the #CountryInFocus series here.